Start accepting payment in minutes with all the relevant payment methods for your customers with transparent pricing and your own personalised dashboard. Install the Mollie for OpenCart plugin.
For you as an entrepreneur, every sale counts. Abandoned shopping carts are a nuisance that you want to avoid. The dropout rate should be kept as low as possible. The check-out in your online shop plays a crucial role here. The Mollie Checkout in your OpenCart store offers you advantages for your customers and for you.
The Benefits of Using the Mollie for OpenCart plugin
Familiar environment during the entire check-out:
Because Mollie retains the layout of your OpenCart store during the entire check-out, regardless of payment method, your customer can complete the entire payment process in your website's environment. This reduces abandoned purchases and increases your check out conversion.
Automatic localization:
We offer automatic localization for the check-out of your OpenCart store, which means that your customers can specify their location or have an automatic location determination carried out. You can set up the most relevant payments based on the location of your customers and the payment options are displayed in their desired language.
Mollie Components:
Thanks to
Mollie Components
, your customers can enter their credit card details when checking out and are not redirected to another page. This ensures a quick and secure payment process.
Serious security:
Fully PCI-DSS level 1 certified and free use of machine learning fraud protection and 3-D Secure.
Recurring payments:
Enjoy the freedom to create any payment plan that fits your business, so you can effortlessly
collect your recurring payments
. All with the same Mollie for OpenCart plugin.
Additional Benefits for You
Transparent pricing:
As a seller, you
pay per successful transaction
- there are no additional costs. Since the prices depend on the size of your web shop, it is also possible for small businesses or newcomers to take advantage of Mollie.
Everything under one roof:
Even though you use several payment methods at once in your webshop, you only need one contract with Mollie. Besides, this contract is flexible and has no contract term.
Easy integration of many payment methods:
You can easily integrate a large number of payment methods and the high-quality Mollie for OpenCart plug-in into your shop.
User-friendly dashboard:
Always keep track of the various payments and optimize your processes with real-time data in your own Mollie Dashboard.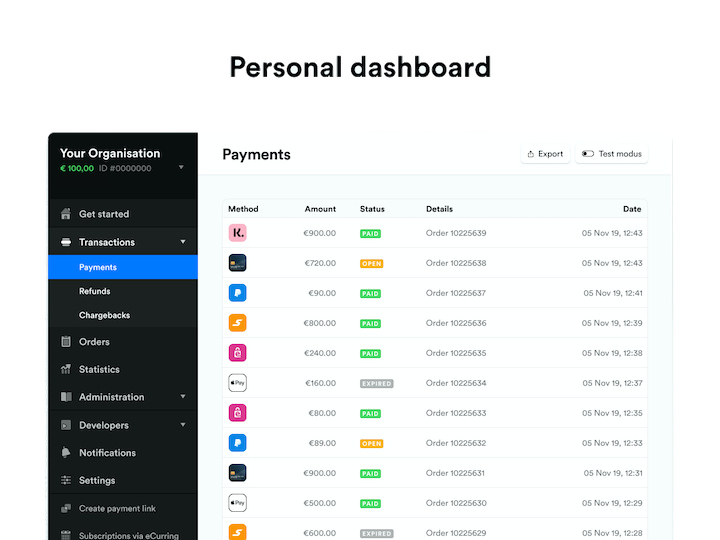 How to Start with the Mollie for OpenCart plugin
Getting started with Mollie for OpenCart is easy and fast. Follow the following 4 steps and you can start receiving payments in no-time:
1. Download plugin >>

here


2. Upload to the 'Installer' of your shop
3. Go to 'Extensions - Payments',
4. Find Mollie and click 'Install'
Supported Payment Methods
Having the right payment method for your customer is crucial to your store's success. That is way we have integrated the following payment methods in the Mollie for OpenCart plugin:
iDEAL

Bancontact

Credit card (including Visa, Mastercard, American Express, Cartes Bancaires, CartaSi)

PayPal

Klarna Slice It

Klarna Pay Later

KBC Pay Button

Belfius Pay Button

Direct Debit (SEPA)

Bank Transfer (SEPA)

SOFORT Banking

EPS

Giropay

Paysafecard
For more info visit us at
www.mollie.com