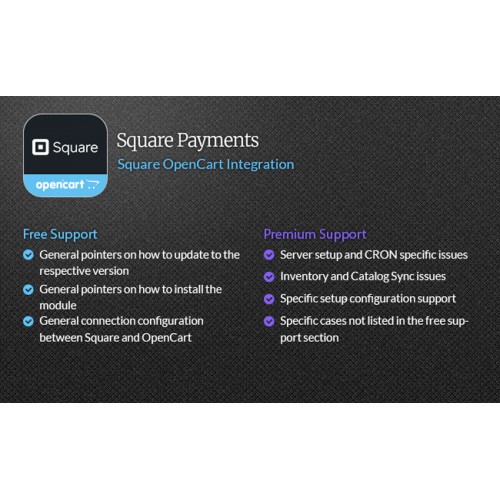 This is the official Square OpenCart integration developed by iSenseLabs. Integrating Square with OpenCart is simple and seamless; no coding required.
New Major Update Released!
✯
Apple Pay
- Now available in Square for OpenCart. Out-of-the-box integration. No additional configuration required.
✯
Square Catalog & Inventory Sync
- All changes in your OpenCart products automatically sync with the Square Items Library and Square inventory.
✯
Automatic Refund & Re-Stock
- Square now lets you refund individual items in orders and re-stock items automatically.
✯
Automatic Currency Conversion
- Automatically convert the transaction amount to the Square location currency based on your OpenCart currency values.
✯
Square Order Reports
- Orders made with Square contain all your OpenCart information accurately reported in the Square Dashboard.
✯
Square Security
- Win your customer's trust with the Square security badge displayed in the Credit Card form at checkout.
---
✯
Transparent pricing: no monthly fees or surprises.
- Pay one flat rate- 2.9% + $.30 (2.5% for UK, 2.2% for AU, and 3.6% for JP) per online transaction for any card, including American Express. Custom rates available for some businesses with annual revenues over $250K and an average ticket size over $15 –
Get in touch
✯
Fast deposits
- Get your money in your bank account in 1-2 business days.
✯
Dispute assistance
- Square covers up to $250 in qualifying chargebacks per month and helps resolve chargebacks for you, so you can focus on your next sale.
✯
PCI compliance
- Square complies with the PCI-DSS standards and there are no fees.
✯
Sell online and in person
- Sell online and in person, and see all your sales in one place. Square's beautiful readers accept all major cards, Apple Pay, and Android Pay, while the free Square Point of Sale app makes checkout a delightful experience for both you and your customers.
✯
Card Payments
- is currently only available for merchants based in the U.S., Canada, Australia, Japan and the UK.
✯
Make sure to check this module's release Log for latest features, version releases, improvements and bug fixes
IMPORTANT NOTICE
Square extension come with two types of Support: 
Free Support which covers:
- General pointers on how to update to the respective version
- General pointers on how to install the module
- General connection configuration between Square and OpenCart (for custom setups it will need to go through Paid Support)
Premium Support which covers:
- Server setup and CRON specific issues
- Inventory and Catalog Sync issues
- Specific setup configuration support
- Specific cases not listed in the free support section
Square for OpenCart comes with extensive documentation with images, installation instructions, features explanations and examples.
View Square Documentation
✯
Square OpenCart demo