Turn Your OpenCart Store into a Thriving Marketplace with Our World-Leading OpenCart Multi-Vendor Extension
Limited Sale !! 149 39 USD
12 Reasons to buy opencart multivendor | multiseller marketplace extension by purpletree


The OpenCart Multi-Vendor Marketplace is the official all-time bestseller.

OpenCart mobile app compatible with Android/iOS (which can be found at https://bit.ly/369qash).

Extensive documentation is available with over 250 pages of information.

The extension supports Stripe and PayPal split payments directly to vendors.

There are 19 in-built languages, and RTL language support is also available.

One time free installation is provided.

It works with all OpenCart themes and multi-store setups.

A hyperlocal system is available for seller domains/subdomains/websites.

Multiple sellers can sell the same product.

Vendor-specific pricing is available for each template product.


Seller Panel
Link:
click here
seller@purpletreesoftware.com/demo123
Admin Panel
Link:
click here
admin/demo123
Customer Dashboard
Link:
click here
customer@purpletreesoftware.com/demo123
Store Page
Demo:
Default Theme

Download
opencart multivendor user guide
.
Install Guide
on OpenCart 4.x
This extension is compatible with all themes, and in case of any issues, please submit a ticket.
We suggest some themes that work well with this extension, including:


Journal Theme

eMarket

Poco

Oneshop

Matrix

TopSell

Revo

BestShop

ShoppyStore

Avansi

Siezz

FurniShop

MaxShop

SuperMarket

BigShop

Grocery

Metro Market

Cakerito

and many others.
Multi Vendor System Features
Updated 25-Sep-2023
Our opencart multi-vendor or multi-seller extension boasts a greater range of features than any other available.
If you have any questions, please feel free to reach out to our team for clarification at support@purpletreesoftware.com.


Supports all Opencart themes for seamless integration.

Free Extensions are also available for 4. x.New!

Sellers can have their own domains/websites for a personalized selling experience. New!

Hyperlocal System Included for area-wise sellers. New!

Custom seller fields to collect and manage additional information. New!

Custom email templates with over 1600 templates available in 19 languages. New!

Stripe and Paypal payouts for split payout. New!

Subscription plans for vendors with support for renewal, notifications, and invoices. New!

Multiple sellers can sell the same product, just like Amazon. New!

Vendors can bulk import products via excel sheet. New!

Product Returns / RMA module available for sellers. New!

Coupons / Discount module available for sellers. New!

Beautiful dynamic modules for showing Seller Products, Seller Featured Products, Seller Featured Stores, etc. on any page. New!

Vendors can define shipping rates according to Geo Zone or Zip Code, Weight, Country, etc. New!

Seller Vacation Mode to disable seller products when seller is not available. New!

In addition to using Admin-defined values, now sellers can create their own Attributes, Attribute groups, and Options. New!

Vendors can write and publish Blogs to engage with their customers.

Users can give rating and review to vendors to help other users make informed decisions.

Every vendor has a beautiful store page, and users can browse through the list of sellers to discover new products.

Set commission on Global, per vendor, and per category basis to manage your revenue.

Live chat between customer and vendor for seamless communication.

Comprehensive Dashboard showing all Seller reports to track your performance.

Separate pages for Vendor/User registration and login for better security and organization.

Multi Vendor API available to get/set Multi Vendor related data for developers.

Option to hide seller details from product listing for privacy concerns.

Vendor payout by Paypal and Offline modes for flexibility and convenience.

Bestseller one page checkout extension is supported for a smoother checkout process.

Product copy/clone for vendors to save time and effort in adding new products.

Easily browse and connect with registered sellers on our platform.

Simplify communication between buyers and sellers with our user-friendly "Contact Seller" form.

Maintain control over the display of seller contact information with our intuitive admin controls.

Improve your website's SEO with automatic meta tag generation for all products.

Streamline the product addition process with our smart product form, designed for quick and easy use by vendors.

Expand your customer base with our multi-lingual support, featuring 19 built-in languages.

Multiple Vendors can sell same product with their own price.

Provide custom work for any kind of customisation on any version of opencart.
Available Languages
English

Arabic

Spanish

French

German

Italian

Dutch

Russian

Turkish

Romanian

Chinese (China)

Chinese (Taiwan)

Portuguese

Indonesian

Japanese

Filipino

Vietnamese

Thai

Malaysian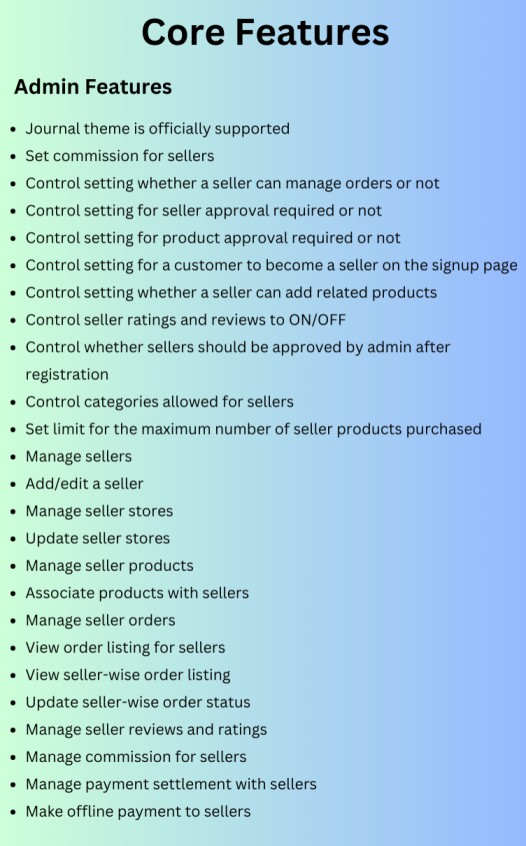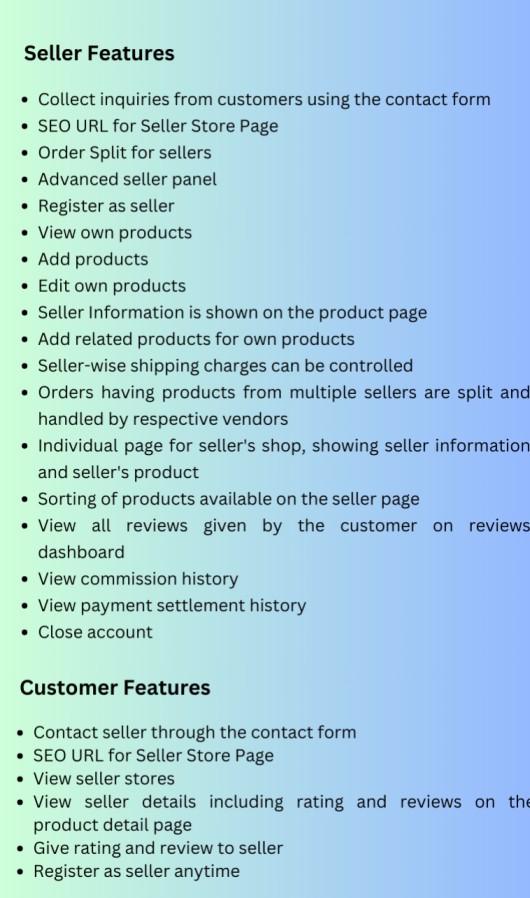 Separate Seller Dashboard
The seller panel is a separate dedicated panel, independent from the frontend theme.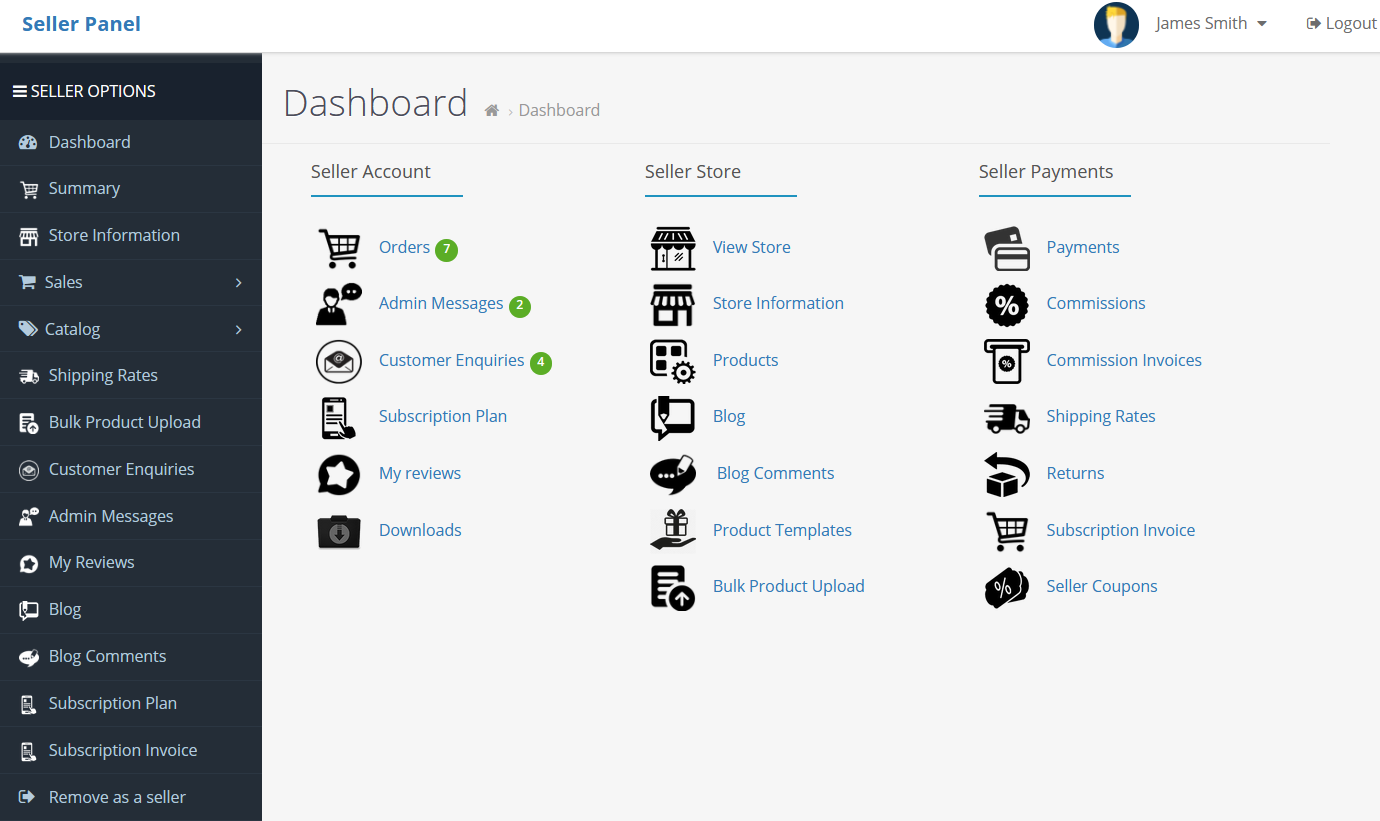 Financial Summary View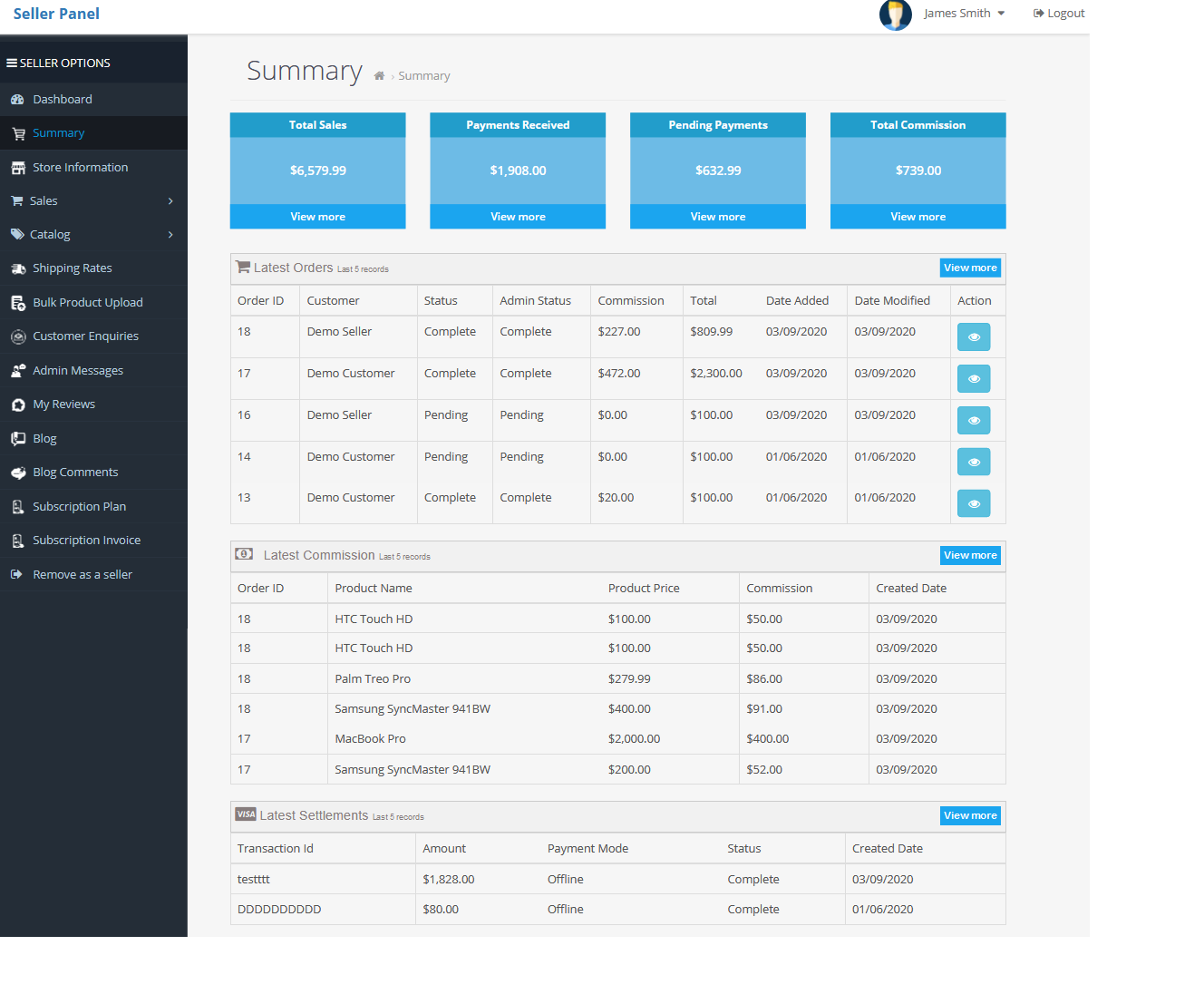 Same Product Sold by Multiple Sellers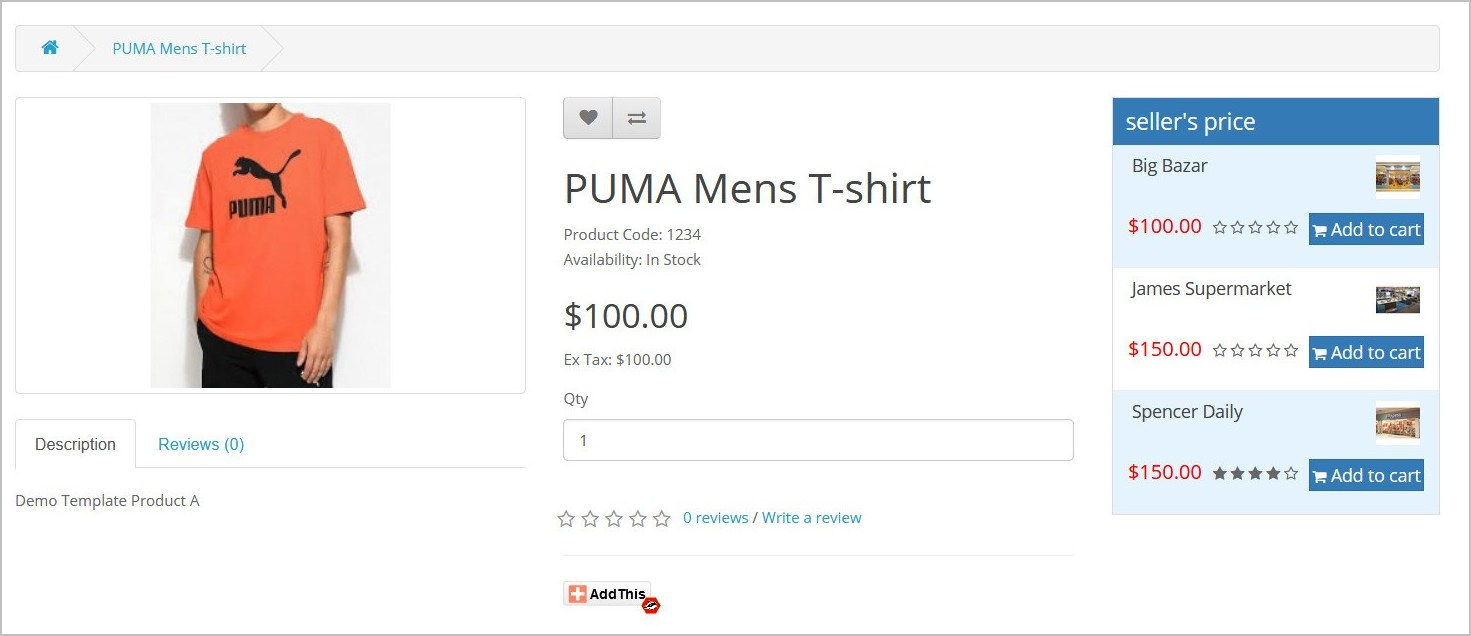 Commission Setup Options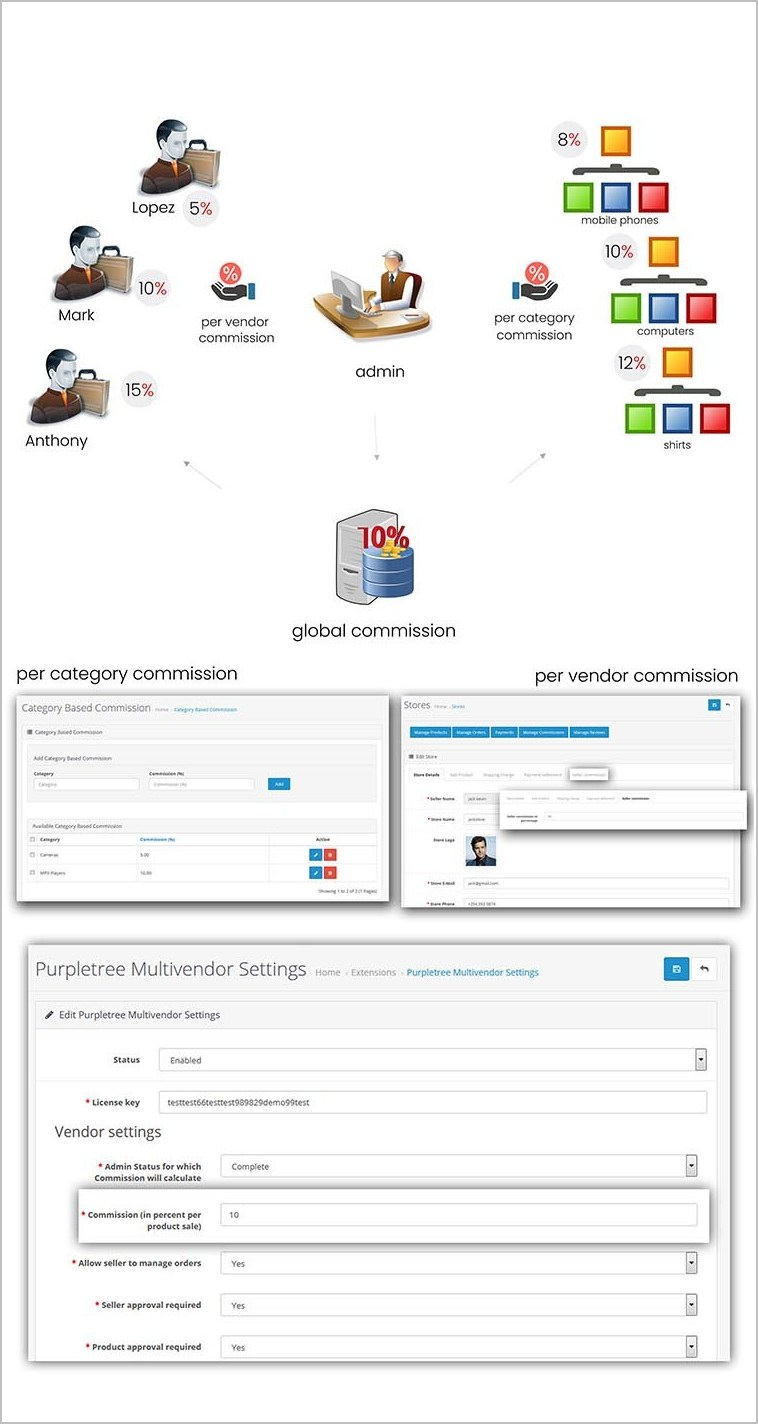 How Commission Logic Works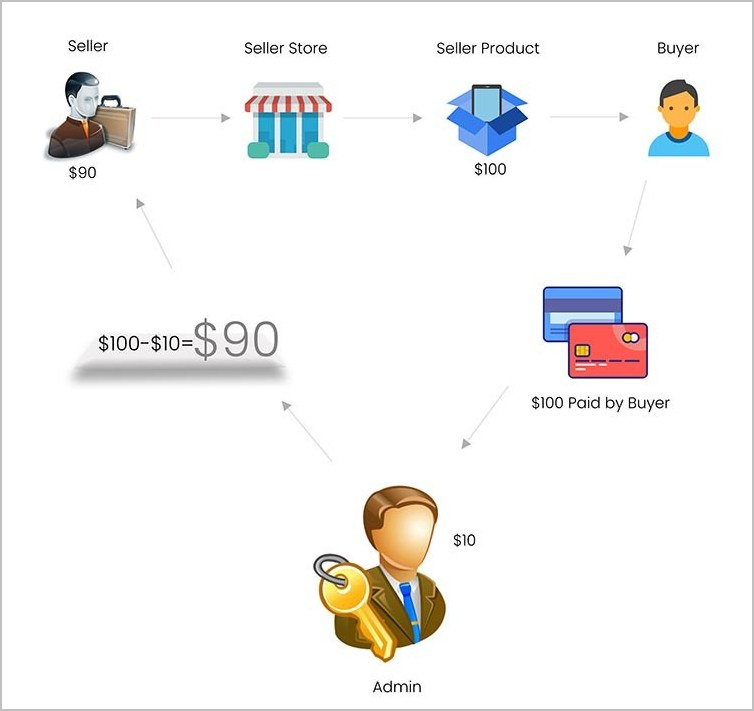 Product Bulk Import/Export by Sellers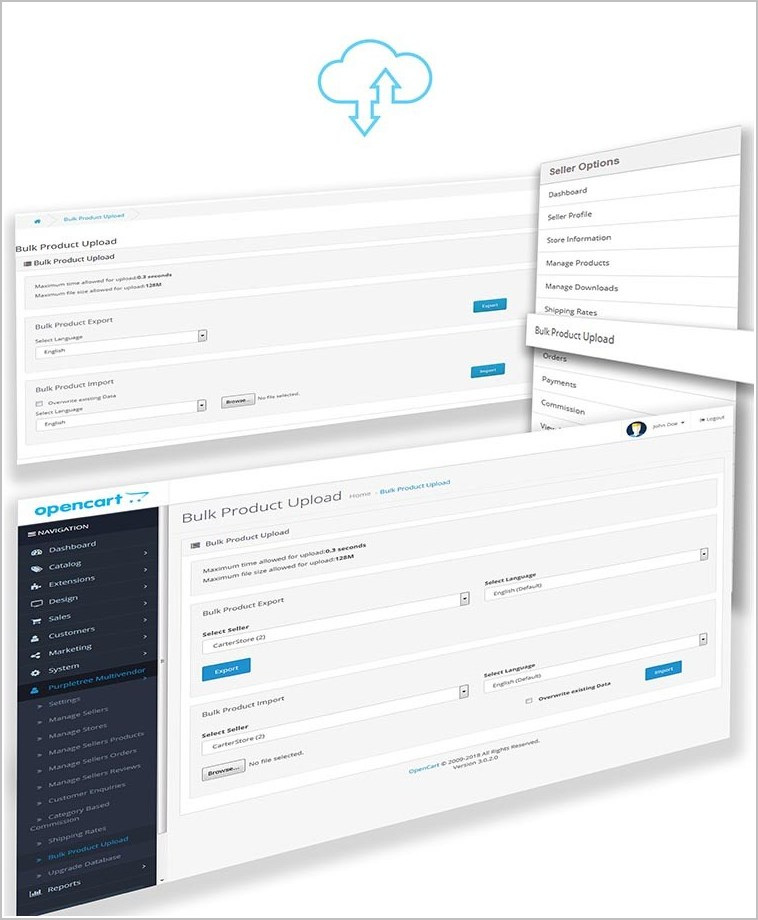 Advanced Shipping Module
Multi-seller shipping extension is now available, allowing sellers to conveniently ship their products based on country, zip code, and weight. In addition, the extension supports geo-zone based shipping for even greater flexibility in delivering products to customers.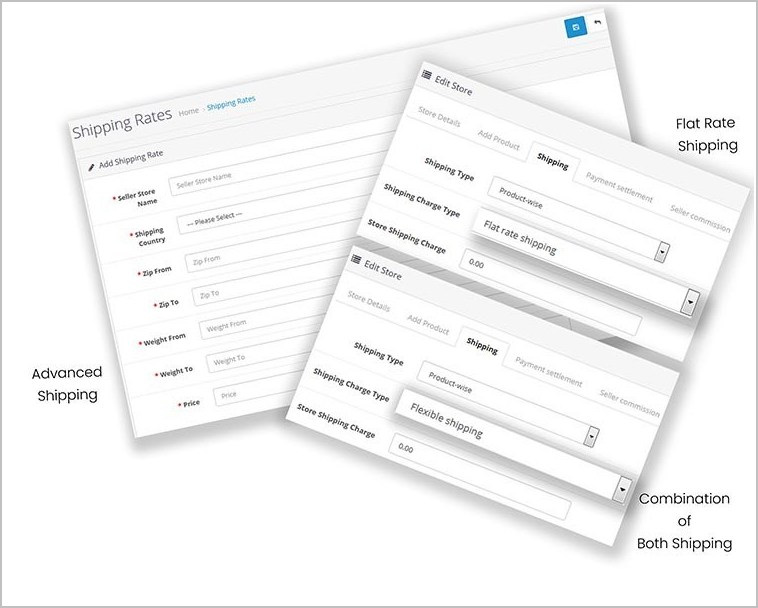 ... and many more features!
For a complete set of features, please check our
user guide
.

Get 3 popular extensions FREE (Value $60) with this extension.
Total value: 159 USD, You pay: 39 USD.
Following extensions are given free:
1. Social Login Premium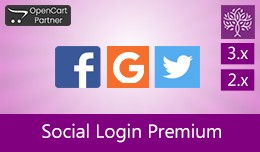 2. Search Suggestions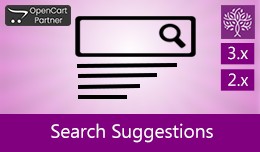 3. Abandoned Carts
Conclusion:
Upgrade your Opencart store with our Opencart Multi Vendor Marketplace Extension and elevate your business to new heights.
Note:
1. Free extensions are available in your download area after purchase.
2. Support is available for paid extensions and not for free extensions.
3. Free extensions are available for opencart 2,3 and 4.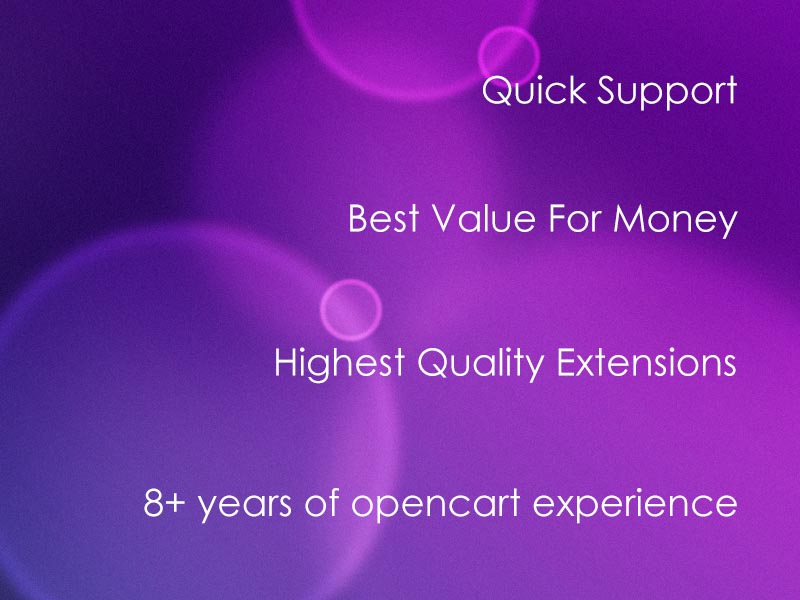 Note:
Our extensions have a licensing policy, explained
here
. Using "Opencart's Core Multi-Store" feature with our extension depends on section 5 of the licensing policy for the number of allowed websites.
Installation Video