The module is designed to dynamically update the product price on the product page in the customer section depending on the selected product options.
Main features of the module:
dynamically update the price on the product page in the customer section, depending on selected options and quantity

display the product price on the product page multiplied by the entered quantity (optional)

'calc option once' - a possibility to apply an option price modifier once, without dependency on the product quantity (optional, can be enabled/disabled for each option separately)

take product quantities already added to the shopping cart into account for getting available discounts on the product page (optional)

add more price prefixes for product options ( * / = % )
If you need more pricing features (global discounts, percentage dicounts, etc.), you can take a look on the improved version of the module -
Live Price PRO
Animated demonstration of the price updating by the module: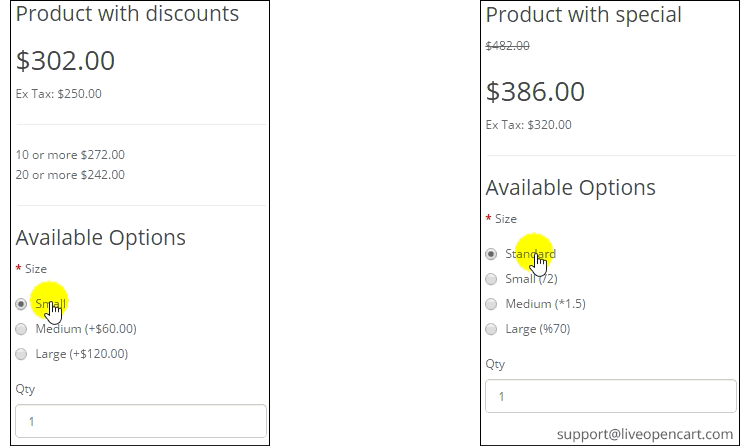 We provide
FREE ADAPTATION TO THEMES
The module already has adaptation to themes:
Journal3
, Journal2, Digitech, Mimosa, Unishop2, fShop, Fastor, Basel, Kept, Marketshop, Revo, e-Market, Buyshop, Smart book store, Pav Fashion, Electra, Materialize, Mogo, Newstore, Oxy, Lazio, Unero, Car Tuning Modern, Jewelry, Sinrato, Storeflex, Digital Mart, Gicor, Frame, Smartshop, Organic, Mintleaf, Bestshop, Unitystore, Mooboo, Desk, Multimarket, Grand, Shoppystore, Lightshop, Naturcircle, Wokiee, Mesa, Mastercolor, Modern, Maxshop, Cyberstore, Game, Feelmart, Madeshop, Sellegance, Drug Store, Butik, Potaku, Minota, Safira, Antomi, Megastore, Electrosa, Artfurniture, Technics, Bigshop, Madeira, Fanes, Avansi, Yoga, Zeexo, Materialize, Feelmart, Mahardhi, Mobel, BigMag, Shoppica, Aurus, Ecogreen, Remarket, Clima, Enjoytoy, Freshmart, Fruveg Vegetable, Rozer, Superstar, Prostore and many others.
This is the module for OpenCart 3.x, for OpenCart 2.x please use Live Price for OC 2.x or Live Price PRO for OC 2.x
Demo:
https://demo.liveopencart.com/3/live_price_3/
Demo admin section:
https://demo.liveopencart.com/3/live_price_3/admin/
login/pass: demo/demo
We also recommend:
Contact for support, questions and suggestions:
support@liveopencart.com