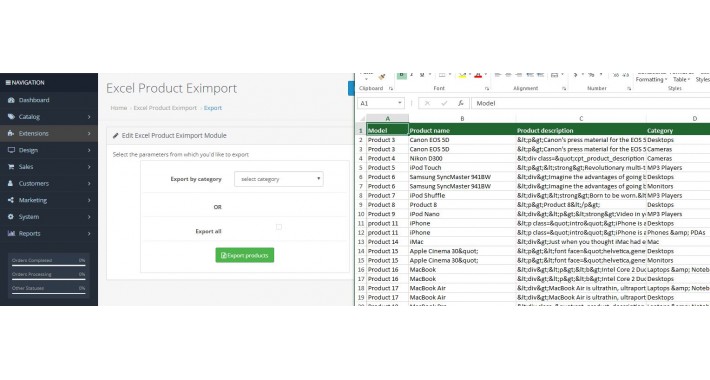 Instructions
- After install do a composer install for some add-ons on your terminal(only version 3)
e.g
i. composer require phpoffice/phpexcel
ii. composer require siriusphp/upload

- This extension(excel cells) focus on strictly required product feature(form inputs) and other fetaure can be edit in after uploads.
- Make sure the product image cell on excel sheet matches the image name & extension of the actual image.. **very important**
+ make sure not to repeat or duplicate product name
- while filling the excel file on the category_id column, pls check
+ One category per product

Benefit
* It saves time
* Help know the status of the business
* move product between versions.
* Export by category
* Export all product
PS: Modify your php configuration(max-limit) if you're getting error 500 and also make sure you have a zip extension active, all can be done on php.ini and cpanel respectively.
Shoot me an email if you encounter any challenge - lucasatwon@gmail.com
also if you need it to work on v1.5.6 to v2.1.0 send an email let's talk.
What customers say about Excel Product Eximport