Select & Filter multiple order status in sales > order. This advance order management feature allow you to select more than one order status to search at once.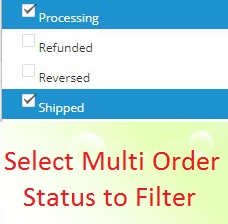 Jump to any order status just by typing its name.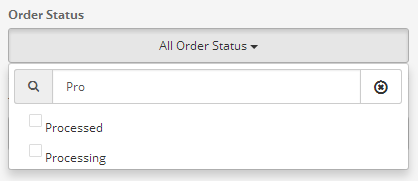 Buy 1 & Get Other 10 Extension Free : Offer
Buy Any Single Extension & Get Other 10 Most Usefull & Advance Premimum Extension Worth $250 Free of Cost
1.
Quick & Bulk Update Order Status
2.
Select Multi Order Status : Advanced Order Search & Filter
3.
Search & Filter Order by Telephone, Email, Fax
4.
Filter Order By Selected Date Range ( You can also choose from pre defined date range like today, yesterday, this month, last month
5.
auto fill city & state option using post code
6.
Order Export With Advance Filter System With A Lot Features

For ANY KIND OF SUPPORT ? AND CUSTOM EDITION in EXTENSION ? Or to Hire Expert & Experienced Developer Team?
EMAIL US :
opencart@vedji.com
Hurry ! Get All These Extension Free Of Cost
what is the conditions to get all the extension free of cost ?

we can give these all extension to you free of cost along with other 5 extensions worth $ 100. The plus point is you will also get our future extension free of cost which we developing currently. It will be uploaded soon on opencart`s premium category. but you will have access without making a payment.
This is the our exchange policy :- which allow us to provide you our premium extension free of cost.
in exchange policy? we will have an agreement to exchange our extensions. We will give you our extension. and you have to give yours to us. If you buy any extension from another developer. send us a copy of that extension.
Note :- we are both exchanging the extension for end use. we will not resell the extension got from you. nor you can sell ours. you can only use on your websites. If you interested in this offer ? Please email your extension in a zip file to: dev@vedji.com After getting your email , We will provide all these extension on your email within 12 working hours.