Accept Apple Pay & Google Pay and regular Credit Card Payments Online!
> DEMO <
(add something to the basket, during the checkout use a test card 4242 4242 4242 4242)
> OFFICIAL WEBSITE < (discount $9)
Important!
On
14 September 2019
, new requirements for authenticating online payments will be introduced as part of the second Payment Services Directive (PSD2). Starting
14 September 2019
, banks will
decline payments
that require Strong Customer Authentication (SCA) and don't meet these criteria.
This extension is ready for these changes (SCA-ready, 3D Secure 2-ready). You will not lose any of your sales.
[DESCRIPTION]
Stripe PRO allows you to accept payments directly in your OpenCart store using Stripe.com without any popups and redirections to third-party payment gateways.
Developed by OpenPayments company, trusted by thousands of users.
ALL OpenCart versions support
: 1.5, 2.0.x, 2.1.x, 2.2.x, 2.3.x, 3.x
[MAIN FEATURES]
Includes all features of our Stripe basic edition

Apple Pay, Google Pay & Microsoft Pay

Regular credit cards payment

Ready for Strong Customer Authentication (SCA) (new requirements 2019)

Ready for 3D Secure 2 (3DS2) (new requirements 2019)

High security checks: ZIP/Postal code, Billing/shipping address, 3D Secure, 3D Secure 2

Clean design, works on any device (Desktop, mobile, tablet)

Customers are able to use Apple Pay even on desktop

Internationalization: 20+ supported languages

Journal 2, Journal 3 theme support

PCI Compliant

Bitcoin and Alipay payments (available soon)

Storing customer card data (available soon)

You DO NOT have to create an Apple Developer Account ($99 / year)

We DO NOT take any additional commission: you pay for this extension only once
Your customers are shown either an Apple Pay / Google Pay / Microsoft Pay button or Payment Request button, depending on what is supported by their device and browser combination. If neither is available, the button is not displayed.
The Payment Request button also supports browser-saved cards.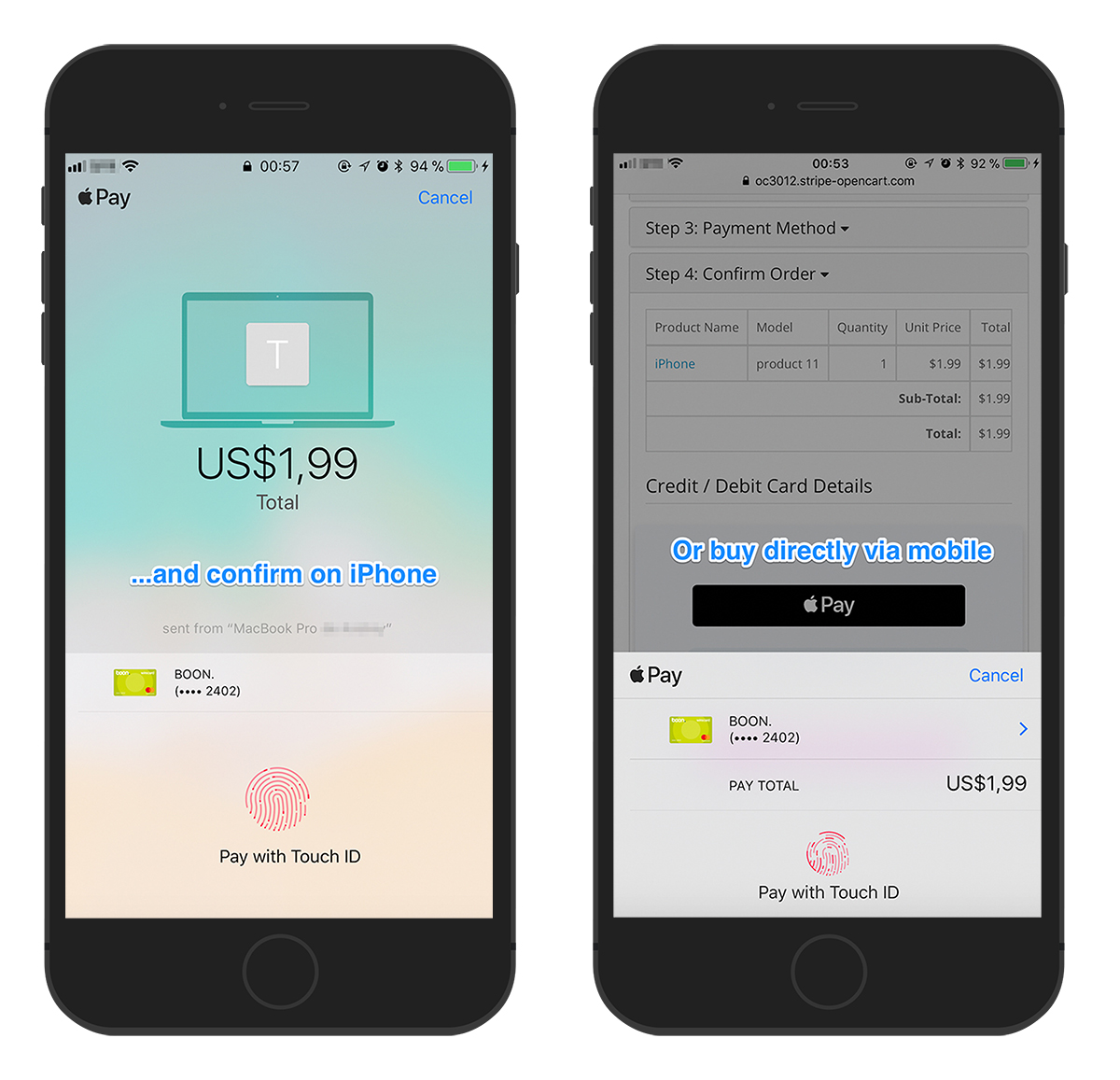 Feel free to ask us any questions you may have.
Feel free to open a support ticket!
Our team replies fast!
10 Reasons OpenCart stores should use Stripe
No monthly fee! If you sell nothing in a month… you pay nothing. It's great for mom and pop shops and start-ups lean on cash!

You can do all payment processing right on your site. No need to send customers to another company website to process a payment.

Stripe is rock solid! There are some huge names behind Stripe including the guys who founded Paypal, Peter Thiel and Elon Musk (yeah, the guy behind Tesla and SpaceX).

Stripe is easy to use both on the developer side and on the user side. It has an exquisitely designed user interface that is just about as simple as you could hope for!

Easily connects to your existing bank account. You don't need to setup a separate merchant account if you don't want to.

Excellent integration with Opencart.

Fees are similar to other payment processors except… remember… no monthly fee!

It's already used on hundreds of thousands of stores all over the world.

It has beautiful documentation if you're the kind of person who likes to read documentation.

PCI Compliant
The most innovative businesses already support Apple Pay
Indiegogo
saw conversions
increase up to 250%
when customers used
Apple Pay
to fund campaigns.
OpenTable
allowed diners to
seamlessly pay for their meal
via their iOS app and site. And
Instacart
's customers completed checkout
58% faster with Apple Pay
than other payment methods.
> DEMO <
(add something to the basket, during the checkout use a test card 4242 4242 4242 4242)
> OFFICIAL WEBSITE < (discount $9)
For any questions or customizations write a comment OR drop us an email (we reply within few hours): contact@stripe-opencart.com.