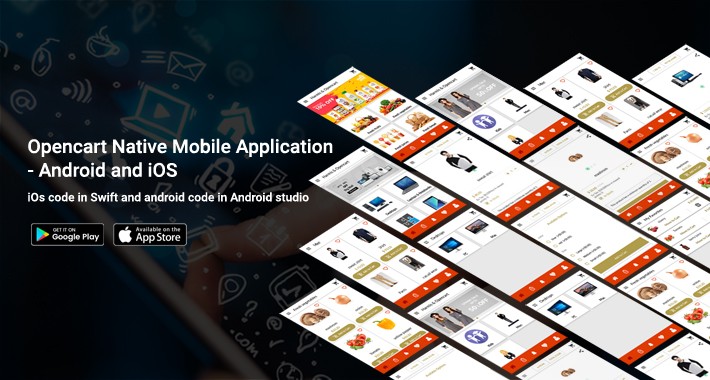 Create your own Branded native mobile application. Put your current opencart website to android and ios store with our native mobile application. It's a ready to use solution which will transform your opencart online store to a native Android and iOS mobile app with all the features well synchronised. Currently all the products, customer, category, etc (including all the data visible on mobile) are synced with this demo. You can upload your own logo, banner, splash screen, texts, colour scheme etc. If not we can help you with our default theme.

You can easy to create for Grocery, Fashion, Electronics, Food/ Restaurant, Accessories.

Features:-
- RTL Support
- Multilanguage support ( Right now English and Arabic, As per user requirement add other language )
- Multi Currency also support
- Home screen slideshow mange from the back-end
- Coupons
- Product options like Colour and Size
- Wish List also you can manage
- Product search
- Case on Delivery
- Payment gateways integrated at additional cost

Android development was done in Latest Android Studio using language JAVA.
IOS code in latest Swift version.
If you are like our demo than "Buy it now". We are just taking money for support of setup everything for you on your server and in your apple and android store. Our technical team will help you from the start to install, support, upload, maintain, guide upon all technical matters.
Demo of play store: https://play.google.com/store/apps/details?id=com.harmis.opencart
https://itunes.apple.com/us/app/harmis-hika/id1207239203?mt=8
Our customer live application:-
Android:- https://play.google.com/store/apps/details?id=com.tabuk.market
Iphone:- http://shorturl.at/hnEP1
Support:-
Before purchase any Question about our products than also you can contact us without hesitates. With a fully professional team and experts to guide you, all of your technical problems will be fixed instantly.
We will assist you via phone, Skype, mail and live chat.

Don't hesitate to contact with us at harmistechnology@gmail.com to build your Opencart mobile apps.

Both ios and Android platform Product ready. Android $99 and iOS $99 only.