DEMO LINK
- https://circuit.rocks/index.php?route=product/search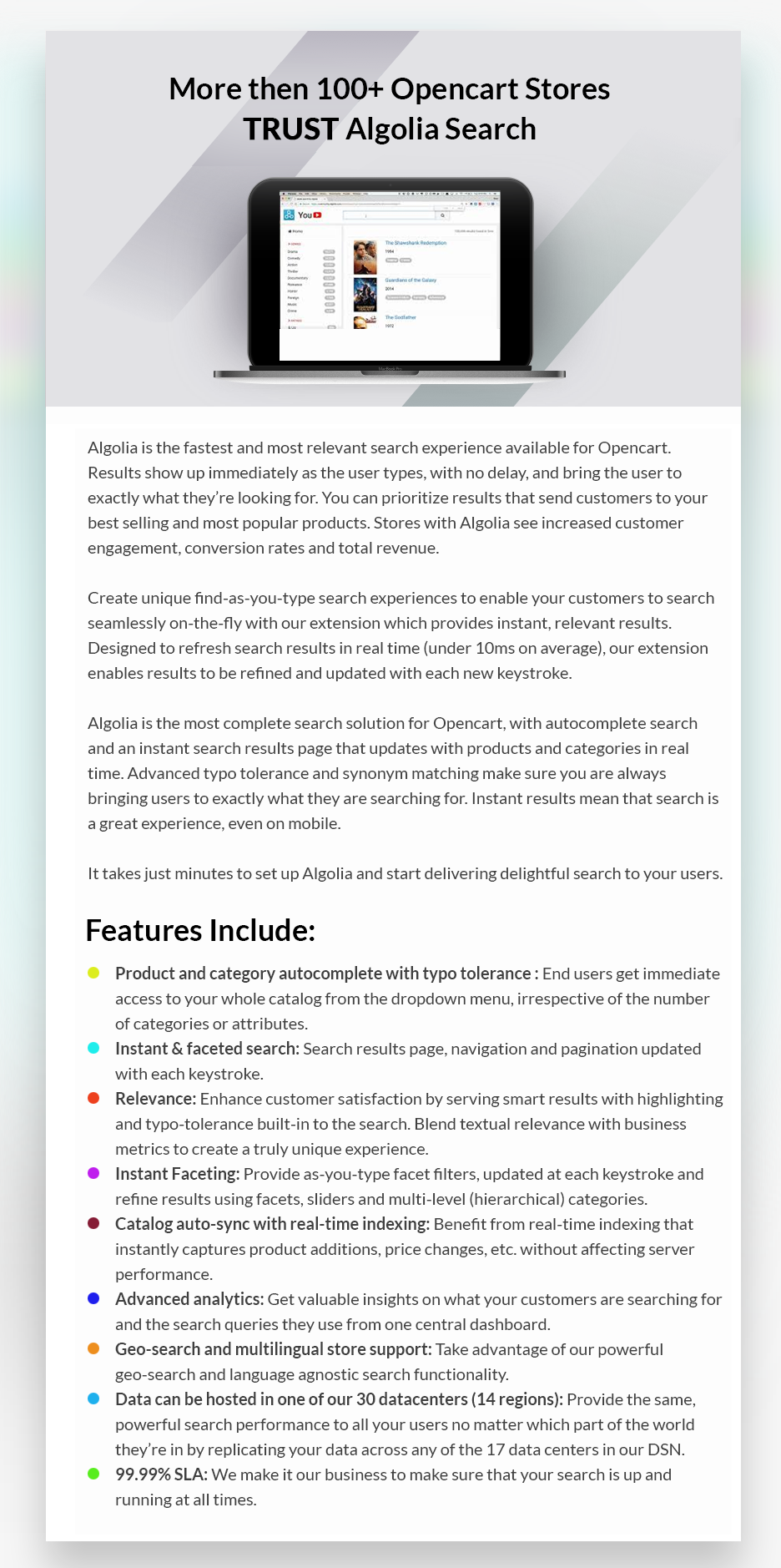 Note:
Algolia Opencart search extension, but you do need an Algolia account to use the extension. Algolia have a free Community Plan available for stores with smaller product inventories. Larger stores can choose from several affordable paid subscriptions that best fit their needs. Please see our pricing page for details.
View Price
.
Note:
- Support and installation is free but, license is on monthly payment basis which is
$10/Month
as we keep the script on our server for better response and speed and update the same on regular basis.
Also, if you don't need the monthly license you can pay us $200 for life time license, in which the support will always free but enhanced requested by you will be charged based on the complexity of requirement.
- Available filters Model, Price, Category, Manufacturer & Shipping if you need other filters then additional payment will be charged.
Development Process:
1. You have to purchase the extension.
2. You have to validate the domain name and create the algolia account.
3. Provide us FTP and admin we will install it for you as installation and support is free and also, we don't provide any ocmod or xml file for the same but, all the files will be completely different and does not effect your store.
Incredible Features - All the features you need, out of the box
- Built for developers
- First-class security
- Geo-search capabilities
- Unparalleled speed
- Typo tolerance
- Intuitive ranking
- Smart highlighting
ALGOLIA LINK
:
http://algolia.com/
Note: Licence for the integration "Opencart Search powered by Algolia" belong to PurchaseTheme.com which cannot be copied and distributed in anycase by any other user/company/organization etc without the permission of PurchaseTheme.com.

Log - Updates 08-Jan-2021
- Updated Language Support
- SEO URL Creation and Update of Normal URLs
- 3 New UI Launched
Log - Updates 19-Sept-2019
- Updated the file for In & Out of Stock
- SEO URL taken for the products
- 5 Internal bugs resolved
Log - Updates 30-June-2020
- New Improved Admin Panel
- New Layout Supported (UI/UX)
- Updated Code from Algolia