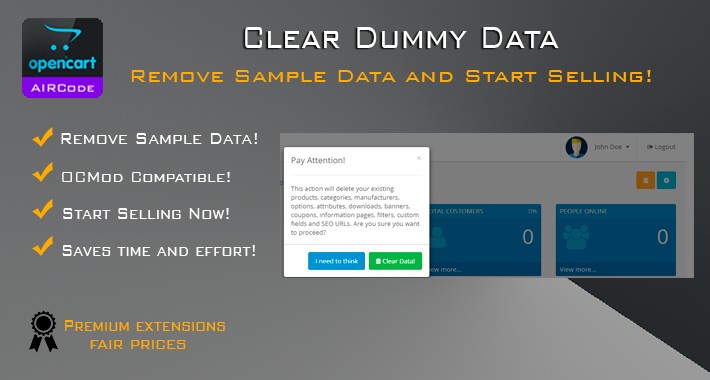 Clear Dummy Data

We all know that creating a new store with OpenCart requires removing of all existing product, categories, options, attributes, attribute groups etc. Well…. This takes time and is really annoying to do!
That's why we decided to create this simple extension – with a click of a button you'll get rid of all the dummy data that comes with OpenCart by default!
Simply use the OCMod Installer, refresh the cache and you're ready to go!
After the instllation is complete, you will see a new button on your Admin Panel Dashboard. Check the images!

Features:
1. Quick and Clean dummy data removal!
2. Deletes:
a. Products
b. Categories
c. Manufacturers
d. Attributes
e. Attribute Groups
f. Options
g. SEO URLs
h. Downloads
i. Banners
j. Information Pages
k. Filters
l. Custom Fields
m. Coupons
3. No core file replacements! OCMod in use!
4. OpenCart 3.0.x Support!
5. Free of charge!

Installation:
Use OCMod installer and just select the .ocmod.zip file, then upload. After the installation is complete – refresh modification cache!