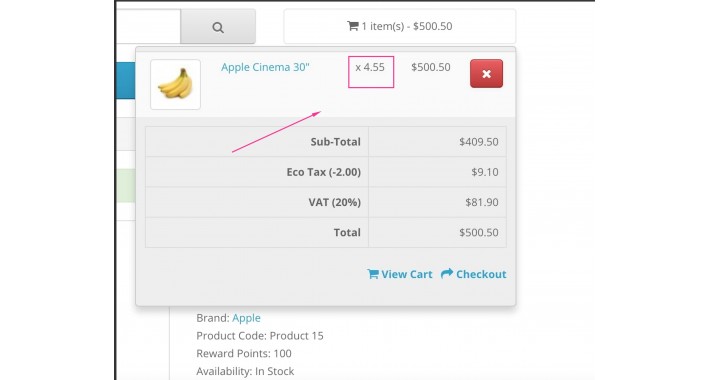 This modifier will allow the buyer to buy a fractional quantity of goods.

A very useful modifier for stores where there is not a whole sale for sale. Sale; f weight goods and so on.

Concerning compatibility - it was tested with the Simple module

Install via Add-on Installer

The module does not replace files.

Before installing, backup your files and database.

When installing the module, the database will be modified.

You must have FTP configured or the Local copy OCMOD modifier set.

If other modules are installed that can modify the product model, then handles may need to be modified.

Данный модификатор позволят покупателю покупать дробное количество товара.

Очень полезный модификатор для магазинов у которых предусмотрена продажа не целым количеством. Прода; f весового товара и тд.

По поводу совместимости  - тестировался с модулем Simple

Установить через установщик дополнений

Модуль не заменяет файлов. 

Перед установкой сделайте бекап Ваших файлов и бд.

При установке модуля будет модифицироваться бд.

У вас должен быть настроен FTP либо установлен модификатор Local copy OCMOD

Если установлены другие модули которые могут модифицировать модели продукта - может потребоватmся доработка ручками.