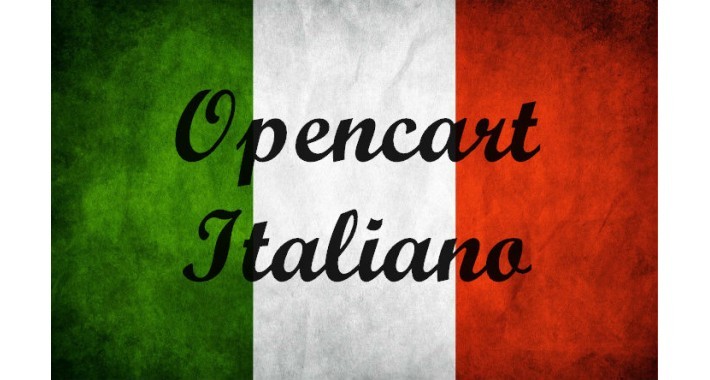 Opencart 3.0.3.2 in Lingua Italiana.
Opencart 3.0.3.1 in Lingua Italiana (La versione completa di 3.0.3.1 include fix per il problema di inserimento prodotti)
Opencart 3.0.2.0 in Lingua Italiana.

Sono presenti tutte le traduzioni per essere subito operativi.
Traduzioni delle informazioni base di opencart (privacy e cooki, chi siamo, etc), stato magazzino, stato restituzioni, stato ordini, classe di peso, classe misure, descrizioni predefinite, contenuti demo, etc.

Con l'installazione "completa" ci sono funzionalità aggiuntive, impostato l'euro come valuta predefinita e iva come tassazione.

Possibile utilizzare il pacchetto d'Installazione di Opencart ( "Installazione Completa/Full Installation" ) completamente in lingua italiana


In alternativa si può installare tramite ocmod (Italian Language Package for opencart 3.0.3.2 - OCMOD) la lingua italiana con formula "base" come aggiuntiva (es. shop in inglese o altra lingua) o "completa" per avere funzionalità aggiuntive




Utilizzare il pulsante "Get Support" per richieste di assistenza.

--
Opencart 3.0.3.2 Italian Language Pack
Opencart 3.0.3.1 Italian Language Pack (The full version includes the fix for the bug when adding a new product)
Opencart 3.0.2.0 Italian Language Pack.

With the ocmod of our language pack you will be able to add the italian language to your store in less than a minute!


With the "Installazione Completa/Full Installation" package you can install, from scratch, a full featured Italian+English version of opencart in less than a minute.
Euro is Automatically set as default currency.
Italian VAT is automatically set.

Please use the "Get Support" button for support enquires.