Hello everybody,
This extension is for showing order notifications for OpenCart 3x platforms.
In OpenCart 3x versions, there is no order notification system in admin top menu as in 2x and older versions.
With my extension it's simple to use it again. But I created it without product/customer and affiliate notification notes. So, store owners will only show and get alerts about
Orders
,
Out of stock products
,
New Reviews
and
Returns
.
Also you can check and see total orders even they not assigned as processing or completed statuses with 1 click like you do in dashboard.
NOTE: It will show alerts only which order statuses you assigned to processing or complete order statuses. For example: if you don't set Reversed, voided etc.. to Processing Order Status, they will calculate to total orders but not with alerts. It's same for Complete Order Statuses.
I tested it with
3.0.2.0
and
3.0.3.1
versions.
If there is no new Order/Return, notifications will be green:


If you have order(s) the the notification bell will blinking with red and order(s) count will appear at right bottom corner.

If you have a return then an alert for it will be shown next to Order Notifications. By
you can see the total return requests and product orders separately. :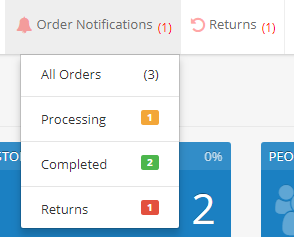 If you have a new product review then an alert for it will be shown next to Order Notifications. For using it with review alert you have to download the file Order/Return/Review Notifications.
I made it 2 different modifications because some of you may not want to show new Reviews as an alert.

If you set return history to complete then the Return Notification will be disappear but you can always check the return count on Order Notifications menu.
Note:
I set it to work with English and Turkish languages but you can edit to work with your language.
Edit xml file and change "en-gb" or "tr-tr" to your language code and the words to your language.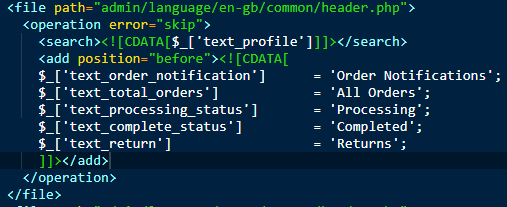 01/05/2019
- Changed Text terms font sizes and made them shorter like Order Notifications to Orders.
- Added Product alert "Out of Stock" with product hunt icon and out of stock totals.
Here is a little view of how it looks like and work.