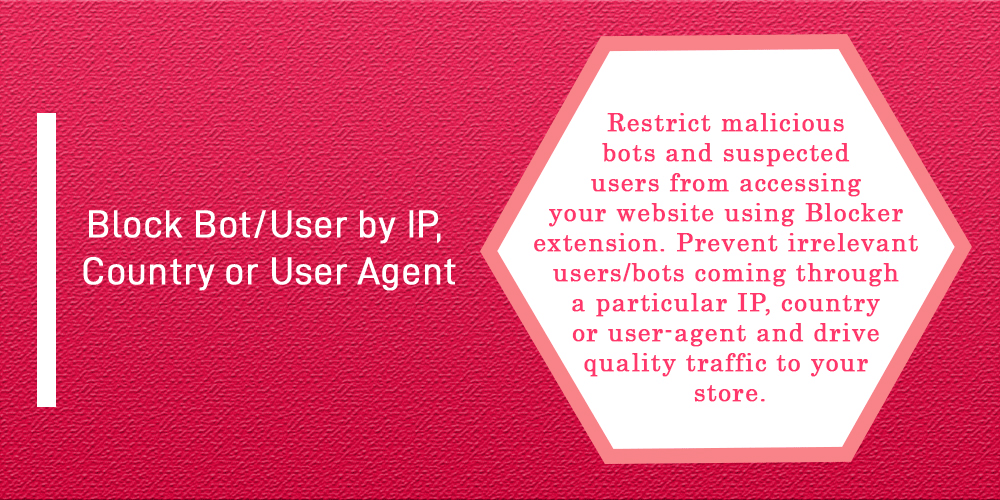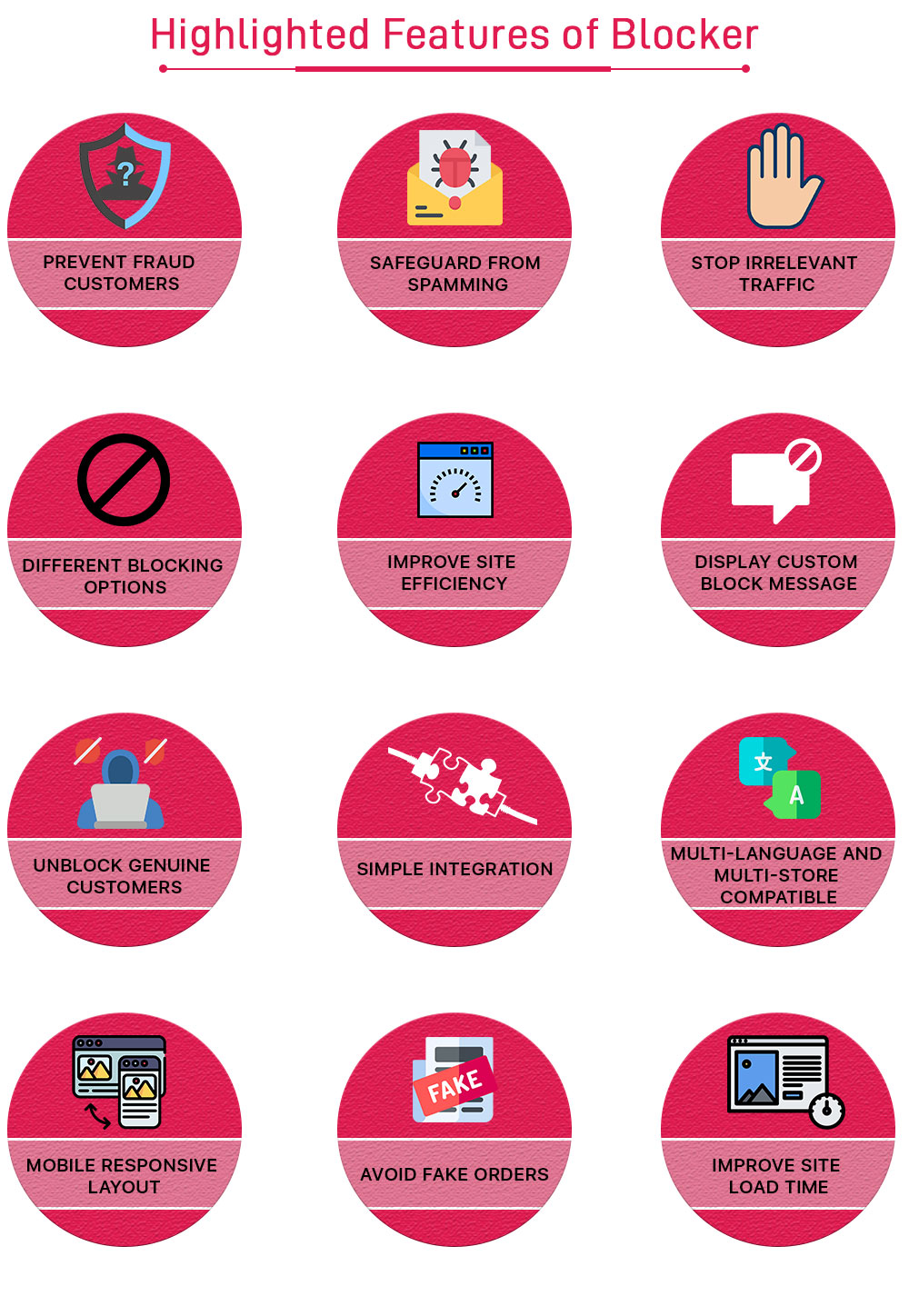 With the increasing dependence on the Internet and digital advancements, every website is at great risk of getting attacked by automated bots and malicious users. While some bots are good for your website and others can negatively impact the productivity of your store. The unwanted site traffic involves robots, spiders, crawlers and other kinds of malicious bots that seek private information, identities of the users. This ultimately affects the website loading speed and subsequently the bounce rates at your store. A reduced bounce rate directly impacts the ranking of your site among popular search engines. How to save your site from malicious bots and annoying customers? Firewalls are one great option to prevent these unauthorized accesses. But a more useful functionality is offered by OpenCart Block Bot Extension that allows the site administrator to control and regulate the traffic coming through harmful bots and users. OpenCart Blocker module gives an option to block bots/users based on IP, Country or User Agents. By preventing site access to spammers or fake visitors, you can save your site from getting hacked or attacked by malicious intruders.
Stop fraudulent orders
: Blocker module bans the suspicious users that make irrelevant requests and order at your store. The suspected visitor can be tracked based on IP, country location or on behalf of user agent.
Block unwanted spam traffic
: Safeguard your online shop from irrelevant traffic from a specific country where you don't offer your site services. This helps to cut down bulk traffic from a particular region.
Cut-down website load:
Create a spam-free website using spam blocker and improve site speed and performance. Irrelevant users mostly cause the traffic on the website and leads to slow loading speed.
Block by IP Address:
Block by IP module gives an effortless option to block a single user or a complete range of users just by specifying their IP address. It may be in the form, 223.190.77.75 to block a particular IP or 223.190.77.* to block a range of IP's.
Block By Country
: Block Bot hides the website content from the users of a specific country using the Block by Country functionality. Using this setting, you can easily hide your website content at a particular region or country.
Block By User-Agent
: Block site access to a particular user agent like Chrome, Mozilla, Bingbot, msnbot, twengabot, Facebook using Block by User Agent functionality.
Show Block Message:
Spam Blocker allows an option to show a custom text message to the banished users of the store. This error message for the blocked user can be modified as per requirements
Unblock Genuine Customers:
Spam IP Blocker lets you unblock the genuine users of the store who are mistakenly blocked by the admin. Admin can easily handle all the unblock requests from the backend.
Code-Less Implementation:
No technicalities are involved in the install and configuration of OpenCart Blocker Extension. Once installed, the functionality can be enabled or disabled anytime.
Multi-Lingual Support
: Block Bot supports multiple languages covering an audience of varying locations making it a user-friendly extension.
Multi-store Compatible:
Block Bot/User supports compatibility with multiple stores and works flawlessly with the latest versions of Opencart.
Mobile responsive
: The blocker module is easily accessible on different screen types and sizes.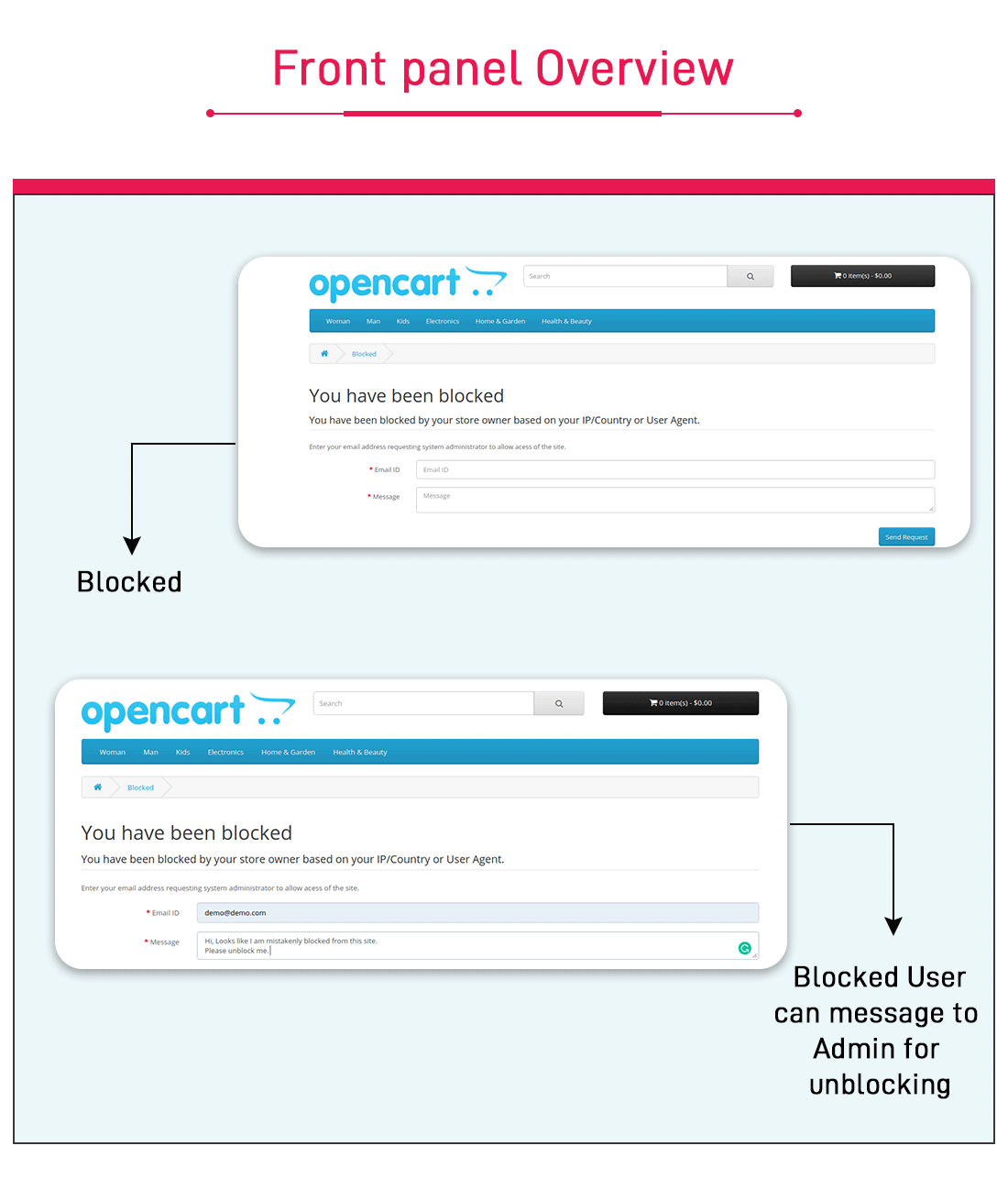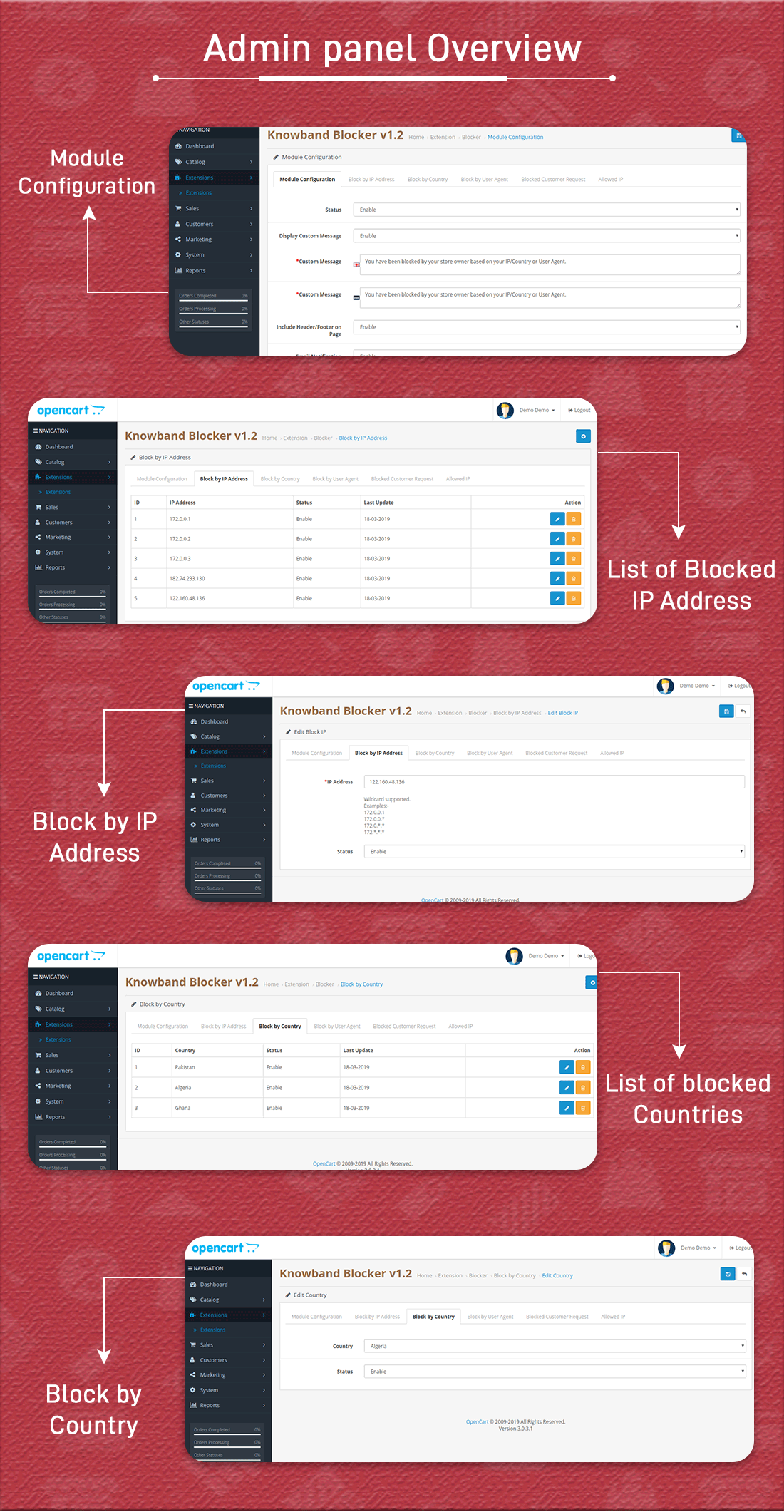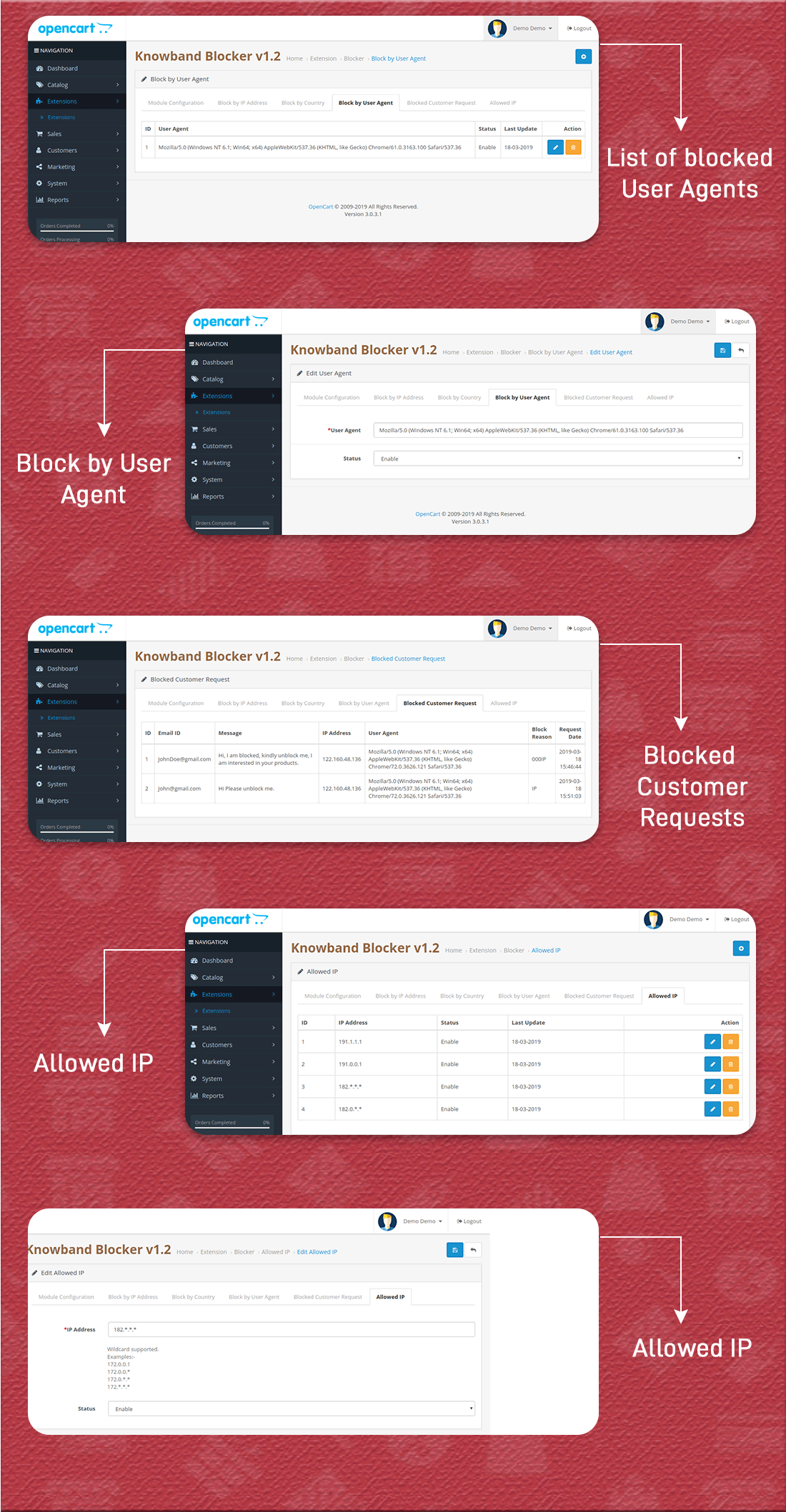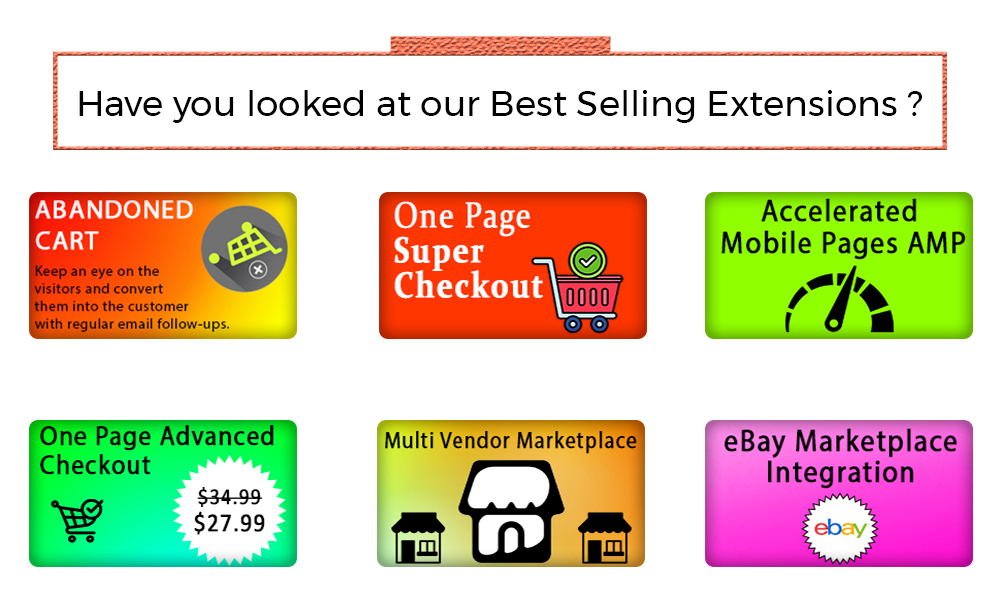 Other Related Modules
OpenCart Google reCaptcha
OpenCart Age Verification Extension
Opencart Follow Up Email Extension
Our Top Five Bestsellers
Android & iOS Native Mobile App Builder
One Page Super Checkout (One Page Checkout, Quick Checkout)
OpenCart Google Merchant Feeds (Google Shopping)
OpenCart Multi Vendor Marketplace
OpenCart Google Merchant Feeds (Google Shopping)
OpenCart Walmart Integration