2021.04.16 -purpletreesoftware multivendor Korean Laguage
Add Korean sellers. -Added for users.
This module must be purchased separately. purpletreesoftware multivendor Version 3.16.08 -
- Only the Korean category part has been translated. -In the admin manager area, translation will be provided as the number of users increases. Please ask if necessary.
-
This is a bonus translation of the Korean module.
- The module is installed separately-provided free of charge
- ex) https://hotitem.co/ocmultivendor/sellers
- For query and purchase of the solution, contact the company. purpletreesoftware
- If the module developer raises a copyright issue for the module file, the Korean translation module may be deleted.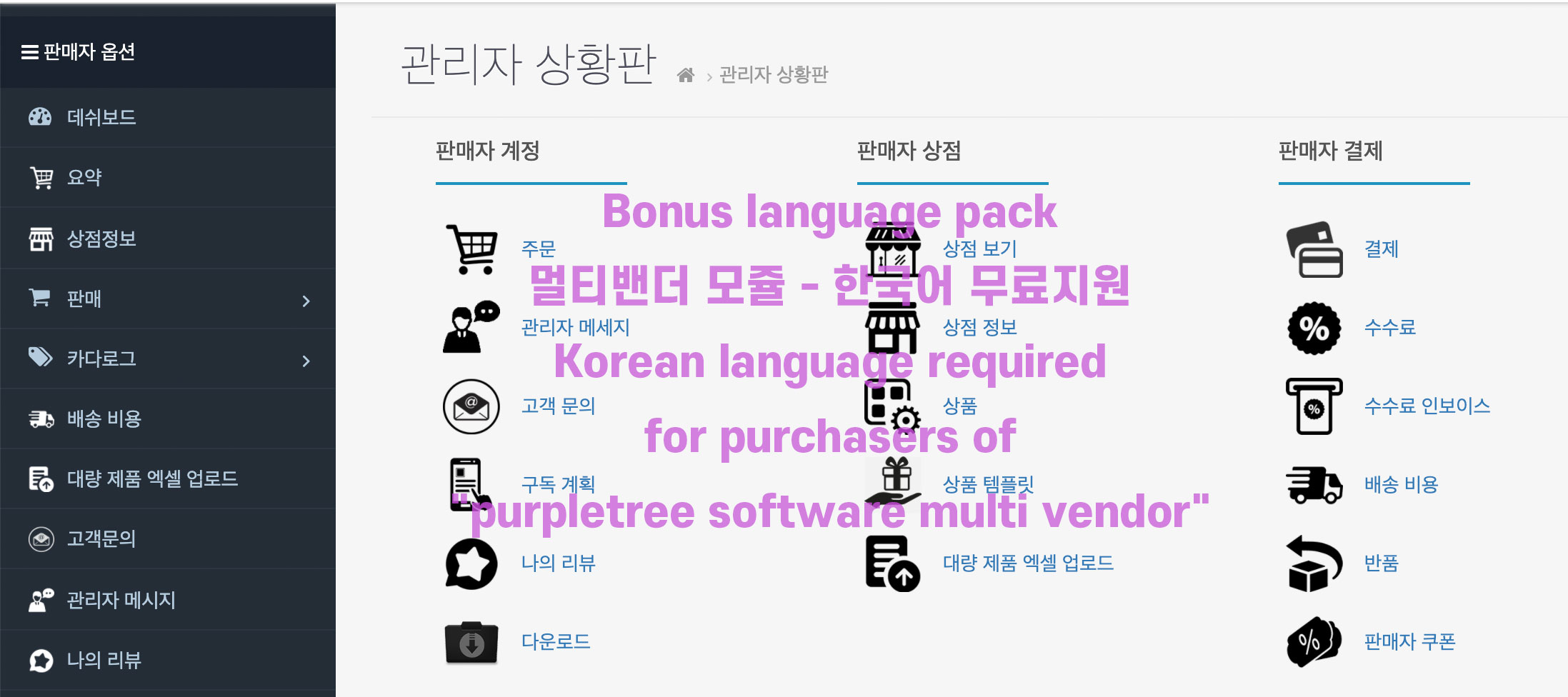 2021.04.06 장바구니 -> 쇼핑카트로 등 명칭 변경 및 누락된 코드 수정
2021.04.06 Change name to shopping cart, etc. and correct missing codes update
2021.03.29 : Opencart 3.0.3.7 Korean Full Update
Apply install.xml
Including all administrators and users / All areas that require Korean
(except for modules provided by companies such as payment modules and extension modules not used in Korea)
한국어 사용자 영역, 관리자 영역 전체 언어 작업되었습니다.
제2 외국어(한국어등)은 다음의 이유로 관리자 영역에 영어(기본어) 사용을 추천합니다.
- 관리자 영역 한국어 변경시 필수로 반품정보, 주문정보등 한국어 사용에 따른 변경작업을 넣은 후에 해야 합니다.
It is recommended to use English for the manager area. When using a second foreign language, change the administrator language after completing the Localization setting.
After completing the second foreign language work such as Order Statuses, Returns, etc., the administrator language must be changed.
관리자 언어 변경 후 에러 대처 - 기본 언어로 다시 변경에 대해서는 다음 URL을 참조해서 _ 영어(기본언어)로 변경후 처리하세요.
https://stock.kpop.to/knowledge-base/article/admin
Please check the Korean version sample site.
Only the front (consumer) area is translated.
https://opencart.to
The manager version will be released separately.
Opencart Korea - Store Front
- Store Front Only - KOREAN Language (UTF-8)
- Administration -Not included (Include default English - ANSI )
- Version 3.0.3.2 - It was tested.
Opencart Korea -Sample https://opencart.to
* Koreans bought it at shopping malls all over the world.
Buy $ 2,750,000,000 in 2018
*
*Purchasing power parity rankings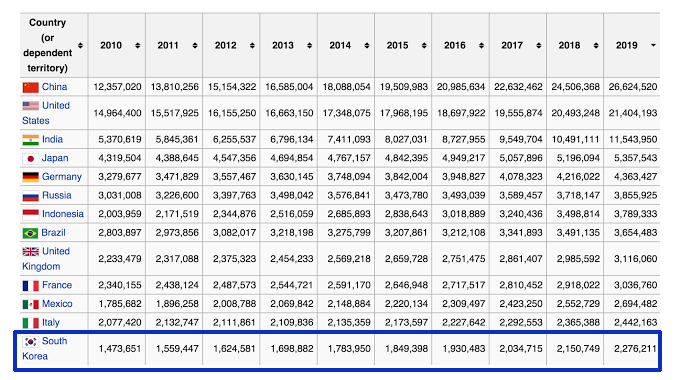 * Limited Events (Promotion of Korean shopping malls)
You can let them know when you buy it and apply it to the shopping mall.
I will give you an article in Korea so that Korean people can know your shopping mall.
Send an e-mail to hotitem2013@gmail.com (Only the person who bought it.)
- Site Name / What's on sale? / It's not a weird site.
Installation method
1. Extension-installer-Upload your extensions - Upload File
file name "KoreanOC3x.ocmod" - You can't change it.
2. Syetem-Localisation-Languages-"
+
" insert
after installation - Click it and it'll be displayed automatically.
Language Name - : Korean
Code : ko-kr
Locale : ko-KR
status Enabled
Refer to the image below.
3. Option -Add Korean Currency
System- Localisation -Currencies-"
+
" insert
Currency Title - Korean Won
Code - KRW
Symbol Left - ₩
Decimal Places - 1140 (USD 1$ Ratio 2019.04.11)
Status - Enabled
Refer to the image below.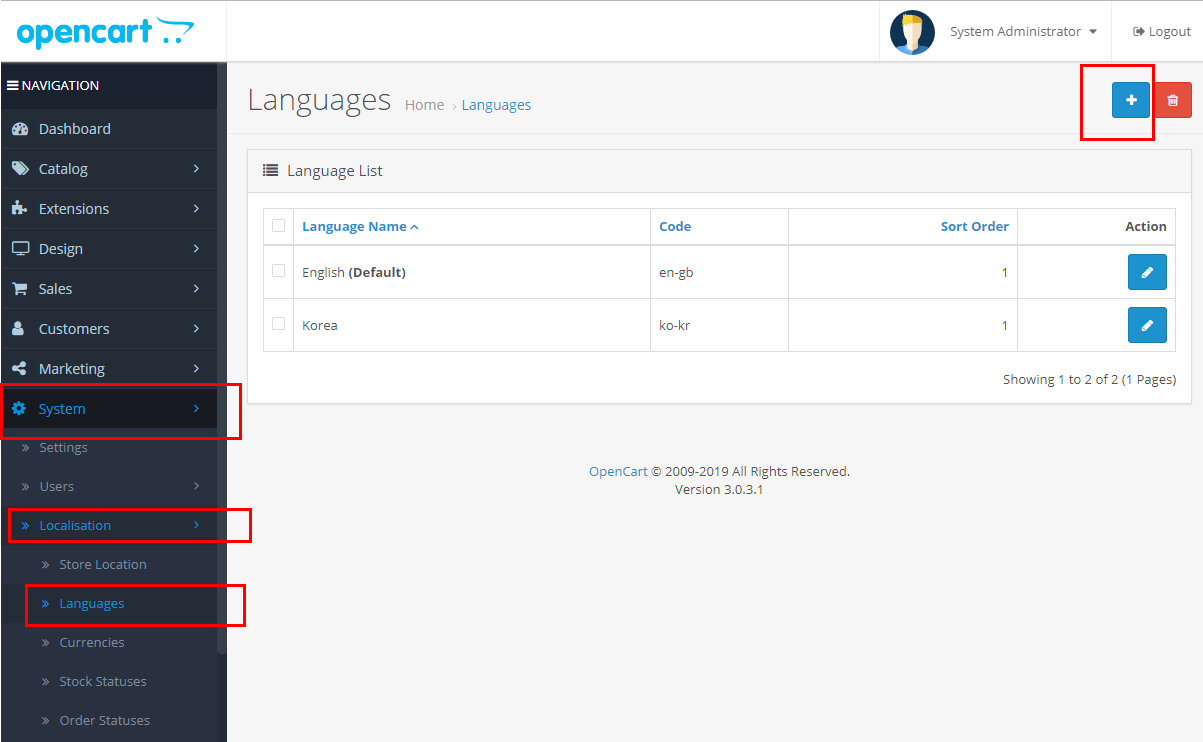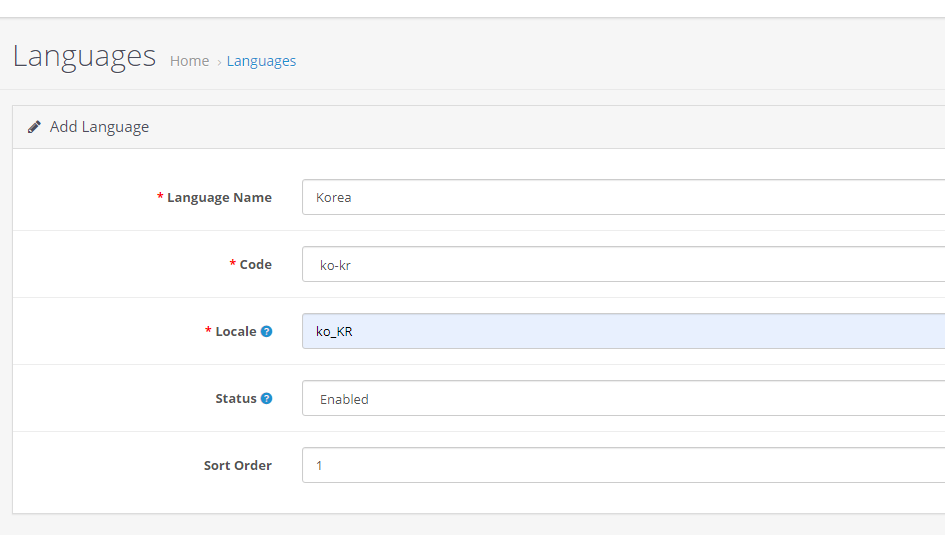 The manager version will be released separately.
Currently we only supply to customers.(Store manager - only if you use Korean)
Contact Email master@opencart.to
2019.07.29
If you have any problems, please email us.
Fixed an error with spaces between characters such as Hangul characters and paragraphs.
It has been verified in the latest version 3.0.3.2.