OpenCart Gift Card Manager sets up a gift card section on your OpenCart website and encourages Digital gifting. It lets you provide multiple occasion-based gift cards to your customers.
Digital Gift Cards have made gifting easier and pleasant. What was earlier time-consuming is now a few minute's tasks. Until a few years ago, shoppers used to spend a lot of time in search of a gift and yet they couldn't find a perfect one. E-gift cards have put an end to this headache. OpenCart Gift Card Manager is designed to keep the same thought in mind.
RecentlyOpenCart gift card extensions updated. Let's check out what is new in this updated version?
Some additional features have been added in the updated version which is useful from admin as well as user's perspective:
Now the online store admin has an option to send a notification to the gift card buyers who selected the "Print by Yourself" option while purchasing the gift card. The OpenCart gift card system plugin provides an extra email template for sending this notification to the gift card senders.
The online users can now select the fixed amount gift card from the drop-down list. The store admin can enter multiple gift card value and separate it using comma(,). The OpenCart gift card manager extension allows activating/deactivating this functionality of showing a fixed amount of gift cards.
The OpenCart gift card manager extension allows the online merchant to set minimum and maximum gift card value. The online users can not select any other amount less than the minimum or greater than the maximum amount.
While selecting the virtual gift card amount, online users don't need to pay any shipping charges.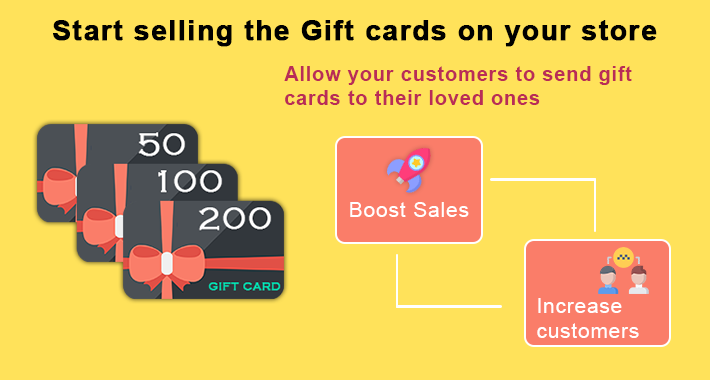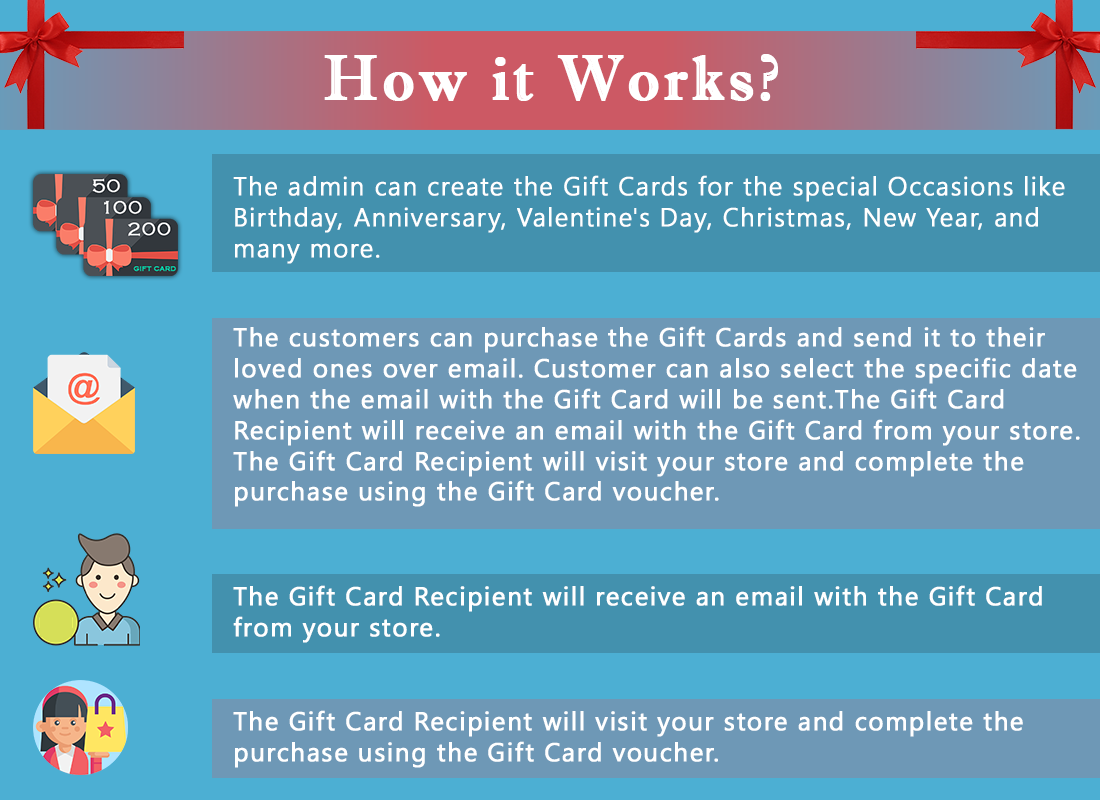 Benefits-

Boost Sales
There is a huge demand for Gift Cards, especially during the holiday season. This gives a huge boost to your sales.

Grow Brand Awareness
Gift cards are very effective in doing your brand promotion. When one buys it for others, they get to know about your brand.

Acquire New Customers
When customers purchase a gift card for their loved ones, they ultimately invite the other person to your website to shop which increases user registrations on your website.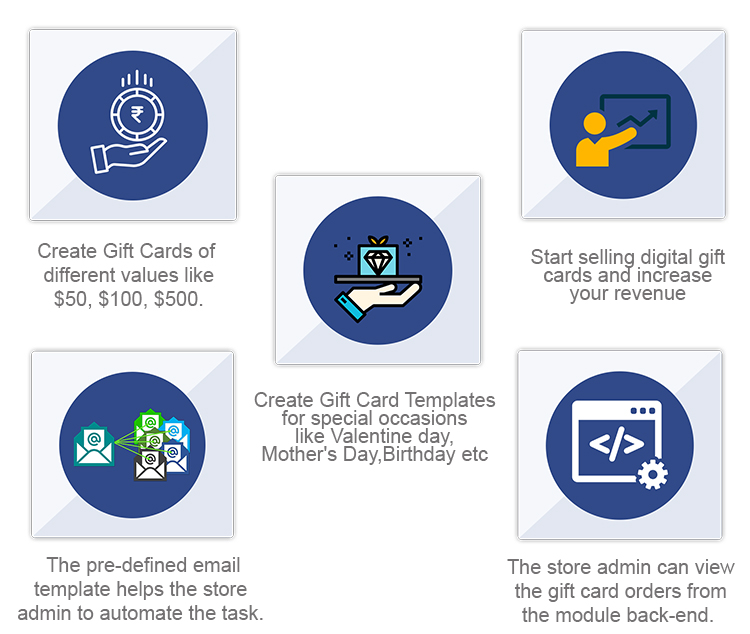 Features-
Multiple Occasion-based Gift Cards
Gift card templates for various occasions or events such as Valentine's Day, Halloween, Christmas, New Year, Birthday, Anniversary, Father's Day, Mother's Day, etc. are available inside the Gift Card module. You can customize the existing Gift Card templates and also add new ones.

Place Gift Card link on multiple places
OpenCart Gift Card Manage extension lets you place the gift card link on various places to highlight it in front of your visitors. It can be placed on the Header, Footer, and the center-left of the website. You can also display the Gift Card link in the My Account section.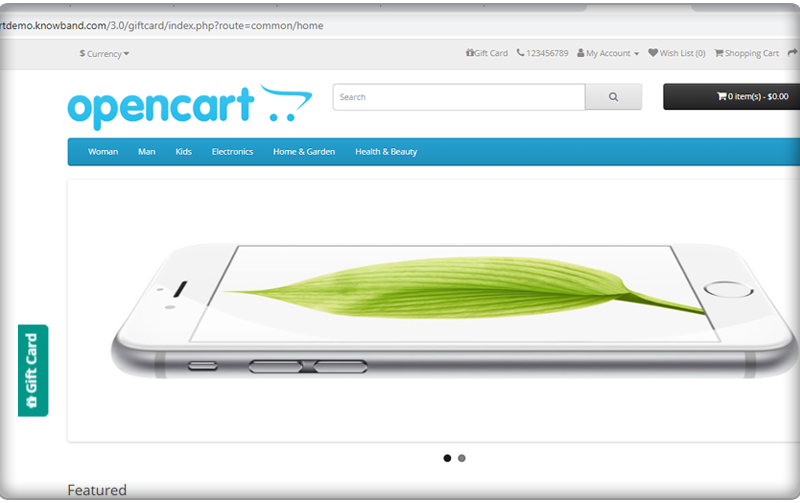 Specify Gift Cards Value
OpenCart Gift voucher extension lets you set fixed value gift cards or you can specify a range for gift cards. When the fixed amount status is enabled, you can specify the value for which gift cards would be available, for example, 100, 200, 500. If disabled, you can specify the minimum and maximum gift card amount for which a user can shop. For example, if the minimum and maximum value are set to 100 and 1000 respectively, customers can shop for any amount between 100 and 1000.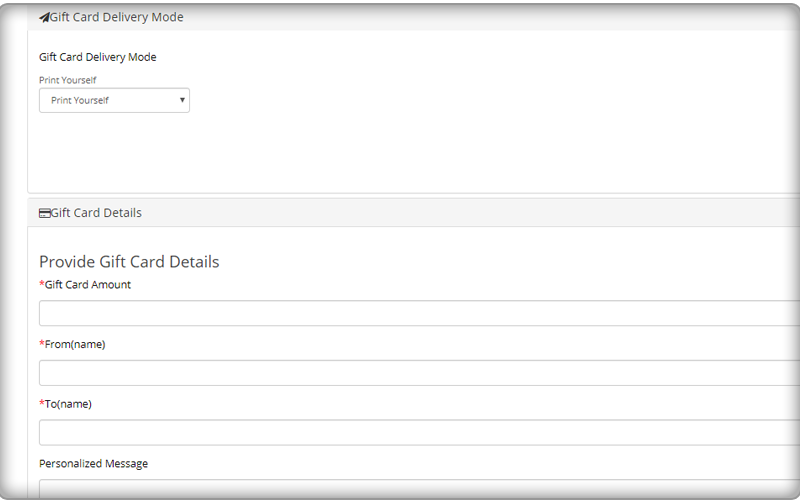 Set Gift Card prefix
A gift card prefix is generally created for brand promotion purposes. You can also create your gift card prefix after which all your gift cards code would start with the specified prefix.
Specify gift card order status on which gift card would be sent to the recipient
From the number of order status available, you can specify which specific order status you want the gift card to be sent to the recipient. Customers would also be able to print the voucher on the specified order status.
Set Gift Card Delivery Gap
The OpenCart Gift Card Manager extension lets you specify a minimum gift card delivery gap between the order placement and the order delivery.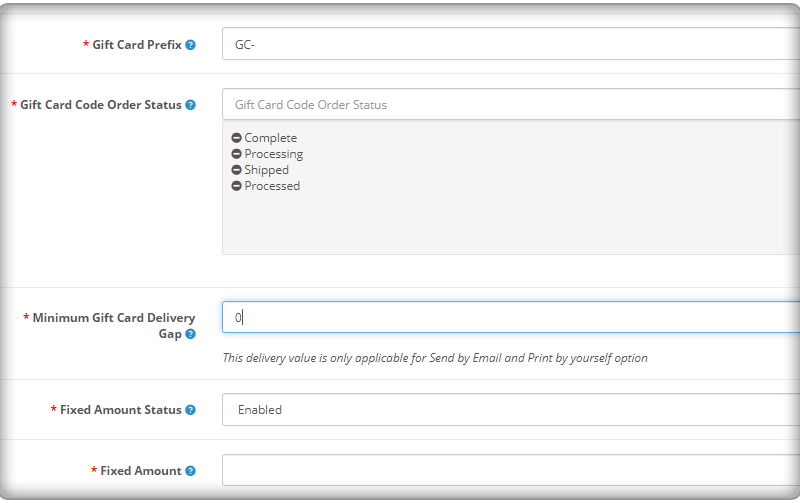 Customize Email Content
OpenCart Gift Card manager extension allows you to customize the emails as per your desire. You can craft a catchy subject line, and modify the email content your way. Email customization can be done for both the sender and recipient. In the updated version, there is an email template available for sending an email notification to the gift card senders who selected the"Print by yourself" option.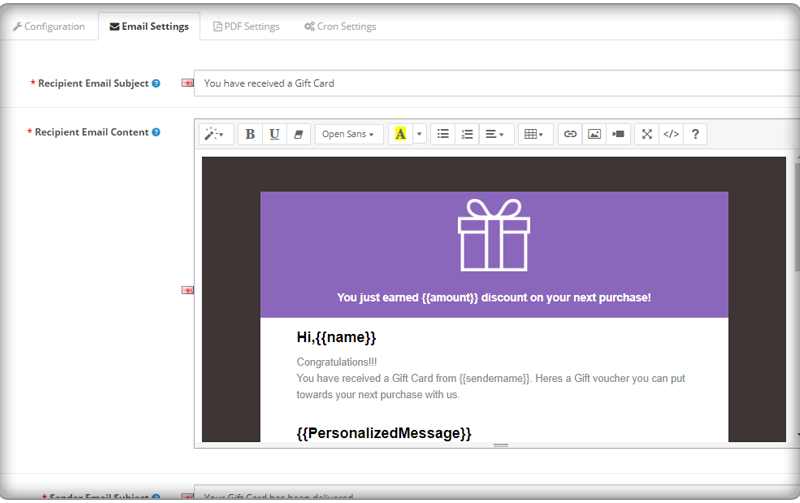 Allow Gift Card download in PDF format
With OpenCart Gift Card manager, you can allow customers with the option to download the gift card in a PDF format. You can set the gift card pdf prefix and also customize the PDF content.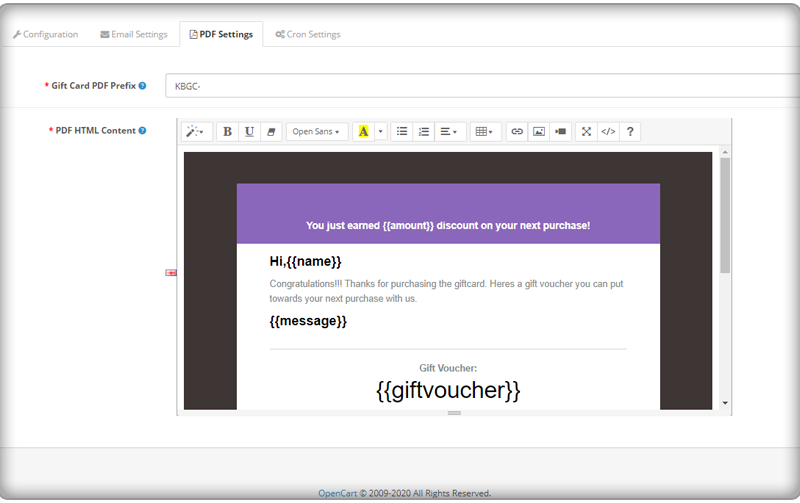 Cron Support
Considering that CRON is supported on your site server, the gift card can be sent immediately to the addressed recipient without running any CRON file.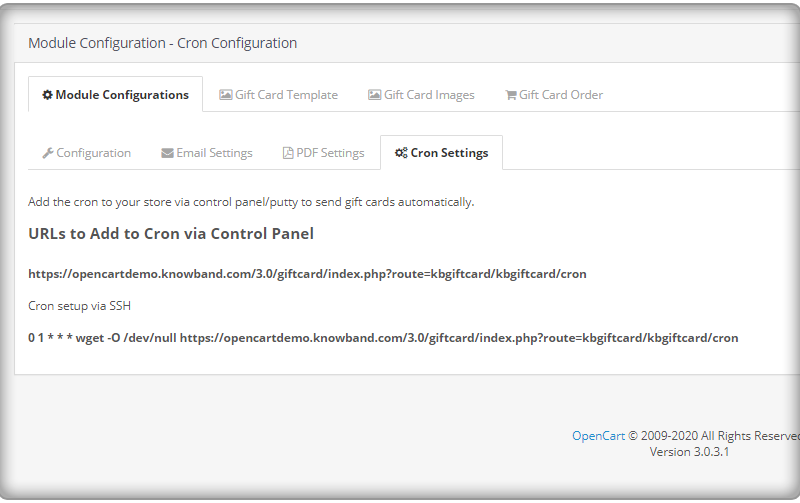 Allow gift cards to be sent physically
If enabled, the customers would be able to send the gift card at the recipient's house address. The functionality can be set for each type of gift card.
Allow gift cards to be sent virtually
If enabled, the customers would be able to send the gift card at the recipient's email address. This can also be set for every different gift card.
Track your gift card orders
OpenCart Gift Card extension lets you track the status of the ordered gift cards. You can view the details of the customers, check the sending date of the gift card and much more.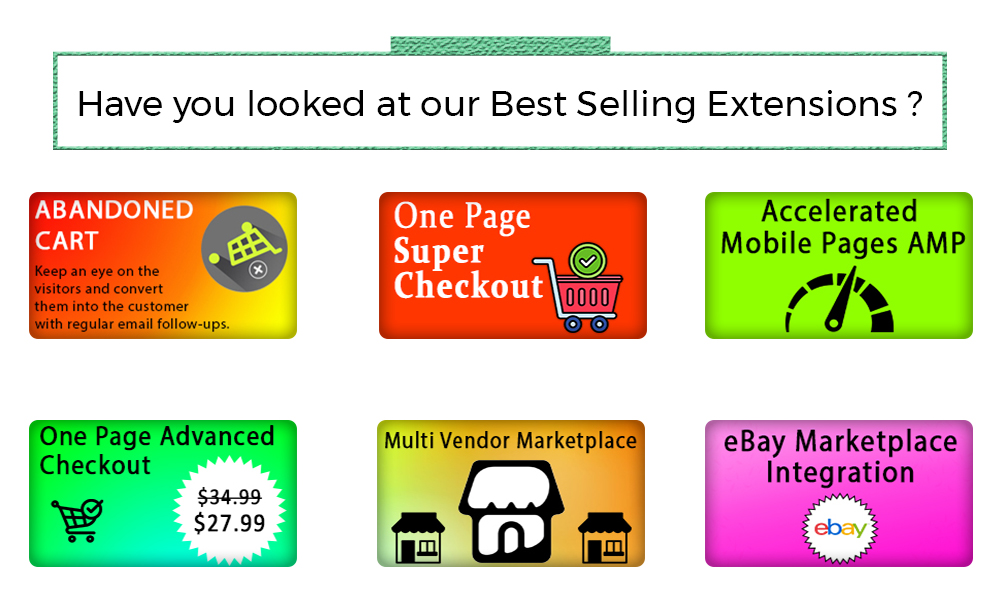 Other Related Modules
OpenCart Order Social Sharing Extension
Social Loginizer (Social Login Facebook, Google+, Twitter)
Our Top Five Bestsellers
Android & iOS Native Mobile App Builder
One Page Super Checkout (One Page Checkout, Quick Checkout)
OpenCart Google Merchant Feeds (Google Shopping)
OpenCart Multi Vendor Marketplace
OpenCart Product Availability Check by Zipcode