OpenCart testimonial module let you display the customers' reviews on a separate landing page. Customers can submit their feedback using testimonial form and other users can rate their reviews as well. This plugin provides you the option to approve the reviews automatically and manually as well. You can edit the customers' submitted reviews from the back office. Multiple layout options to display the customer reviews, choose which suits best to your website. It allows you to limit the number of reviews to display on the testimonial page.
Show customers' testimonials on separate page
Approve reviews automatically or manually
Admin can edit the customer testimonials
Multiple layouts to show customer reviews
Limit the number of testimonials on a page
Email notification for admin on new testimonial submission
Customize testimonial page i.e. title & description
Allow Customers to Submit Reviews on Your Website
OpenCart testimonial extension allows your customers to rate and review your services on the website. It enables an Ajax-based review form to let your customers submit their feedback easily.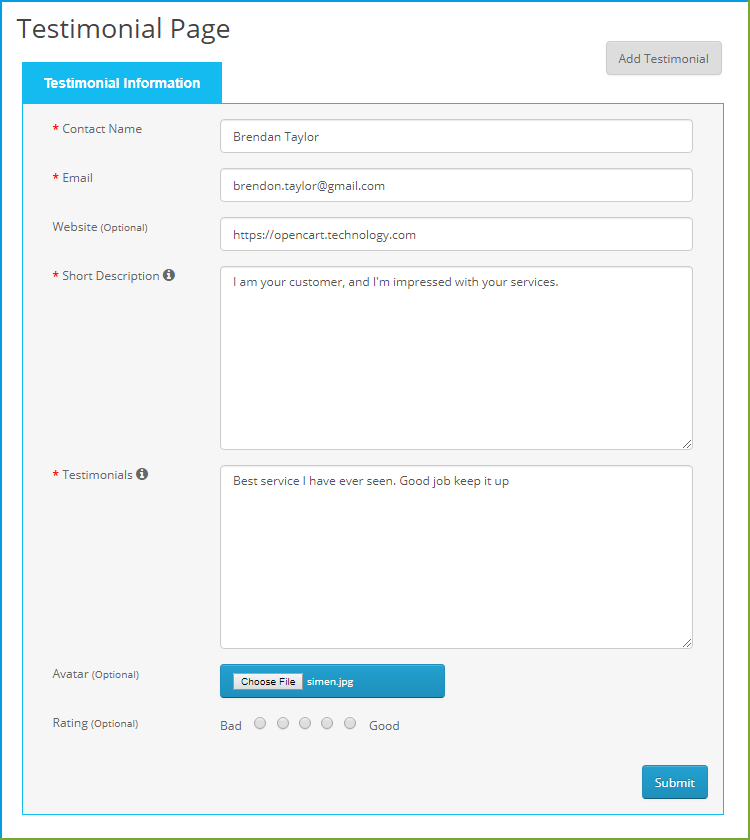 Displays Customers' Testimonials on a Separate Page
This plugin creates the separate page on your e-store to display all the customers' testimonials.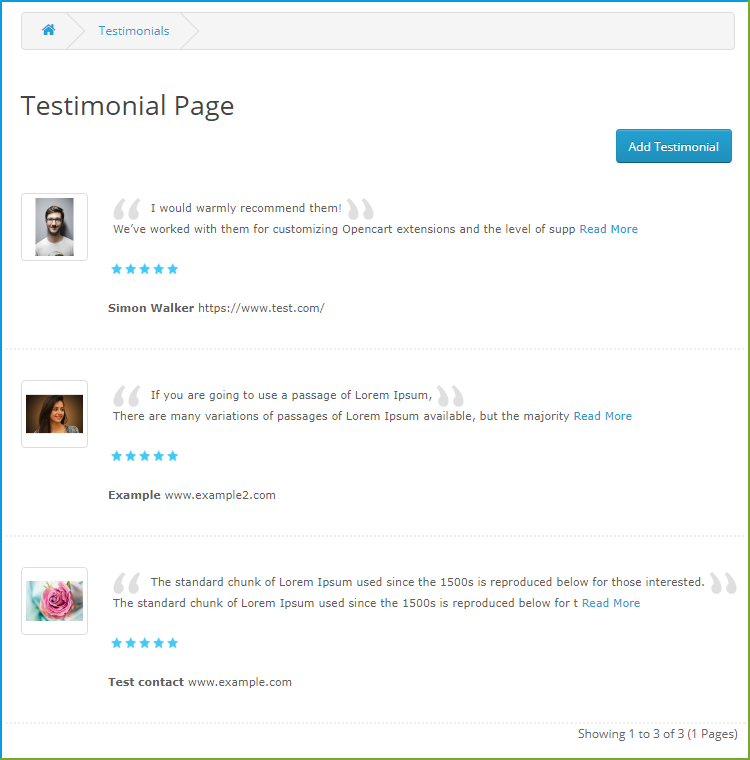 Auto or Manually Approve the Customer Feedback
With Opencart customer review plugin, you can approve the customers manually or automatically as well.
Easy Management of Reviews from Back Office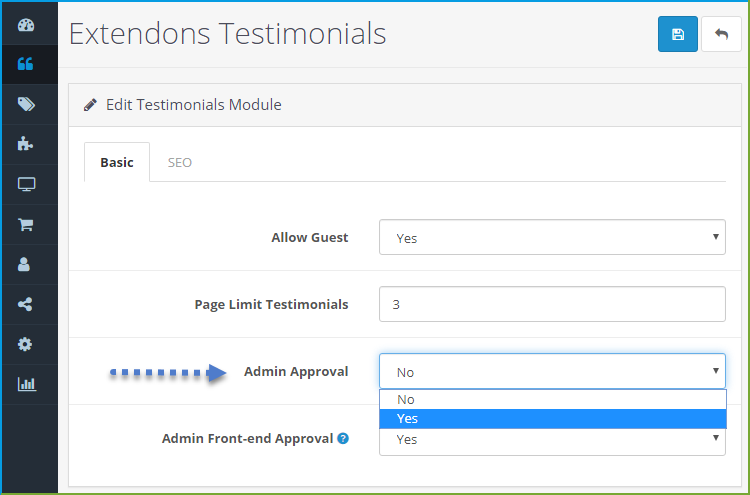 Easy Management of Reviews from Back Office
OpenCart testimonials plugin display all the customers' reviews in a separate section at the backend which helps you to manage the reviews easily. You can approve or disapprove the customer reviews.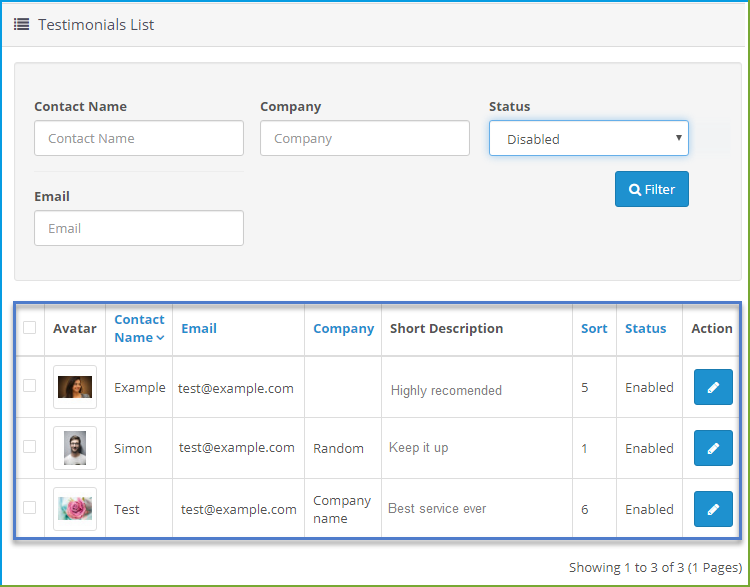 Admin can Edit the Customers' Testimonials
You can also edit the submitted testimonials and make the necessary changes.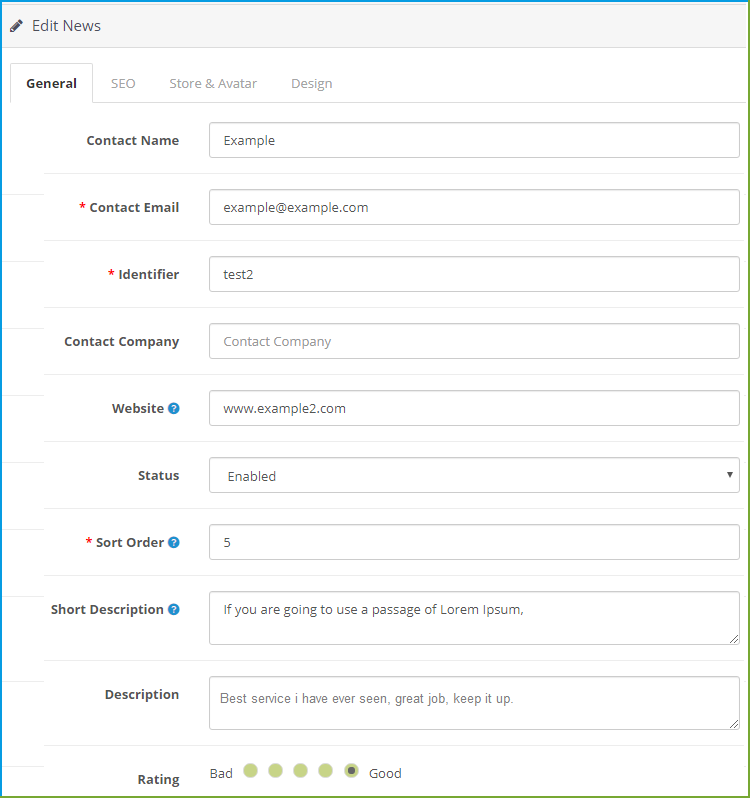 Multiple Layouts for Customer Reviews
Opencart customer review plugin enables multiple layouts to display the testimonials on your website. You can choose any layout that matches with your store.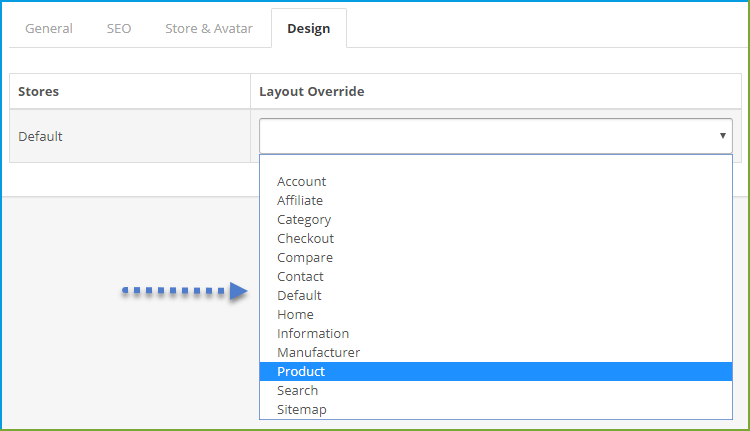 Demo Information
Admin:
https://opencart.extendons.com/octestimonialsplus/admin/
Username = demo
Password = demo
Front:
https://opencart.extendons.com/octestimonialsplus/