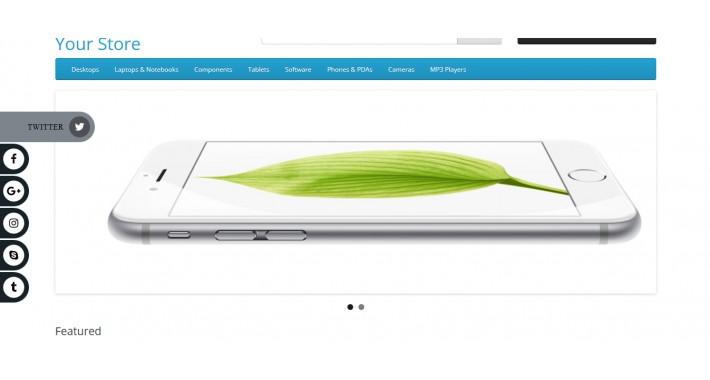 if you are requirements different version this module, send me email "tomwilliam274@gmail.com"
Social Media Sidebar
✯ If you have any queries for our product so send email "tomwilliam274@gmail.com",We are supporting in 24 hours.
✯ Two Layout Give Layout 1 and Layout 2.
✯ Responsive Suitable Position Layout 1 Left and Right and Layout 2 Left, Center and Right in all Devices.
✯ Social Media Sidebar Controlled By Admin Color,Font-Size,Hover-color,Background-color.
✯ Data Easy Drag and Drop For Sorting Order By Admin.
✯ Responsive Sidebar in all Devices.
✯ See Social Media in Every Page.
✯ You Can Add One or Multiple Social Icons in Social Sidebar.
✯ You Can Change Setting Enable To Disable Of Social Media Sidebar.
✯ You Can Set Social Media by Order.
✯ Social Icon (On / Off) Setting Available.
✯ Icon Library Supported (Font Awesome).
✯ Compatible In Opencart Version 3.x.
✯ Easy Installation And Setup.
✯ It's Looks Great on all Types of Devices (Laptops, Tablets and Mobiles).
✯ Fully manageable from admin.
✯ Set Social Links on your website.
✯ Option to set icons on Left, Right, Top, Bottom, Etc.
✯ Fully Responsive.
✯ Any Theme Compatible.
✯ Multi-Store compatible.
✯ Multi-Language Compatible.
✯ No Core file change.
✯ Vqmod available.
✯ 12 months of support.
✯ Many More features...
What customers say about Social Icon