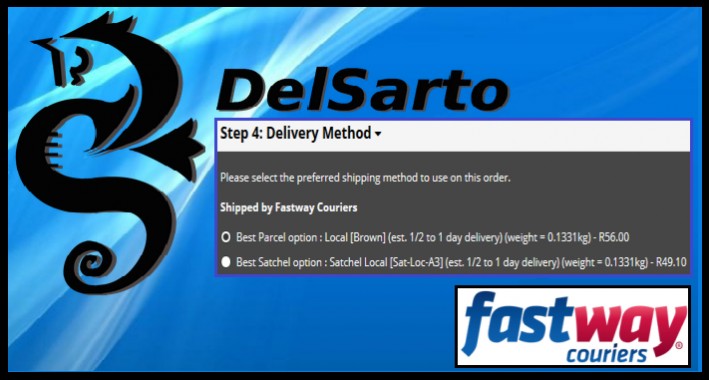 Accurate Fastway Shipping Extension enables you to pass on the best Fastway prices directly onto your customer.

Please note, this is a 12 month subscription, for some reason OpenCart doesn't show this when you purchase the extensions. I will be contacting support to see what this isn't showing, sorry about any confusion.

This extension takes the volume of the items in the customers cart into consideration when working out which Fastway satchel the customers cart items would fit into. The existing Fastway API returns all Parcel/Satchel options and instead of either showing the highest values or lowest values, what sets us apart is the fact that we work out which satchel is the most accurate fit for the items.

This extension ensures that you pass the best possible price onto your customer, where as before, you were either charging them to much or having to pay in when the calculation wasn't accurate.

Features include:
• Accurate 'best Satchel fit' selection algorithm to display accurate shipping costs
• Our extension uses the Fastway pricing structure and parcel weight limits to calculate excess stickers for both Local and National deliveries.
• Enables you to choose between various options to best suit your business -Display Satchel only, Parcel only, Both and Cheapest only.
• Uses Fastway pricing structure (Frequent or Normal).
• Optional display of cart items combined weight (shipping weight).
• Optional display of the estimated delivery time.
• Accurate shipping quote estimate (within the Shopping Cart page).
• Customisable titles for both Parcel and Satchel results.
• Optional Handling charge.
• Available for South Africa, Australia*, Ireland* and New Zealand*.

Note:
* The extension was developed in South Africa and use South Africa's weight settings for Parcels and Satchels. If you would like this extension for Australia Ireland or New Zealand, please contact me and I will make a few tweaks to ensure these specific restrictions for your country are in place. This development would take place on request and take about a day and will ensure that the correct excess labels are calculated.