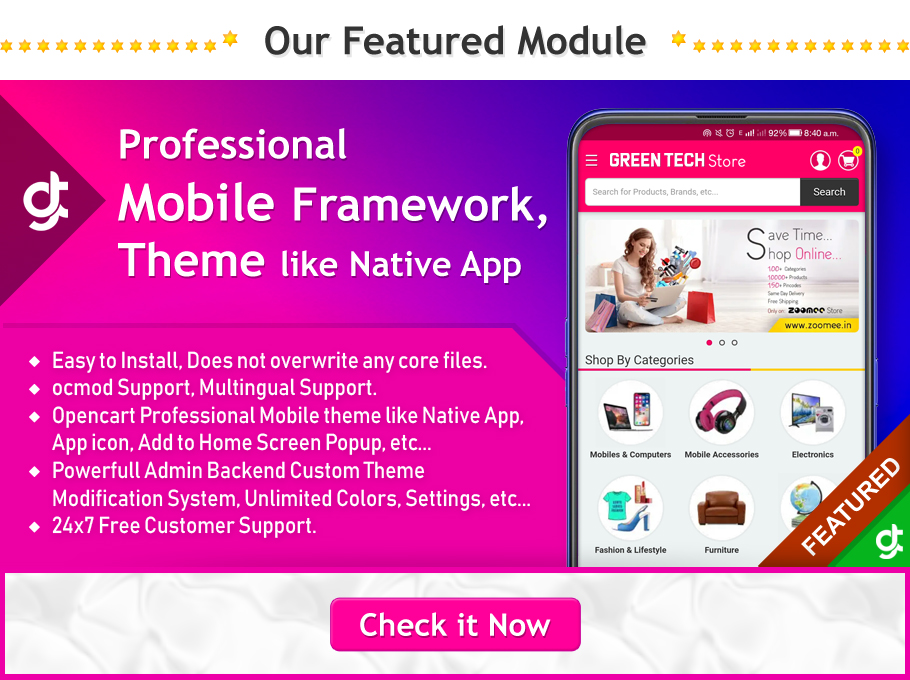 This Beautiful Extension Set Products List as a Animated List's, When Scroll Down Page even Desktop/Mobiles Product Layout Move Up with a Beautiful Animation Effect, this extension work with All Versions of Opencart and any Custom Theme's also. and work with Where Product listed on your store page. Most of Popular E commerce Site's are using this type of Effect's. See Demo... Enjoy :)
What's New.?
(02/07/2019)
★ Extension Released.
Features
★ Easy Installation
★ ocmod/vqmod Support
★ Does not overwrite any core files
★ Work with All Version's of Opencart
★ Work with Any Custom theme
★ 2x Fastest Product List Page Loading
★ Work with even Desktop/Mobile Site
★ Move Up Layout with Fade in Effect
★ Extension work with Product Category Page, Search Page, Specials Page, Manufacturer info Page, Latest - Featured - Special - Bestseller Modules Page.
★ 24x7 FREE Customer Support
★ If you need any custom modification for this Extension or any Help, please click SUPPORT Button, I am happy to help you
See Demo
Click here for Demo - Store Front
Visit Demo Page and Scroll Down
Support
If you have any questions about this extensions i am happy to help you, please click SUPPORT Button.
Related Extensions
Visit my Extensions Gallery
----------------------------------------------------------------------------------------------------------------------------------------------