Social Login & Quick Login and Signup Popup
Social Login & Quick Login and Signup Popup Extension
was designed to help website owners increase their number of registered customers. This Opencart popup extension can be installed on any new or existing Opencart store, a floating popup login form is also fully supported by our Opencart Private Sales Package.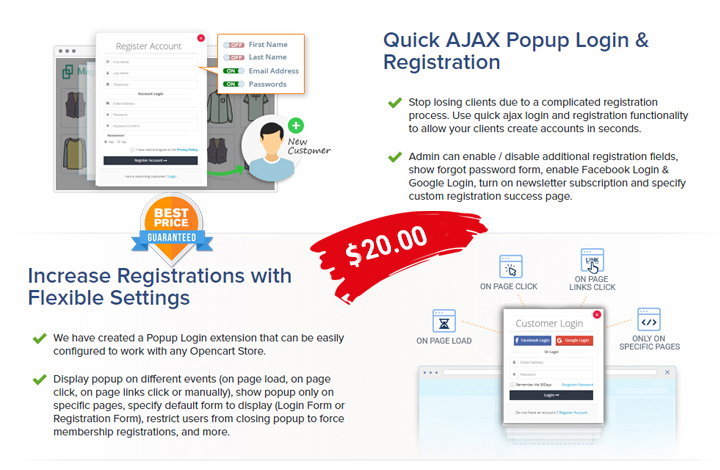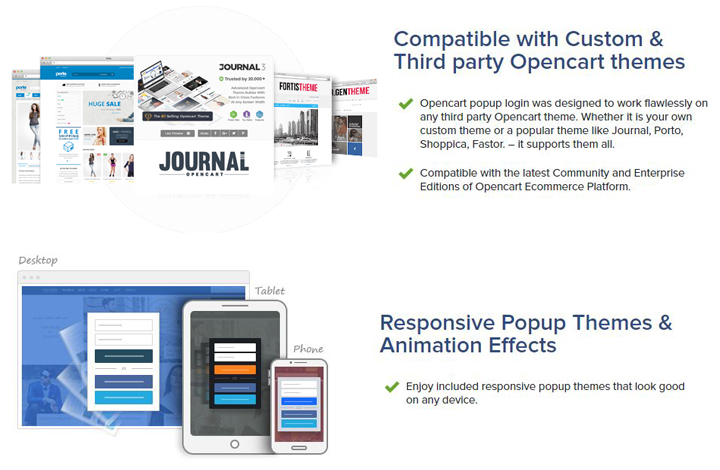 Overview of Opencart Popup Login Extension
With this login popup window installed on your store, website visitors will be able to have a look at what your membership site offers with no need to get registered first. This is a great way to establish the climate of trust and show respect towards your clients. Having our pop up login box you will not have to force visitors to become a member. Instead, you will have a great chance to 'put a spell' on visitors to your website by showing them what is behind the floating registration form.
This Opencart popup extension is very easy to manage. The website admin can choose any of the suggested display methods: the popup login form can be set to appear as the page is loading, when the user clicks on the page itself or on page links. There is also the manual display method available. Visitors to your website will also appreciate the Facebook / Google login and registration supported by this Opencart Popup login.
Attract your customer by giving them attracting login and singup popup. Having an option to login using Facebook and Google too. Remove your customer frustration of inserting lots of fields which are not required in signup. Provide them a quick login for fast orders and increase your sales.
If you want your users, members and admins login to your site with professionally looking fully customizable and responsive modal pop-up with login form accessible from anywhere on your site and skip all those standard opencart pages (like login, register, Forgotten Password, adressbook, Wish List, Order History, Downloads, Returns, Transactions, Newsletter..) this plugin is for you.
Features:
- Signup & Login links in custom menu.
-Single Form to Login and Register
-Standard Login/Register multiform
-Quick forgot password inside the popup for quick getting the password.
-Login popup validations are added for empty, wrong email and for wrong password. All validation are done using AJAX, so no page load.
-Admin option to enable Facebook, Google or both.
-Redirect on Signup, LogIn
-Ability to disable standard account page
- Custom redirect after Signup & Login.
- Works with any theme.
- Cross browser support.
- Mobile adaptive.
- Simple and Friendly user interface.
- Ease to use.
Demo 1:
Front Page
Admin Module Page
Username: demo
Password: demo
If you are still having questions or you have facing problem with installation please contact me anytime by email at [[ info@opencartweb.com ]].