Looking for the easiest and efficient way to integrate Canada Post with shopping cart? Tired of copying and pasting order details. Canada Post Shipping Module is here for you!.
Live Shipping Rate
Based on the product weight, box dimensions, shipping destination etc., this module fetches Canada Post shipping rates for both domestic and international shipping services.
Services
Enable/disable for the following domestic and international shipping services.
Priority Worldwide Envelope USA
Priority Worldwide pak USA
Priority Worldwide Parcel USA
International Parcel Surface
Priority Worldwide Envelope Int'l
Priority Worldwide pak Int'l
Priority Worldwide parcel Int'l
Small Packet International Air
Small Packet International Surface
Tracked Packet – International
NOTE
For Free Version only the Rate section will be working fine. You can create shipping label only if you purchase our Premium Version of this plugin. You can download our Premium Version using this URL
https://hittechmarket.com/downloads/canada-post-shipping-for-opencart/
Print Shipping Label
After logging in to the OpenCart admin area, you can create a shipment by clicking on the ' Create Shipment ' button.
Shipment details would automatically be sent to the Canada Post online account, and then the shipping label
( 8.5 X 11 PDF, 6X4 PDF/ Thermal )
would be generated, which you can print. Postage is automatically paid on these labels using your Canada Post account.
There is an option to change the shipping service before generating a label.
This plugin integrates with Canada Post APIs to print Domestic or International shipping labels with a tracking barcode.
Artifact / Manifest :
An Artifact / Manifest is generated as a receipt as soon as Paperless trade is initiated.
Pack type
1. Pack Items Individually:
In this option, each item in the cart is packed separately and is the default option. The total shipping cost is calculated by adding the shipping cost for each item. The settings are as shown below.
2. Weight Based:
If packing items individually does not suit your business, then you can define the required box sizes under the Box Sizes table. All cart items are packed into custom boxes defined in the Box Sizes table. A few boxes are populated by default, after the installation of the plugin. The best fit box is automatically chosen from the defined boxes.
Other Features
Use Pounds/inches or Kilograms/Centimeters
Option to switch between Test and Live mode by using developer and production keys respectively.

Sample Shipping Label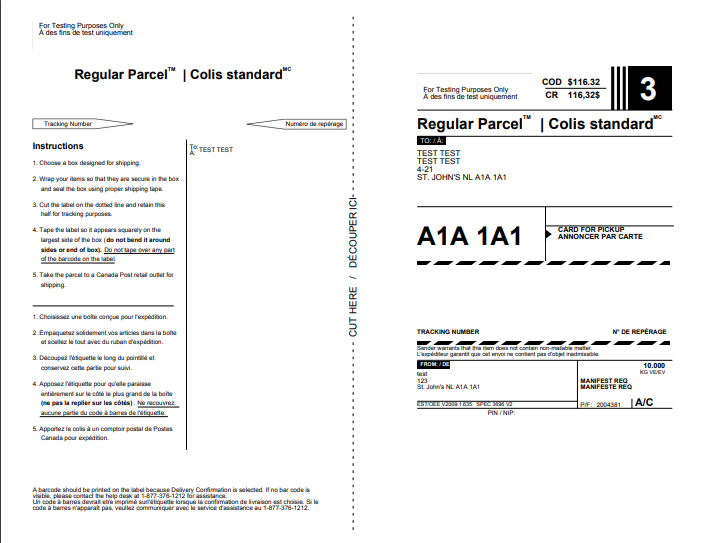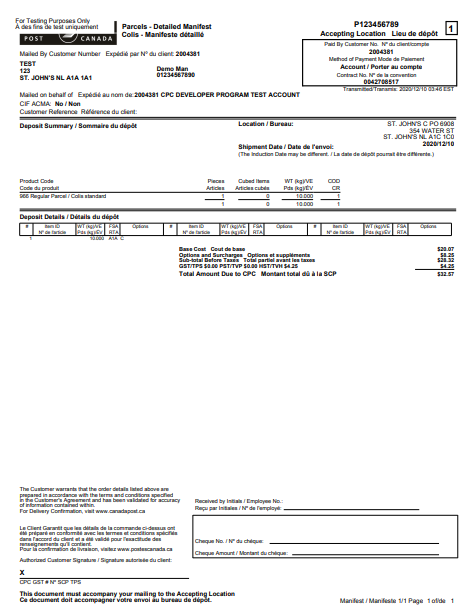 Rate Sample Screen Shot