To achieve the maximum level of conversion, you need to analyze a whole bunch of important statistics. It's necessary to know traffic sources, scroll depth, understand which website elements users click the most often, and monitor usability. Based on this information you can develop an action plan to increase conversion.
Plerdy
is designed to automatically collect all data that can show how to grow conversion. Users get access to a click heatmap and SEO alerts. With this tool, you can also create smart pop-up forms without the help of developers. Plerdy's script takes only 30-40 seconds to add and doesn't slow down websites.
What Do Plerdy Users Get?
The functionality of this service includes many components: Website heatmap tools, Session recordings, Pop-up forms, NPS forms, SEO-checker and others.
Plerdy Heatmap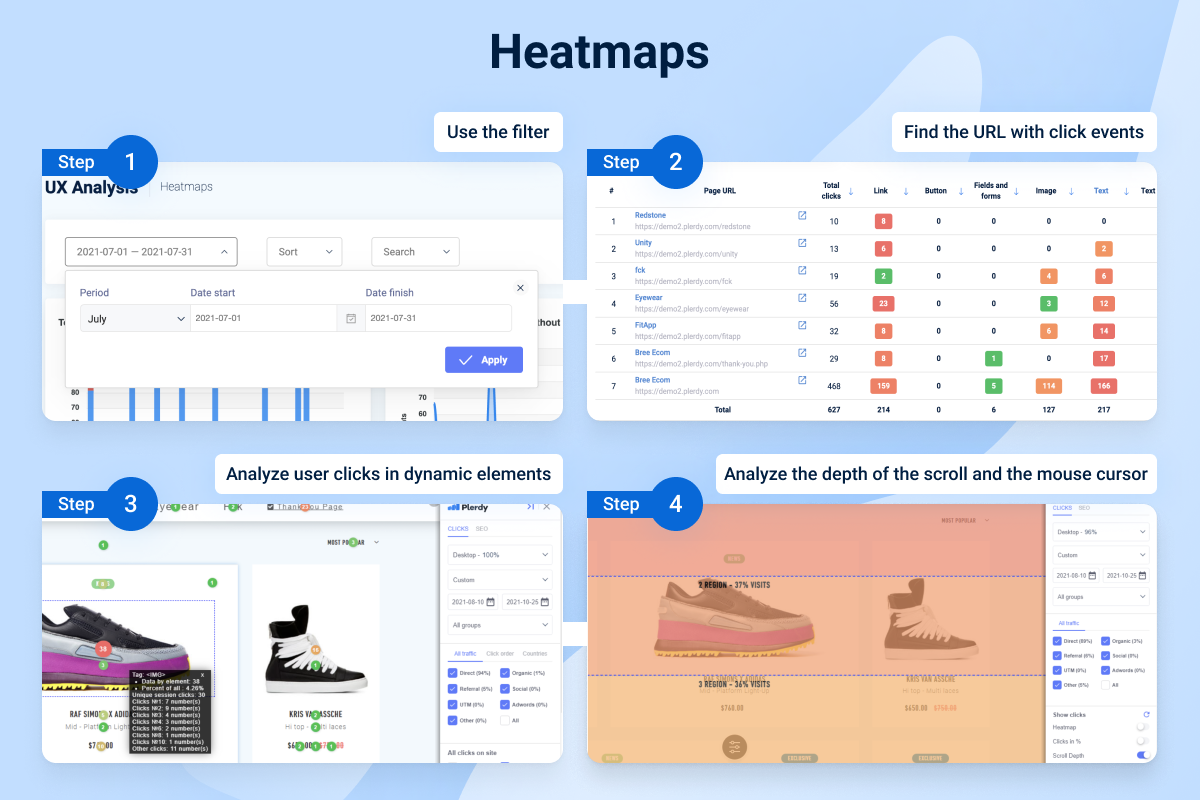 A click heatmap is a tool that shows how users behave when they visit a web page. This data reflects the most often clicked elements, scroll depth, popular parts of the page, and click sequence.
What makes Plerdy Heatmap unique:
• Clicks are collected with 99% accuracy
• Data is transferred to your dashboard in real-time and immediately  becomes available for analysis
• Statistics reflect clicks on pop-up forms, sliders, and other dynamic elements
• Information on clicks is displayed directly on your website
• The script filters out insignificant clicks (e.g., clicks on blind zones)
• Statistics can be grouped by certain characteristics (e.g., If you choose device type, the statistics will separate clicks made on mobile devices and PCs)
Using this map, you can find flaws in your website design, improve the overall usability, reduce bounce rate, and increase conversion.
Session Recordings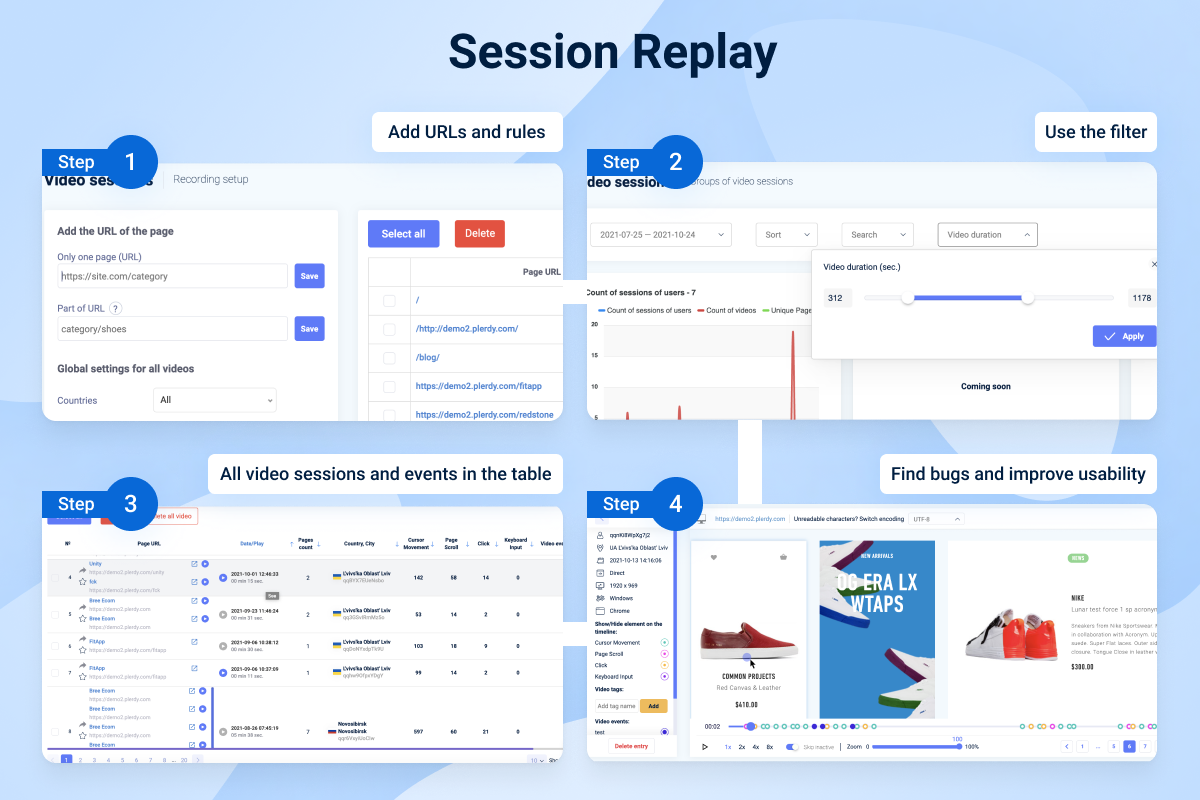 Session replay software is a user behavior analytics tool that records what people do on a website. With such videos, you can see how visitors navigate and replay their important decisions to notice every move and action.
Session Recordings can:
• Record only specific pages based on settings
• Show the real behavior of users in the video format
• Replay separate sessions, pause, and fast-forward them
• Capture videos of user behavior both on mobile and desktop devices
• Segment millions of user sessions by custom parameters
• Skip pauses to let you focus on the most important moments
This Plerdy's feature provides the most realistic picture of your customers' conversion path. You can detect the obstacles they face to instantly eliminate them and improve conversion rates. Session replays also help to enhance customer experience and support.
Smart Pop-Up Forms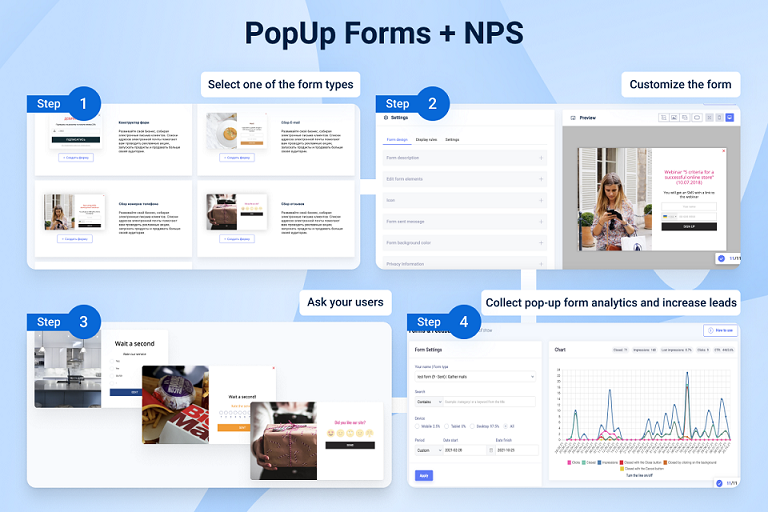 It's an excellent tool to generate more leads, grow a contact base, and inform users about special offers or other events. Most importantly, you don't need the help of developers to add a smart form to your website.
Plerdy Smart Forms functionality:
• More than 30 configuration rules to place the right pop-up
• Opportunity to add a YouTube video, images, GIF animation
• Impressions can be customized based on a traffic channel (mobile and PC users)
• Display calendar can show smart pop-ups on specific days
• No limitations on the number of settings for a page
• Pop-up location can be changed directly on the page
• Integration with mailing services and CRMs
Pop-up forms effectively attract the attention of visitors. If properly used, they can considerably increase your website conversion.
SEO Checker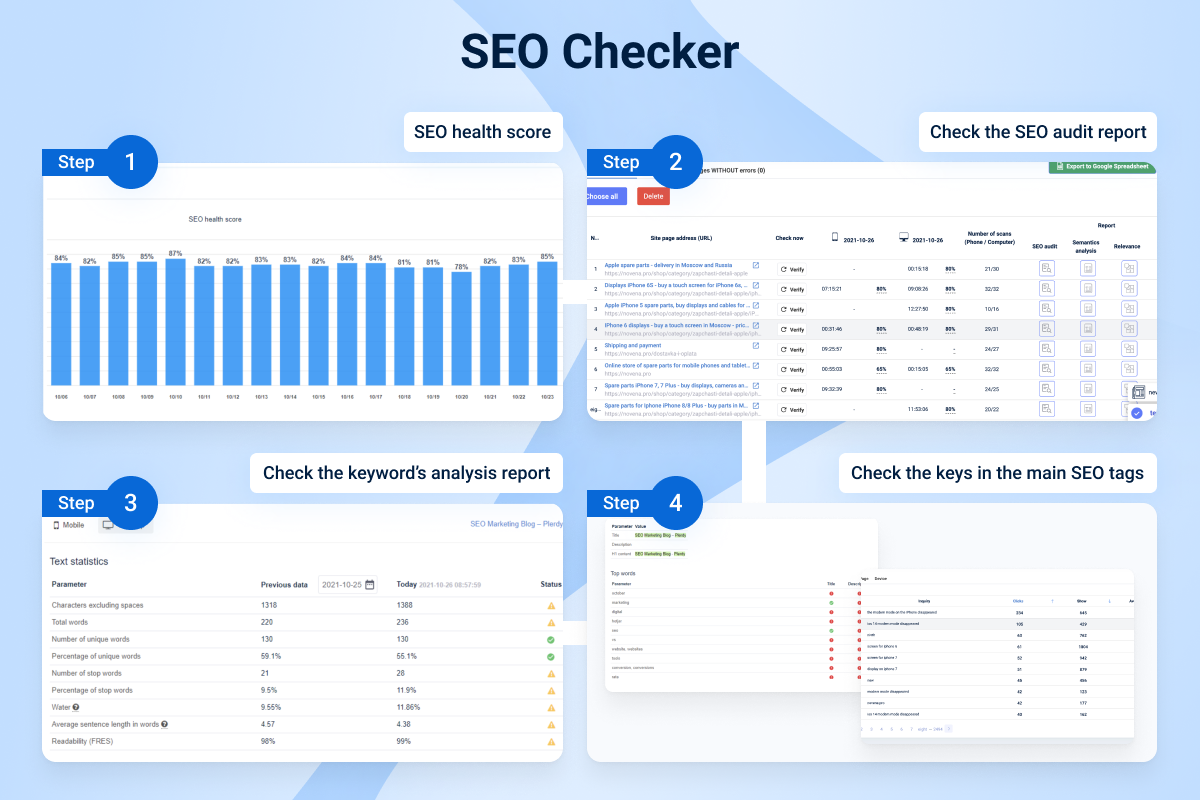 The position of a website in search results depends on dozens of SEO indicators. Plerdy doesn't only monitor current indicators but also compares them with the previous data. Thanks to this, you can track how SEO indicators change over time.
Plerdy SEO Alerts:
• Perform SEO audit and analyze web page semantics. The tool analyzes description, title, H1, the number of javascript files, H tags, "a" with "#" in href, style attributes in tags and body, and various other parameters
• Automatically scans robots.txt files
• Processes pages with noindex tag
• Record information from different types of devices.
Without such an analysis, you cannot understand why your website is so far from TOP search results. Its promotion will be hampered. The website will be less visited and the sales volume will stay the same.
How Do I Start Using Plerdy?
It takes less than a minute to connect the script to your website. Just choose a subscription plan which will satisfy your needs best.
To test how the tool works, you can try a free subscription. We also offer 2 weeks of free trial for advanced packages, ranging from Econom to Premium.