Powerful eCommerce Analytics
What does it do? Why, it implements
Matomo eCommerce Tracking
for Opencart of course (similar to Google Analytics but far better!).
This requires you to have an installation of Matomo
(FREE software), or to subscribe to Matomo Cloud.
This is the most complete Opencart Matomo Extension available and is listed on the official Matomo website as the recommended extension for use with Opencart.
This allows rich tracking of metrics such as page views, visitors, entry/exit points, keywords, ecommerce orders, products, sales leads, conversion rates etc - to allow you to get insights into your business & customers, and grow sales & visits.
A must-have for any eCommerce store!


Note: This extension is the updated version of the previous OC v2.x and Piwik (now Matomo) release, with 250+ users over the last 6 years. This updated version for OC v3.x moves to a paid model to allow us to provide the support and maintenance needed, as well as bring many other improvements.
Easy Install & Setup
Fully OCMOD'ed for simple native install on Opencart v3.x - just upload the zip and click install!
Then use the integrated Opencart Admin Extension page for easily modifying the extension settings:
Live Demo
Use the user '
demo
' and password '
demouser
' to log in to the OC admin & matomo:
Our Demo Matomo
Our Demo OC3 Store (Admin Back End)
Our Demo OC3 Store (Front End)
See the settings page for the mod at Extensions > Extensions > Analytics and clicking 'edit'.
See the dashboard at the Opencart Admin homepage (once logged in to Matomo).
Or, to see what the analytics will look like populated with data (though official demo missing some features which this extension has such as Product & Category views);
Official Matomo Demo
Feature - Opencart Dashboard Widget
Get all these analytics features direct on your admin panel - adds a 'Dashboard' widget to view your Matomo Analytics data right from your Store admin page.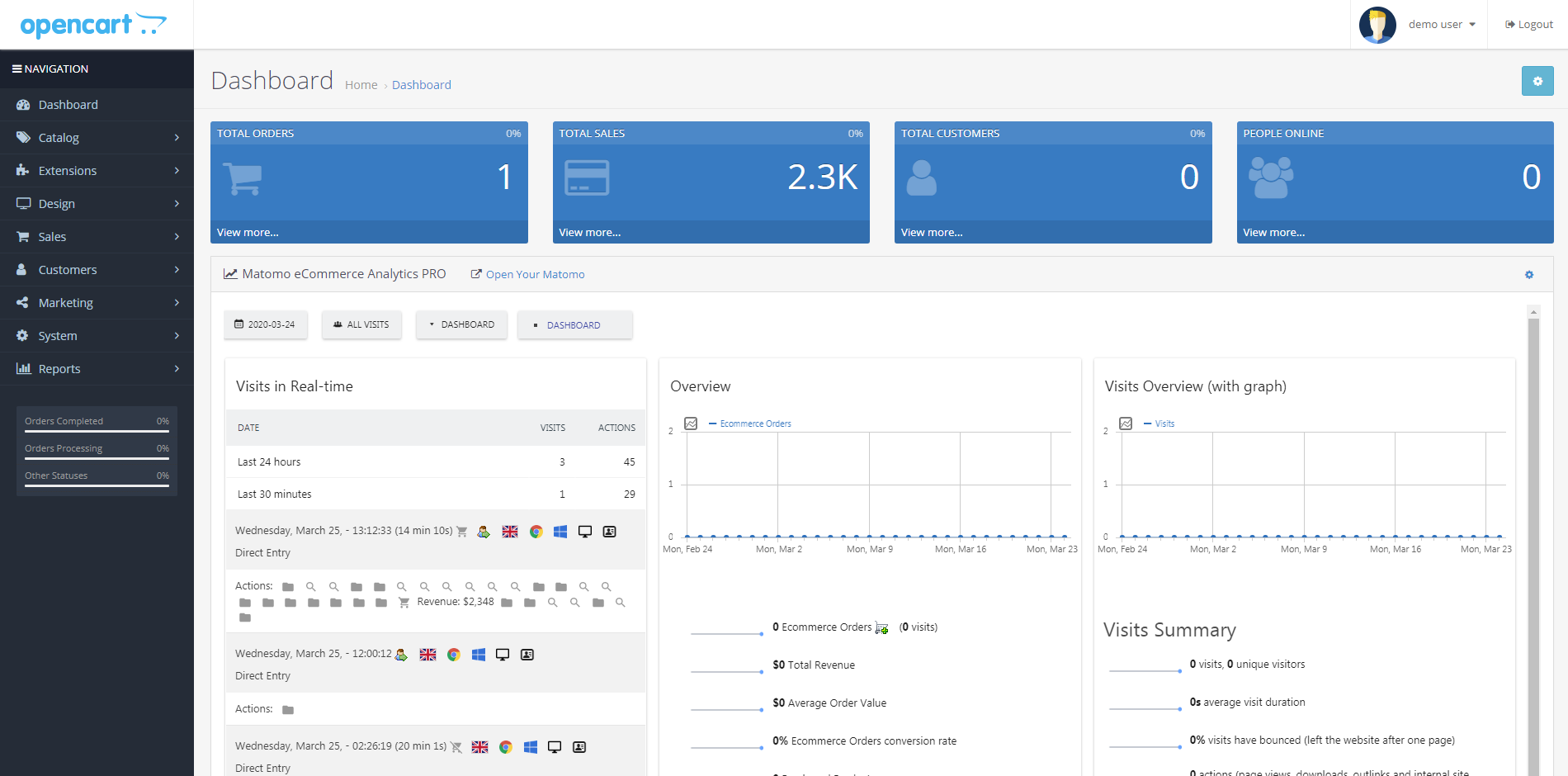 Feature - eCommerce Orders
Full details of all eCommerce Sales, including products, quantities, SKUs, sub-total, tax & shipping amounts.
Track growth over time, with insights into how your products are performing. Drill down into average order values, conversion rates, and other statistics.


Feature - Abandoned Carts
Tracks eCommerce cart operations such as add/update/delete to allow you to monitor abandoned carts.
Find out when customers are leaving your store, with what products, and how much revenue left in their carts. Track down your lost revenue and target those potential sales.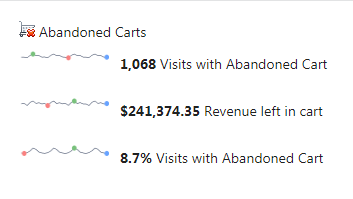 Feature - eCommerce Product & Category views
Tracks eCommerce product views & category views, to allow you to see visits & conversion rates against product names, SKUs and categories.

Feature - Site Search
Tracks Site Searches (including # of results, and search category). See what keywords your customers are searching for, and how many results they get. Get reports on which keywords are not finding results and which cause exits.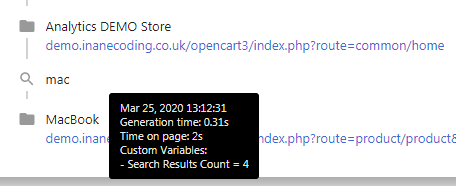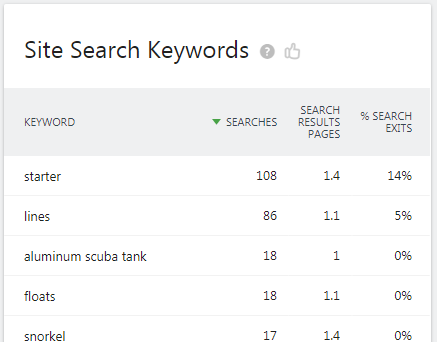 Other Features
Works with ANY regular theme following Opencart conventions
Option to use Matomo Proxy script to obfuscate the URL in the javascript code.
...Multi-store support coming soon!
More Information
Please see our website for more information and Frequently Asked Questions:
http://inanecoding.co.uk/matomo-ecommerce-analytics-pro-opencart/
~ Inanecoding.co.uk