With the help of the Supermax Kitchen & Bar Display System (KDS) extension KOT/BOTs are directly displayed to the kitchen staffs. Kitchen or bar staffs are easily notified when new KOT/BOT arrives as well as any changes to the KOTs from supermax restaurant POS in a real-time manner. staff can easily change the ticket item's status.
The benefit to your staff:
They get an up to date order list
Orders can not be lost
No human error with the order list
Fewer inquiries from other staff on order status
Historical order data is available to them
Come forward and use a kitchen display system(KDS) to save trees and use less paper.
Supermax Kitchen & Bar Display System (KDS) extension is an add-on of Supermax Restaurant and Bar Point of Sale module. To use this module you must have to install Supermax Restaurant and Bar POS.
To use real-time sync process KDS should be opened in Google chrome browser.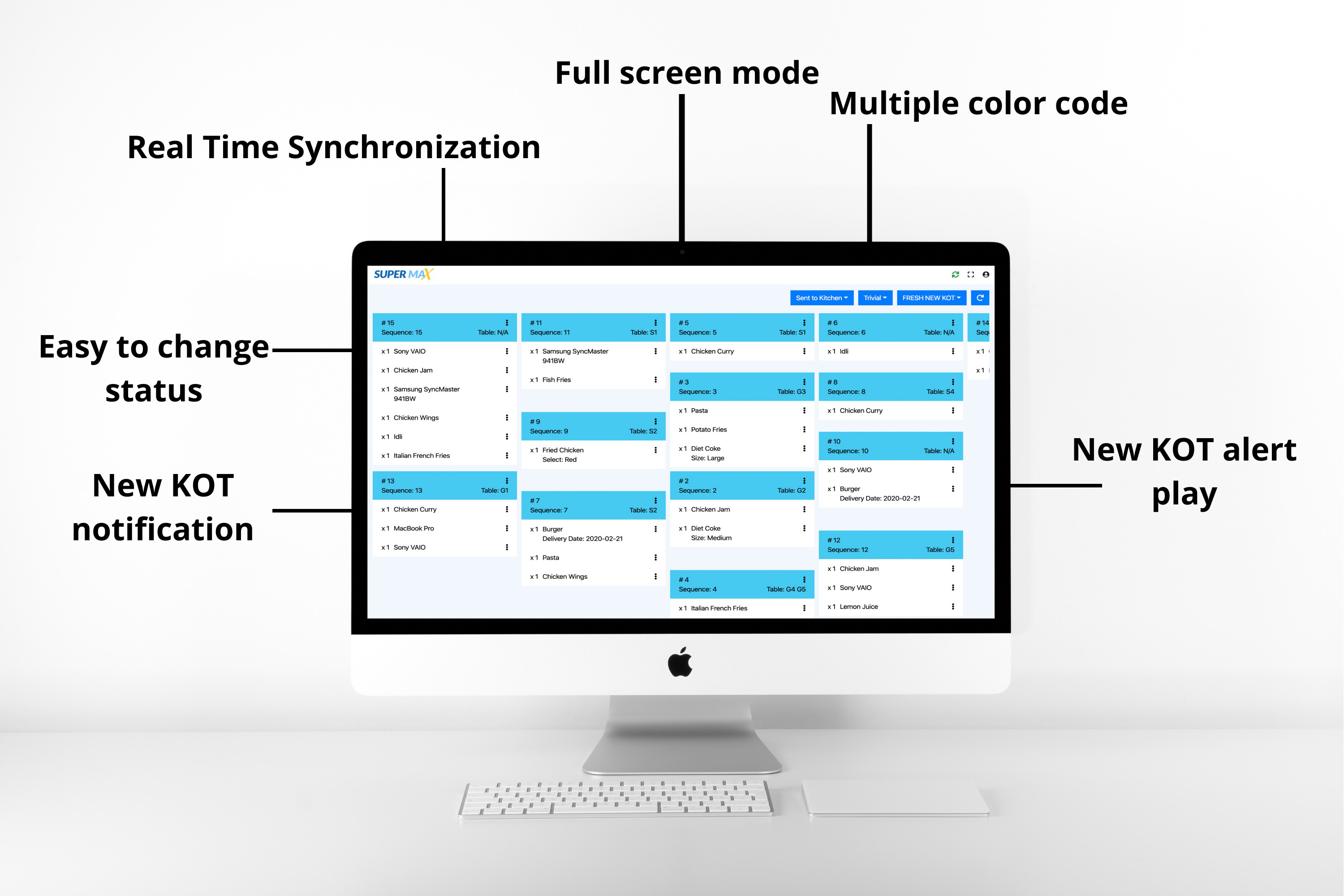 Steps to follow before checking demo
Make sure you have opened supermax restaurant POS and Kitchen display systems(KDS) in two different browsers and KDS should be open in google chrome browser. This should be followed when you go for a real-time sync process.
After login enables the real-time sync process by clicking the sync button on the right side of the top. You will not see any KOT's until any KOT generated for the current day.
Go to the POS terminal other browser and creates one KOT.
If your system sound is not in mute then you can hear a beep sound as well as welcome screen for new KOT in the KDS.
make any changes to KOT like status, type or item status and see KDS will be updated automatically according to the changes.
For horizontal scrolling use shift+mouse wheel in keyboard


Support is provide from Monday to Friday only.
Please always provide a detailed problem description with admin access to the store and FTP.
All 3 points in the same order:
Store
url
login
password
FTP Account
host
username
password
Detailed problem description
Remember to backup files and database before, because sometimes some settings can be changed. After backup please don't change anything in store.
Extension support includes:
Availability of the agent to answer questions only extension related
Answering technical questions about item's features
Assistance with reported bugs and issues
However, Extension support does not include
Free Customization services
Installation services
Updation Services
web hosting or server configuration / services
NOTE- Extension Purchase doesn't include the free installation service. But installation guide and steps in details come with the extension zip, you can go through the readme.MD file and can do the installation easily. If you want to install the extension by us then you need to avail the paid installation service which needs to be paid separately. Please mail us to support@anyhowinfo.com for installation or customization(paid service).
Installation Cost(extra): $49
For free installation please mail us to support@anyhowinfo.com before purchase.
NOTE- In order to fix your issues we will need your web store admin + FTP credentials. Once we finish up the work you can change your credentials. Supermax KDS terminal will be provided without the source code and Supermax KDS terminal build will be provided respective to opencart installed website, after the purchase. Please share your opencart installed website link to support@anyhowinfo.com, to get the terminal build. A sub-domain must be used to placing the KDS terminal build to avoid domain storage and cache issue. Sub-domain must have https enabled if opencart installed store has https enabled.