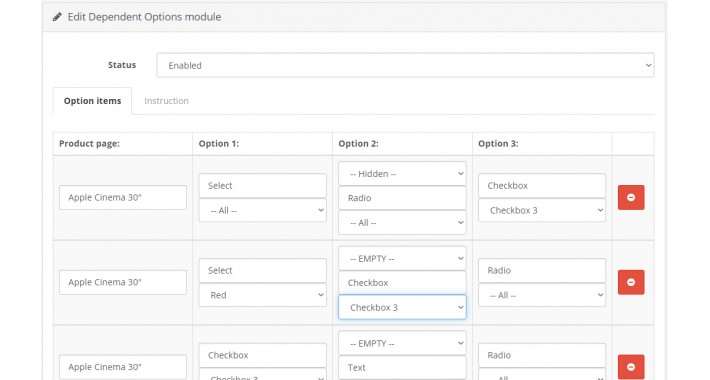 The module allows you to set dependencies (links, filters) between any product options.

It works as follows:
- Option 1 - an option by clicking on which the conditions described in options 2 and 3 are triggered.
- Option 2 - is displayed when you click on option 1.
- Option 3 - hides when you click on option 1.
 
The choice of options 1, 2 and 3 is formed separately for each product based on the options added to this product.
In the options, you can select both all and individual values.
There is also the ability to separately hide the option (all, or a single value).
Rules work in order of priority, i.e. if at the beginning you set the rule that option 1 hides option 2, and then vice versa, then option 2 will not be hidden by clicking on option 1, respectively.

Important:
- Works for all options (option 1 - can only be of types: radio, select, checkbox (works like a radio button for option 1))
- No domain binding
- Support

Compatibility
Compatibility with any template you install cannot be guaranteed. The same applies to extensions that modify the product card, or the work of options in general. But ideologically, the module is designed so that conflicts do not arise. Or they can easily be eliminated.