mobo OpenCart Template is a mobile-optimized version of your store, up to 5000%+ faster than your desktop theme. It comes with a dedicated shopper-friendly mobile theme.
THEME OVERVIEW
mobo OpenCart Template is a Multipurpose Ecommerce Opencart Theme for any online store such as fashion, digital, cosmetics, electronics, games, shoes, sports, watches etc. mobo OpenCart Template-Multipurpose opencart theme comes with 1+ Pre made layout with fully responsive, clean and elegant design and also additional features like product view with additional images in featured, bestseller, latest and specials. Other features such as auto search feature in header, Vertical megamenu and mobile menu,Unique Product detail design, Convenient product view, Product zoom with additional image slider, product image thumb with additional images view, product slider, Hybrid Module, ajax cart,etc.
1 Click Installation files also available.
We are also provide Quick installation files.
Q. What is quick installation file ?
Ans: Only Three Easy step to install our theme, no Coding knowledge Require.
Demo: ViEW DEMO >>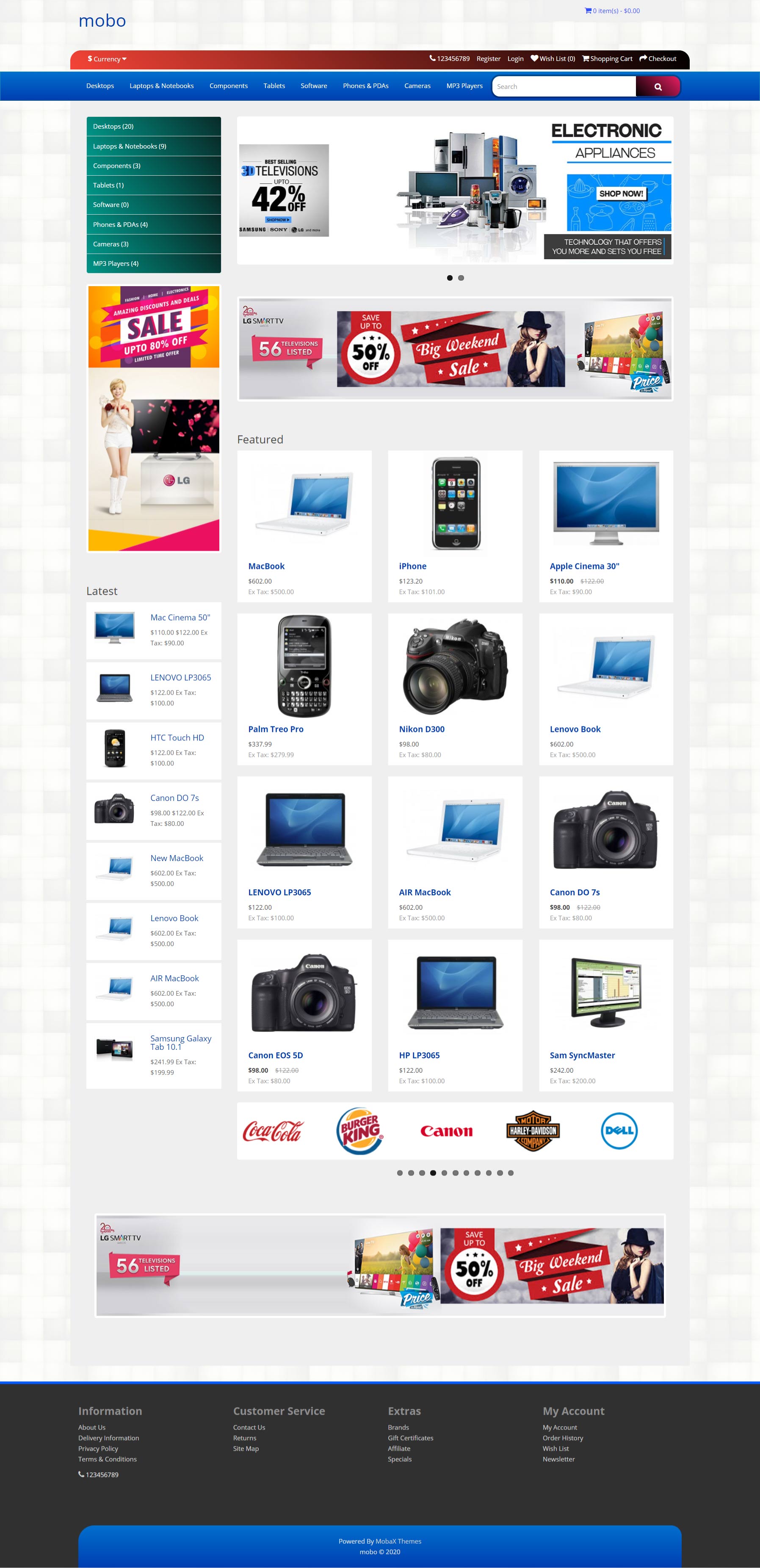 OpenCart compatibility
Opencart 3.0.0.0 - Yes compatible
Opencart 3.0.1.1 - Yes compatible
Opencart 3.0.1.2 - Yes compatible
Opencart 3.0.2.0 - Yes compatible
Opencart 3.0.3.0 - Yes compatible
Opencart 3.0.3.1 - Yes compatible
Opencart 3.0.3.2 - Yes compatible
CORE FEATURES
HTML5 and CSS3
Cross Browser Compatibility
One click install
Mobile Friendly
Custom Slideshow
Included RTL language support
Unlimited Banners + Slider
Grid / List view
Multi Language
AJAX add to cart
Product Slider
All browsers Compatible
Responsive Design
Dynamic Layout
Product zoom and images slider
Customized Product Page
Testimonial
Guest Checkout
Installation Documentation With Screenshots
Google Fonts
Unique & Quality Design
All Images are just used for preview purpose only and copyrighted to their respective owners. Images used in live preview are Not included in the final purchase files.
Support
Our support team respond you within 24 working Hours. We will respond you to queue order.
Testimonials from Customer Comments
"AWESOME Work!"
saruman
"This interface is incredible! Nice work!!"
Avoli
"Great theme!"
seekssteven
"Great Work, I really like it!"
marki217q
"Damn it's awesome!"
Appizm
"My first template bought on themeforest… Brilliant work – totally worth it…"
waparty
"Awesome design!"
basen82
"Great job, easy, simple and professional. Simply fantastic."
ready4uk
"Well done pixelcave! Well done!
This template is insanely refreshing.. the work you put into it by even adding in a php version is a testament to your skill and you passion."
JMSOLO
"This is an awesome template, no wonder why this is my first purchase here."
lucasribsantos
"Excellent direct support!!! Thanks pixelcave."
dpaspalas
"Excellent template. Very comprehensive."
vehogroup
"Thanks for a great template, very nice and clean."
imacsoap
"I'm loving working with this template, great work."
mshillam
"Perfect! I love it."
powertoglory
"Two things awesome about this theme. First the theme itself and the dedicated support by its great designer John. Mesmerized by the support I got from him."
gauravgarg_kankhal
"thx for great template!"
Digital_God
"I love the theme and it is awesome. Great job!"
dmeagher73
"Great template! Loving the clean code and good comments/docs."
mvanleest
"The best admin I ever see! I'm using it ;) Thanks"
Ragnaros
"Thanks for your template, it is fantastic!"
vitordepaula
"Wow. Wow. Wow. Wow. I purchased this for the HTML version not realizing you had a PHP Version. You have saved me a tremendous amount of time integrating this the way I need – I am SO impressed.
The code is beautiful – it's feature rich and the PHP version is incredible. Thank you for making a solid product. I am incredibly pleased with this purchase.
If you need an admin theme for something you're working on – in all seriousness, this is the one. Wow. What a tremendous deal for the price."
CodeNinjas
"Thanks for a great template, I love it! =)"
kobbe0
"Really great template. Awesome, very complete."
Nuajan
"I bought your theme. I love it. Awesome job. I've bought another admin theme on here that came with php files as well but not psd files. Your theme is by far the best i've seen so far. All i can say is Wow backwards, woW!!!!!!"
mjohnson24
"This template is amazing.. I bought this template few weeks ago and i love it ;)"
martinkukolos
"Bought this template a few weeks ago…amazing…love this."
laliastudio
"I have been thrilled using this template. Have not seen someone who keeps their templates this fresh and updated all the time!!"
ushapriya
"ProUI is amazing, I very like it."
neilzeng
"Great job on this theme! True digital art my friend."
xXiMCXx
"Just a quick message to tell that this theme is just amazing !
The code is very clear and simple to use !
I was almost going to give up my project seeing the amount of time I will need to code the frontend ! Now I can focus on the backend and avoid working for days, weeks, months on the HTML and CSS code !! And as I'm not a designer it's millions time better than what I could have done !!
So thanks for this theme !"
Tibo_R
"Very very very very very good. Good job!"
emrepirnaz
"Very much in love with this theme."
mhr_my
"Very very nice work! This Template is just awesome! Very good coding, and nice design! :) Thank you very much!"
rox0r2
"Love the theme, it is very easy to work with and use. Definitively will check your future work, this is probably the best theme I've come over at themeforest yet!"
helnor
"The author of this template is hands down one of the best out there. The entire thing from top to bottom just oozes professionalism, creativity, and a deep understanding of the current state of web UI technologies. It's been great to work with, and I really can't say enough good things."
MonoksideC
"I bought one of the first ever releases of ProUI and it still blows me away. The 3.0 version is really amazing. Great work!"
lucasribsantos
"Amazing this new update ! Thanks for your excellent work :-)"
nothf
"After buying 5 admin templates, for this project I am starting, it's a pleasure to finally have one that fits my needs in an incredible way. I removed the old template and put ProUI in 5 minutes. No need to make any changes in your code.
Before ProUI I had to tweak lots of css in the template. This one worked like a charm at first attempt. Plus, it's code is well documented and well organized which makes our work easier.
Just wanted to share my joy and give the author congratulations for this great template.
Thanks."
madaleno
"Absolutely fabulous pack. People all say what i've done looks great for a reporting / admin system I am writing for an app we hope to launch soon…and I've straight away passed credits on to you and linked the site. Unbelievable value for money, given it would take me hours just to even find some of those plugins you've used :)"
Soultripper
"Your template is just excellent ! You are doing a really good job !"
klaraichi
"A quick note to highly commend an outstanding template; we're looking forward to using this on our sites. Furthermore, not only is all the code usefully marked up with clear inline documentation, the author has been very quick & helpful in handing & supplying ( over the weekend!) a code snippet in response to a query we made."
gorytus
"I just want to Thank you for this Item! I really love it! It's beautiful, and the JS or CSS is working perfect!"
alexander_kr
If you like our theme, please rate us with 5 star
thanks so much!
Need Help?
if you have any question please contact me
Monday to Friday : 24 hours
Thesoft Team
thesoft.au@gmail.com