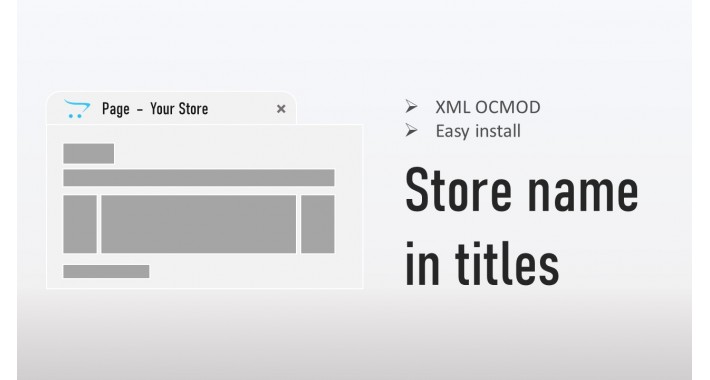 Torne o título da barra de ferramentas do navegador mais preciso e significativo.

- Adiciona o nome da loja nos títulos das páginas.
Ex: Entre em Contato - Sua Loja;
- Adiciona o nome da categoria + nome da loja no título da páginas de produtos.
Ex: Produto - Categoria - Sua Loja;

✔ Fácil Instalação;
✔ Não sobrescreve arquivos nativos;
✔ Não precisa de configuração;

O conteúdo do título da página é muito importante para a otimização de mecanismos de busca (SEO)! O título da página é usado pelos algoritmos do mecanismo de pesquisa para decidir a ordem ao listar páginas nos resultados da pesquisa.

------------------------------------------------

Make your browser toolbar title more accurate and meaningful.

- Add the store name to the page titles.
   Ex: Contact Us - Your Store;
- Add the category name + store name in the title of the product pages.
   Ex: Product - Category - Your Store;

✔ Easy Installation;
✔ It does not overwrite native files;
✔ No configuration required;

The content of the page title is very important for search engine optimization (SEO)! The page title is used by the search engine algorithms to decide the order when listing pages in the search results.