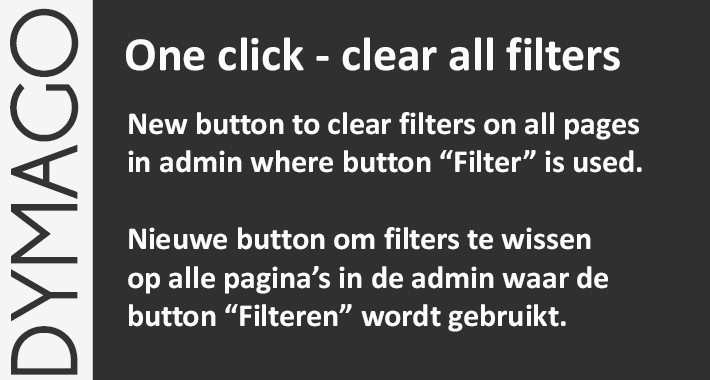 On every page in admin where button "Filter" is available, a new button "Clear Filter" is added with this extension. Clear filter with one click on pages in Catalog, Design, Sales, Customers, Marketing, Tools and Reports.
Easy to install and easy to use.

Install: Login to admin - go to Extensions/ Installer and upload the zip file "admin-clear-filters.ocmod.zip". And refresh cache in Extensions/ Modifications. Done!

--- Dutch ---
Op iedere pagina in de admin waar de button "Filteren" beschikbaar is wordt een nieuwe button "Filter wissen" toegevoegd met deze extensie. Filters wissen met één klik op pagina's in Catalogus, Design, Verkoop, Klanten, Marketing, Onderhoud en Rapporten.
Makkelijk te installeren en makkelijk in gebruik.

Installeren: Inloggen in admin - ga naar Extensies/ Extensies installeren en upload het zip bestand "admin-clear-filters.ocmod.zip". En ververs de cache in Extensies/ Modificaties. Klaar!