This extension is designed and developed with the motive to transform your OpenCart store into Progressive Web App. In simple words, the mobile shoppers visiting the store URLs in the mobile browser can add OpenCart PWA App to their device directly for a lifetime. The OpenCart Progressive Web App can be used anytime to browse and shop products on the go.
For instant answers to your queries:
Connect with us on
WhatsApp
Connect with us on
Skype
**New Update** Fully Compatible With Multi-vendor Marketplace
The OpenCart PWA Mobile App is now fully compatible with Multivendor Marketplace. The Sellers profile, products, ratings, reviews, etc. will be on the same OpenCart Mobile App. Only condition is that the store must have both PWA Mobile App and Marketplace extension.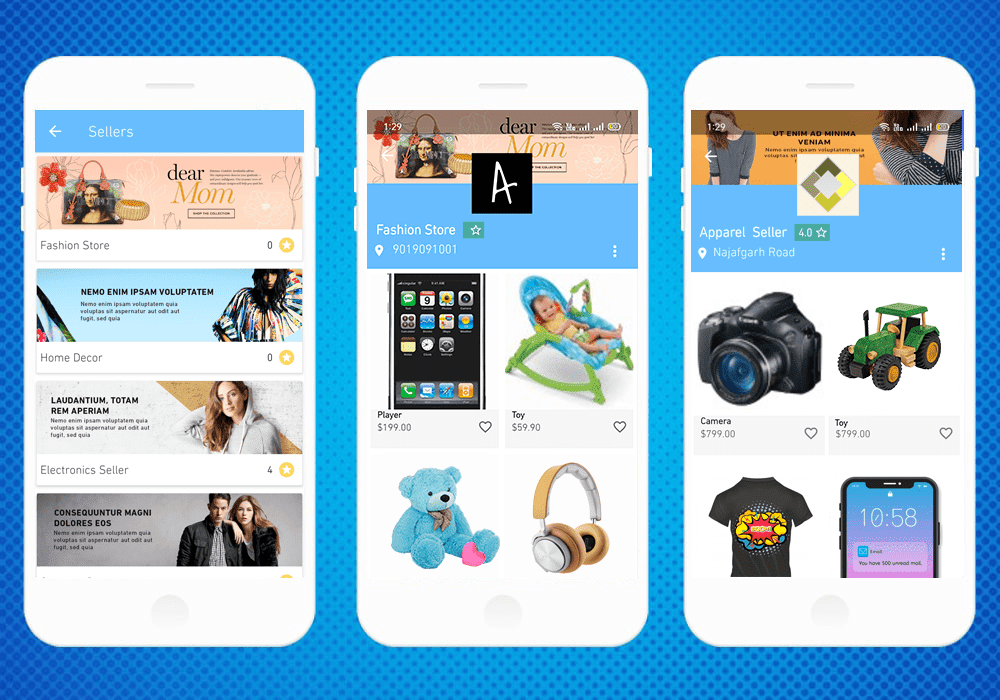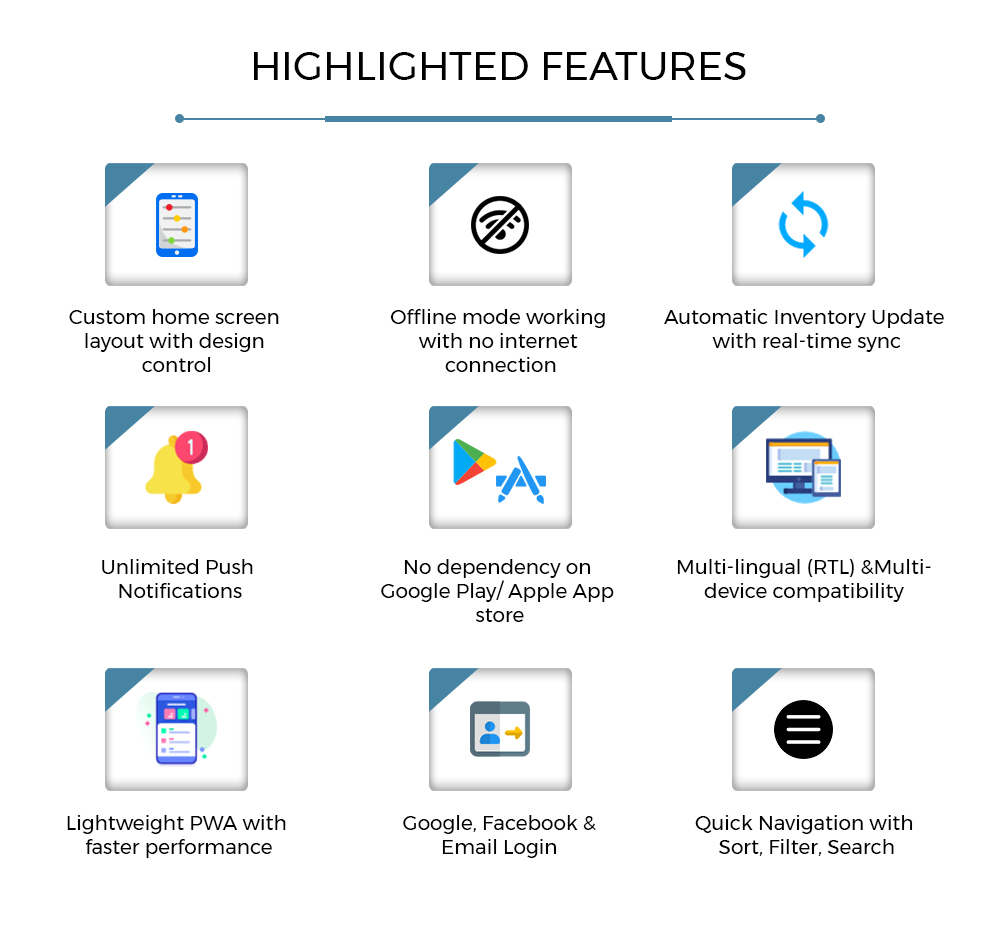 Detailed Features Of OpenCart PWA Mobile App:
1. Home Page Layout Customization: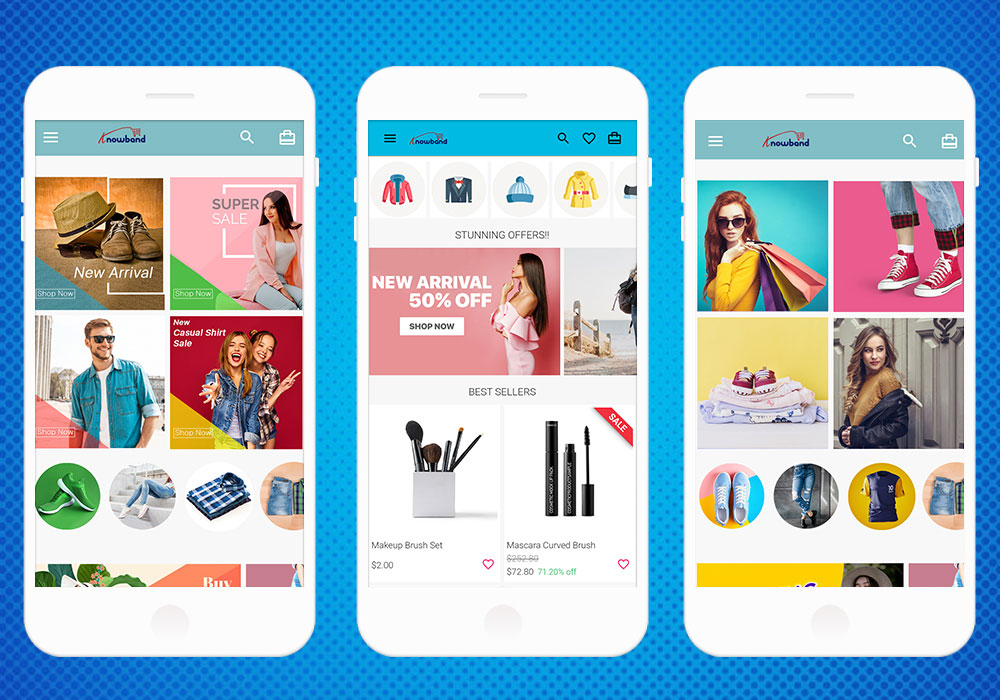 Design the home screen layout of your OpenCart PWA Mobile App as per your business requirement. Just use attractive banners, images, color schemes, fonts, and manage your app look and feel with a few mouse clicks and button toggles.
2. Easy Installation (No dependency on App Stores):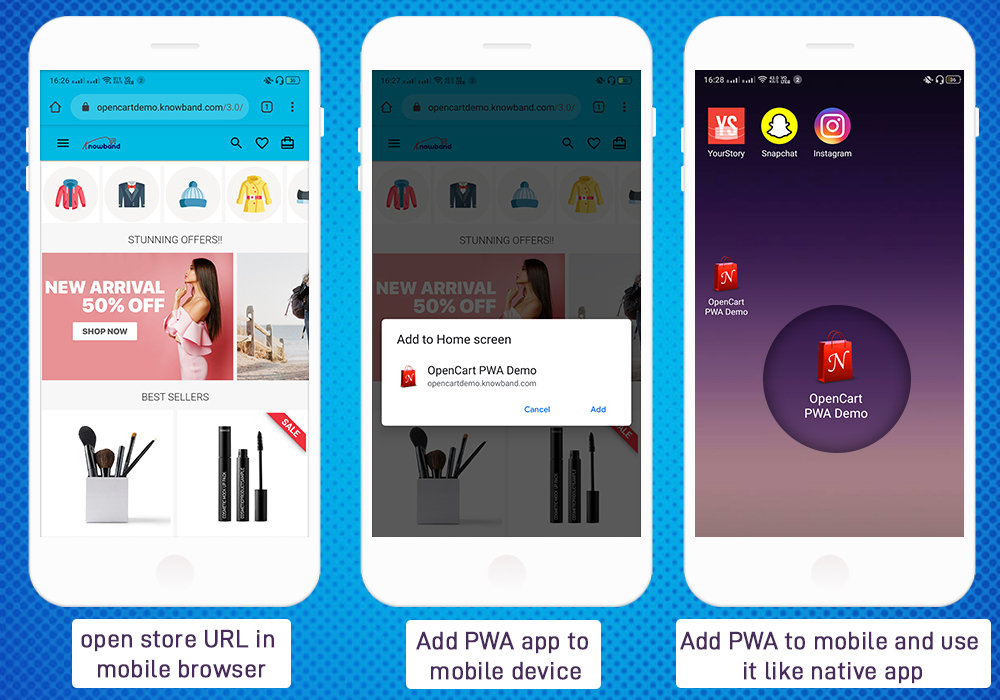 No need to own a developer account (Google Play Store/Apple App Store) to release OpenCart PWA App. The users just need to open store URLs in the mobile browser and "
Add PWA to Home Screen
". Online shoppers can browse and shop products like any other app on mobile devices.
3. Automatic Inventory Management: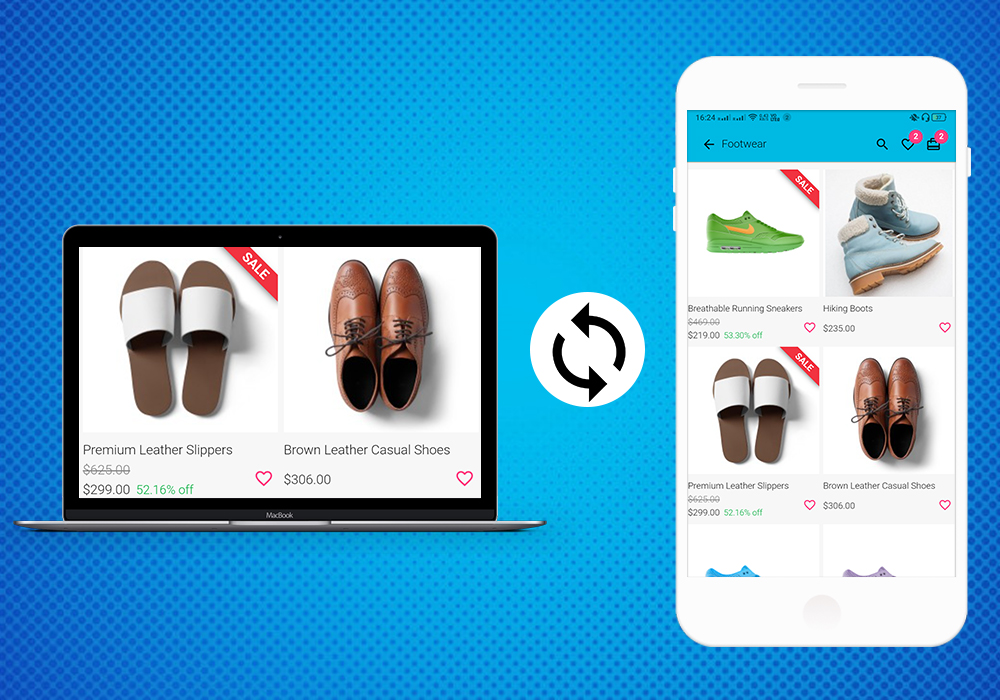 Both OpenCart PWA Mobile App and your eCommerce store will be in real-time synchronization with the help of extensions. Entire store inventory (products, categories) will be fetched on Progressive Web App. Also, changes and new additions on the store get reflected on the PWA app automatically. No sort of manual update is required.
4. All Payment & Shipping Method Support: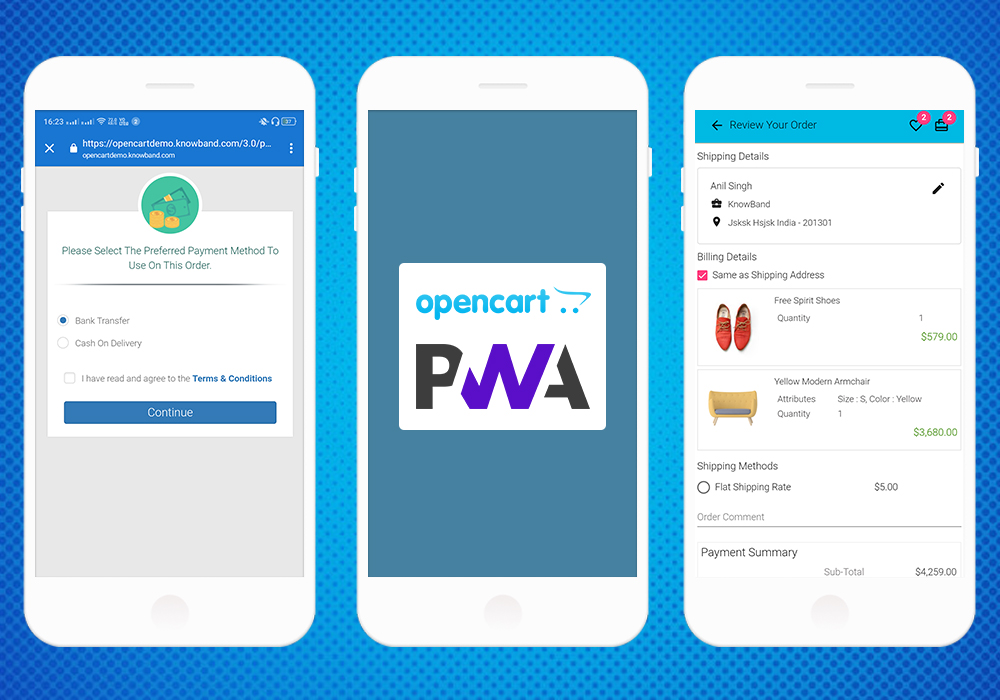 OpenCart PWA Mobile App supports all sorts of active website payment and shipping methods. No need for any sort of extra customization in apps. The same payment and shipping methods will be available on the Progressive Web App by default.
5. Reliable and Engaging: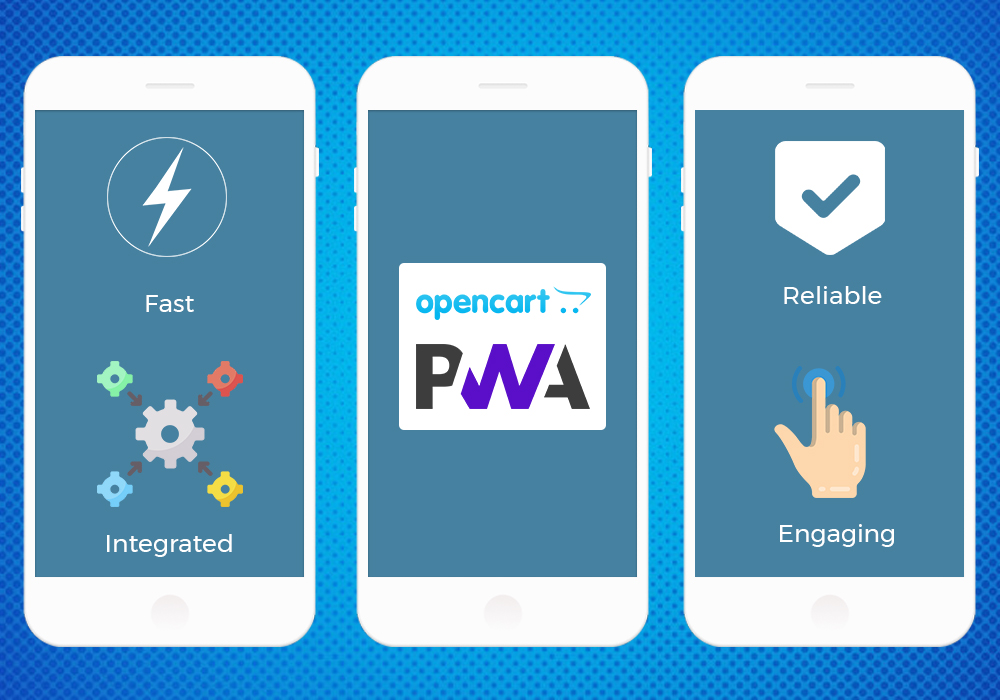 The PWA app for OpenCart is lightweight and comes with improved performance with quick loading. The PWA shopping app works is reliable and engaging focused to bring more revenue to your business.
6. Quick On-boarding (Login):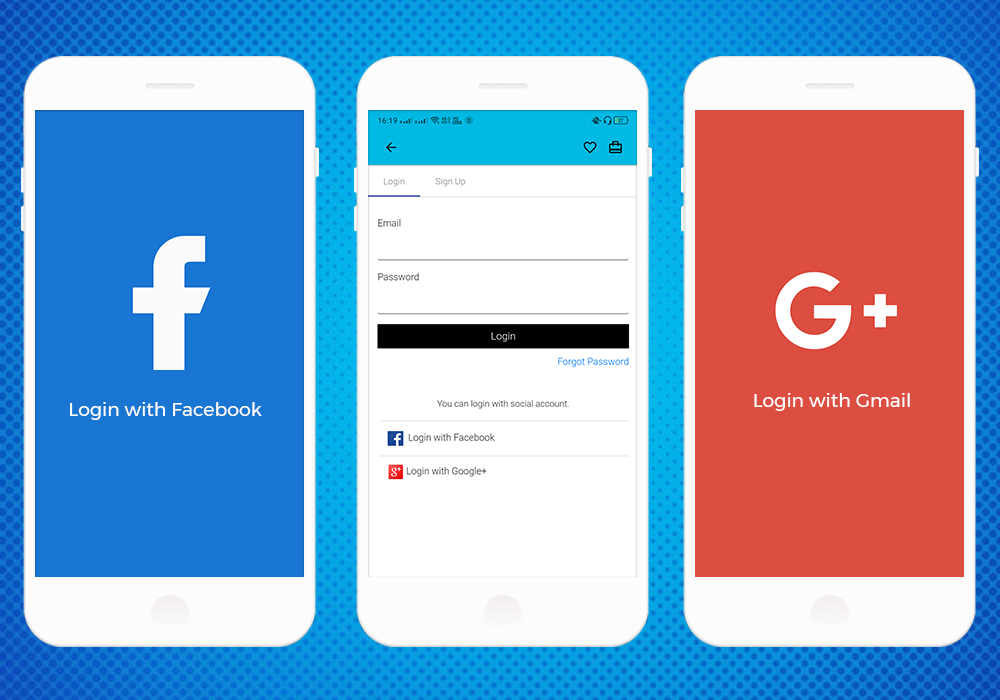 The OpenCart Progressive Web App comes with inbuilt social login options with Google & Facebook. Along with that, email sign-in & registration is also available in the PWA Apps. Online shoppers can quickly access the app and browse products for purchase.
7. Unlimited Push Notifications: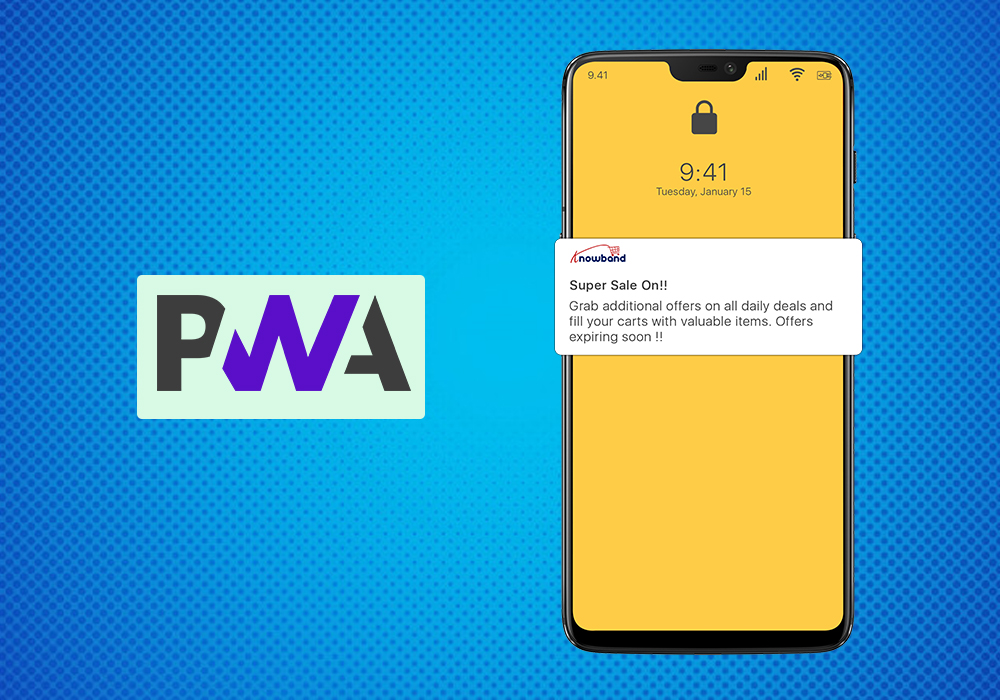 Personalize and send promotional push notifications to OpenCart PWA app users and improve conversions on your store. This extension allows the store admin to schedule notification or manual sending. The content and image for push notification can be configured including its redirection on the app.
8. Multi-Device Compatibility: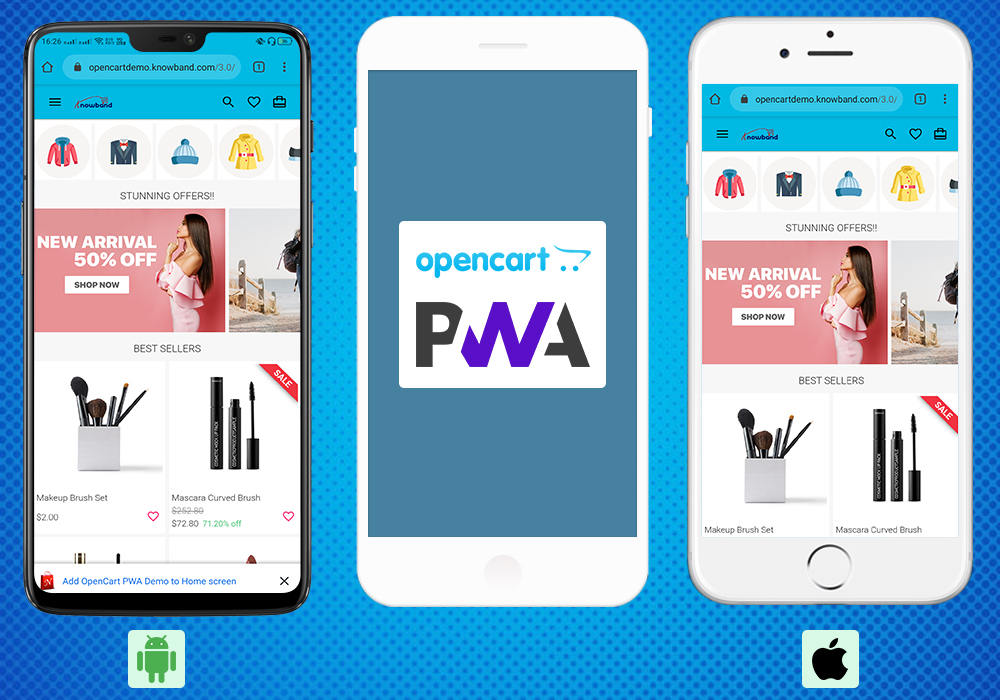 The OpenCart Progressive Web App comes with multi-device compatibility working on all platforms i.e. Android OR iPhone, Mobile OR tablets. No need to worry about user's device anymore.
9. One Page Checkout & Order Tracking: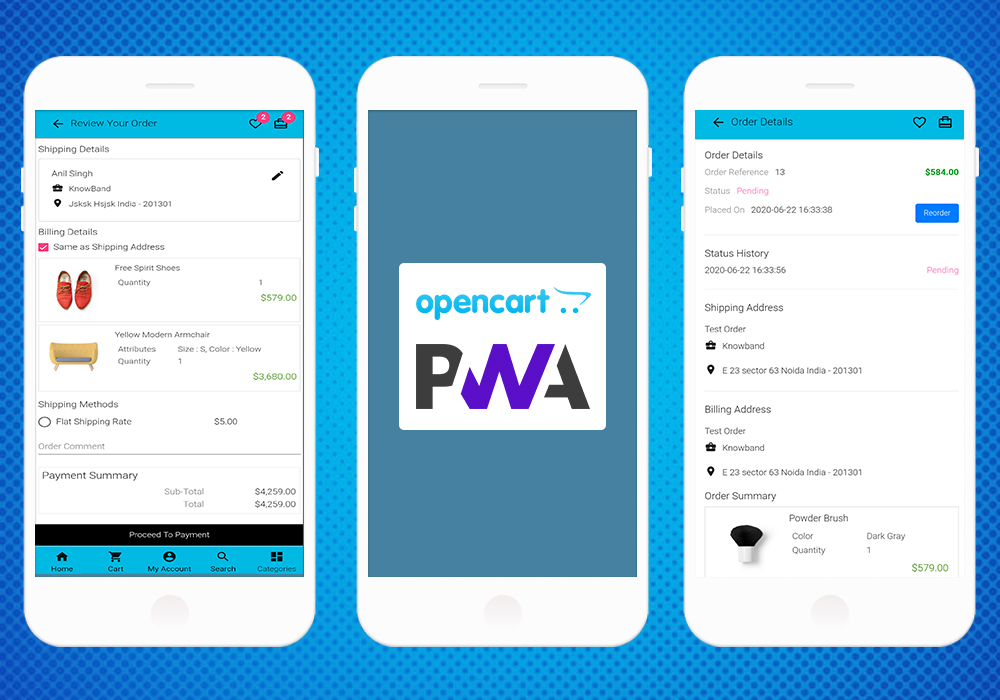 The Progressive Web App for OpenCart comes with single screen checkout allowing the online shoppers to submit orders with ease. Even the order status tracking in apps keeps users aware of the delivery and status of orders.
10. CMS Pages Management: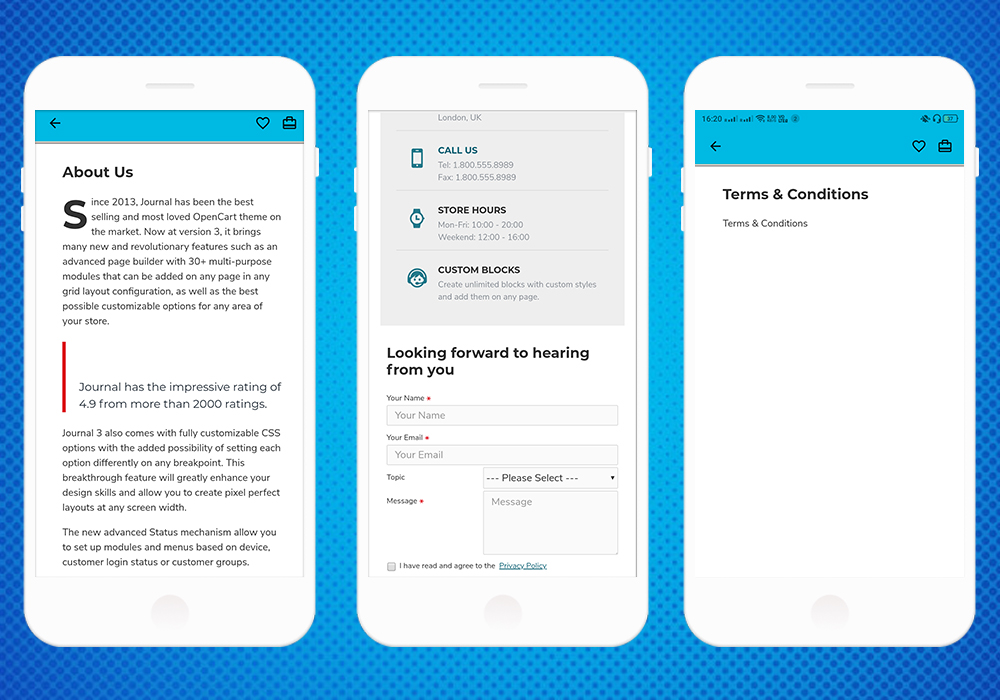 The OpenCart PWA Mobile App allows the store admin to add and display all CMS pages of the website on App. The content will be displayed in an optimized mobile screen and available for users like About Us, Contact Us, Terms and Conditions, Privacy Policy, etc.
11.Multi-lingual and RTL Support: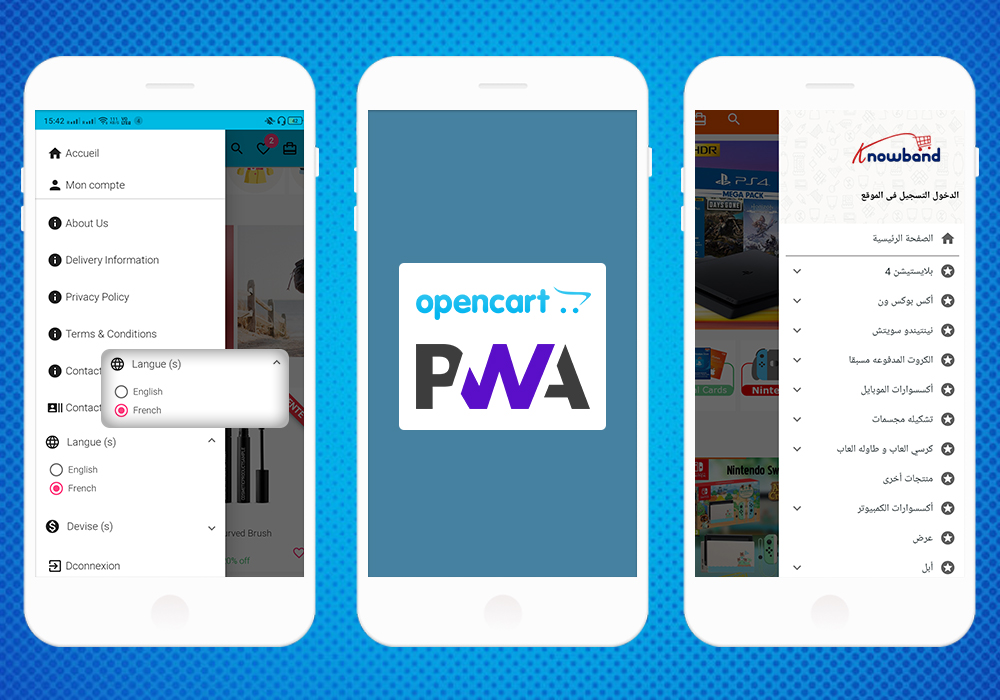 The PWA apps for OpenCart support worldwide languages including RTL ones (Arabic, Hebrew, Urdu, Persian, etc.). The users can choose their desired language and the content of the Progressive Web App will be automatically translated.
12. Run Promotional Campaigns: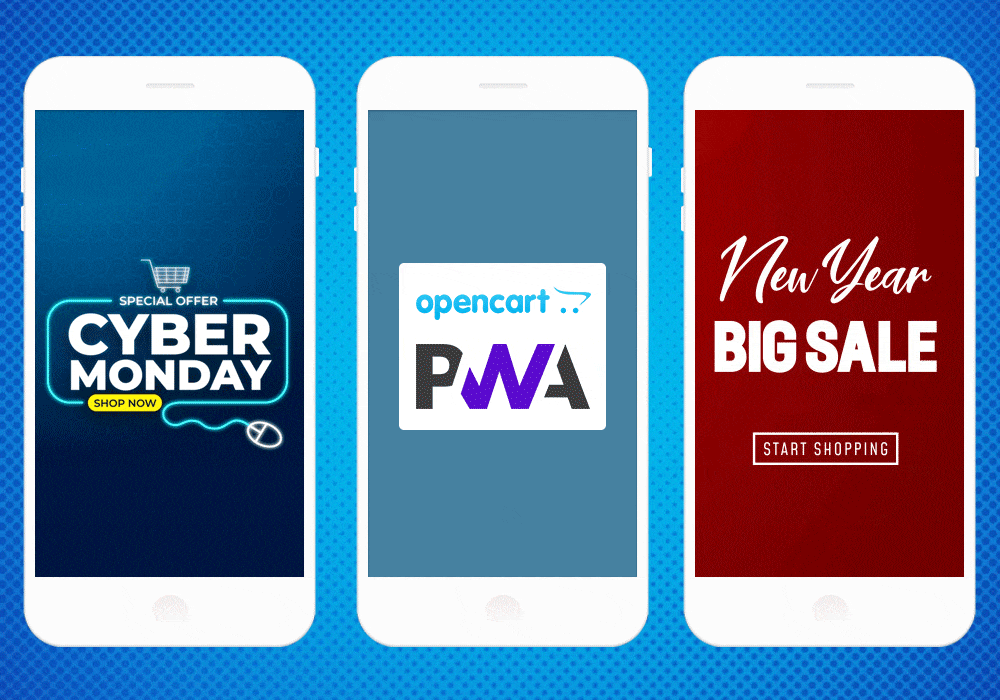 Run promotional sale offers on OpenCart PWA Mobile App to generate revenue. Use intuitive home-screen designs and encourage users for more purchases. The store admin can even run a time based flash sale in order to create an urgency for more purchases.
Admin Panel Overview: