◈ DROPSHIPPING / DROPSHIPPER REGISTRATION AND MANAGEMENT
Introducing: Complete Solution for Dropshipping Management for OpenCart Online Stores!
◈ TRY DEMO NOW

This Dropshipper extension was created to fulfill dropshipping feature on OpenCart

Main and relevant feature provided to meet droshipping business purpuse

◈ KEY FEATURES
1. Any customer can register as a dropshipper
2. Or you can register dropshipper manually via Dropshipper Management (Admin Area)
3. Dropshippers can save their profile: Logo, Store Name, Store Address, and their social Media
4. Dropshipper can manage their own customers. Unlimited!
5. Admin can print shipping label with Dropshippers shop's logo and shop name.
6. Admin can manage (add/edit/delete) dropshippers from backend.
7. Admin can gives special price/discount to dropshippers
8. Admin can manage dropshipper's customers
◈ JOURNAL 3 COMPATIBILIY

Yes! Journal 3 Theme Compatibility Tested!
◈ How It Works
The Ideal OpenCart Dropship Extension
To get an idea of ​​how the optimal OpenCart Dropshipper module functions, we need to match the perception of what Dropship is.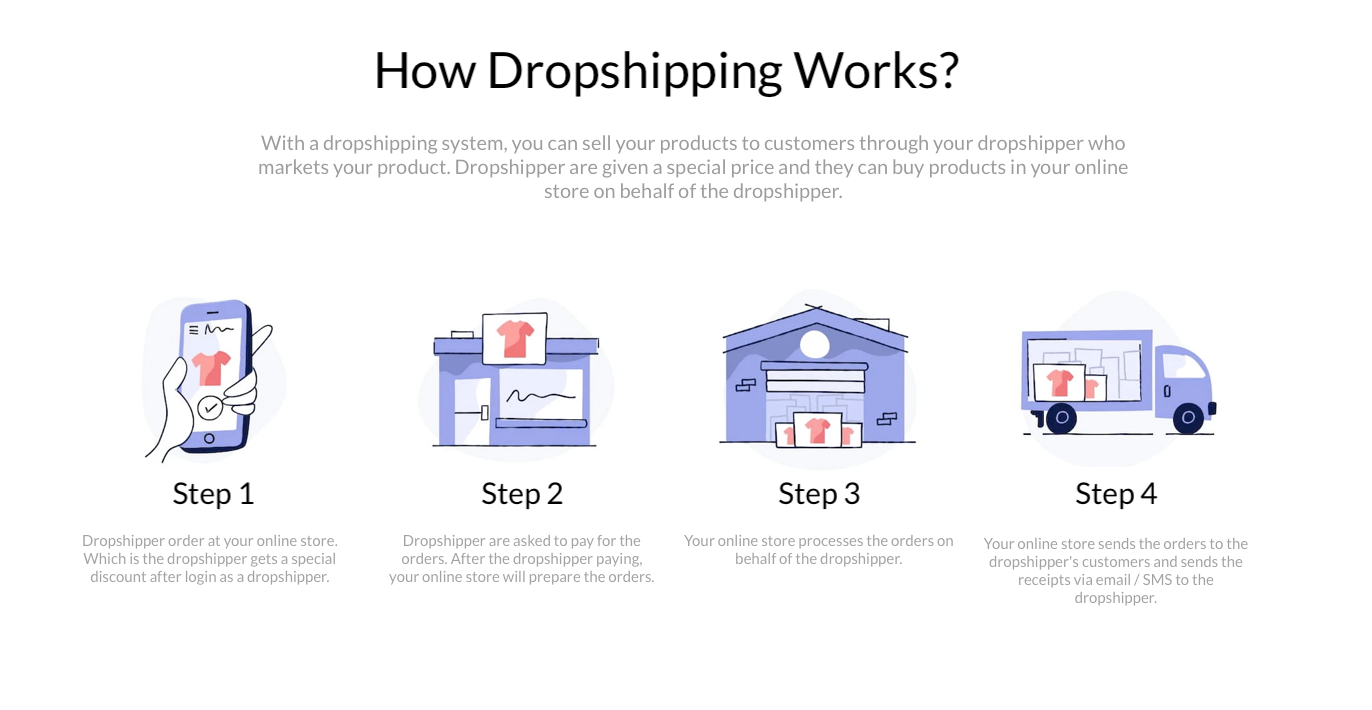 ◈ Step 1


Dropshipper placing an order on your Online Store.

Where Dropship gets a special discount after logging in as Dropshipper

◈ Step 2


Bill to Dropshipper

After paying your Online Store prepare an order

◈ Step 3


Your Online Store processes Orders on behalf of Dropshipper

◈ Step 4


Your Online Store sends Orders to a Customer Dropshipper.

The delivery receipt is sent to the Dropshipper Email / SMS

Furthermore, Dropshipper will send a receipt to the customer.
◈ DROPSHIPPING IMPLEMENTATION IN YOUR OPENCART STORE


Dropshipper Registration

Dropshipper grouped as a specific customer group

Admin sets a special price per product item specifically for Dropshipper with reference to the previous dropshipper's special customer group.

Dropshipper checkout with shipping addresses to customers and shippers from their own stores.

Admin sends goods to Dropshipper customers.

From the five processes above, there are several related features that are very urgent to hold as well, such as Dropshipper's ability to manage all of its own customers.
1. Complete Control in Setting Page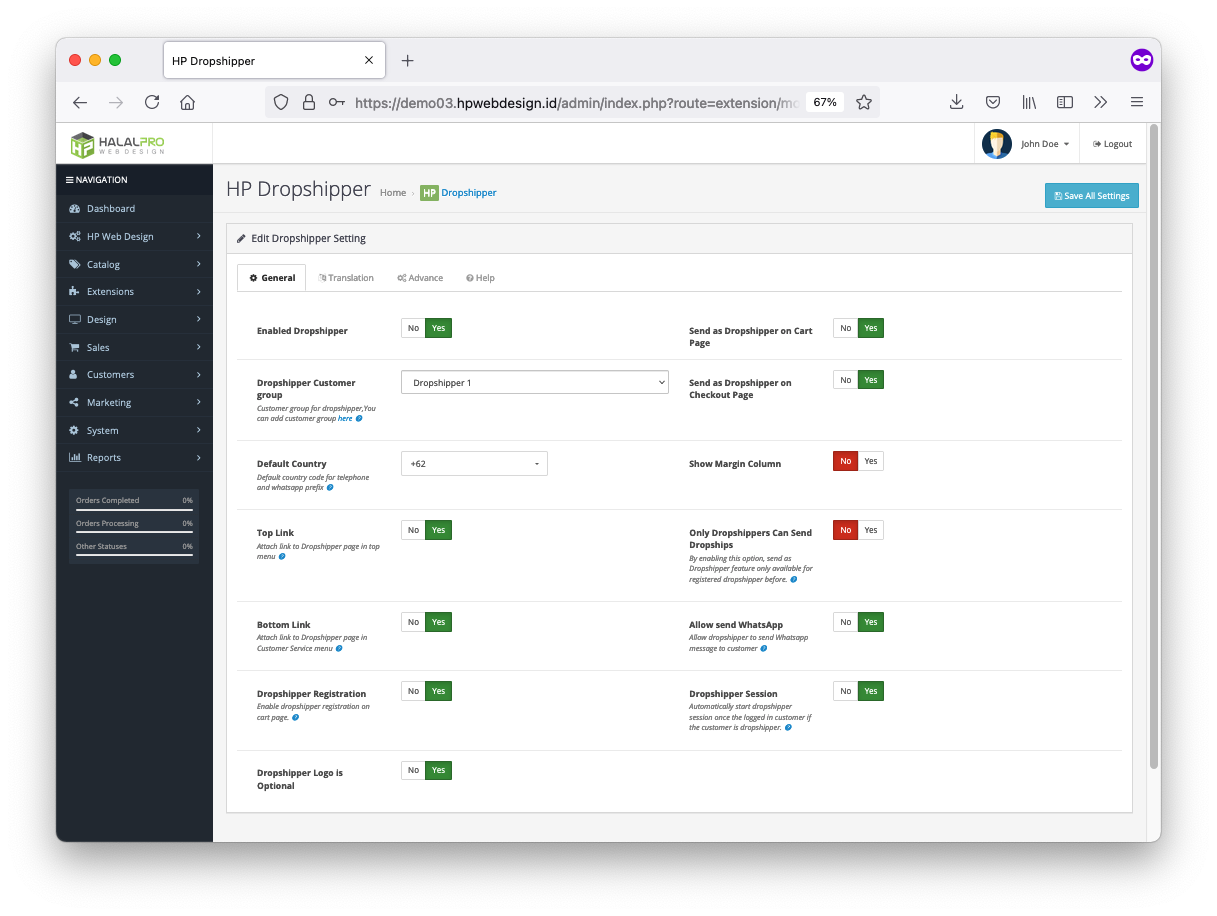 The OpenCart Dropshiper Feature Settings page
2. Register as dropshipper in default registration page frontend
color=#f1c40f]★ [/color]This may not sounds special, but it is very important. This will naturally give potential customers the option to become a dropshipper.
★
Later dropshipper will need to fill out store name, telephone, valid address, etc.
★
Dropshipper is also automatically grouped in certain customer groups. Which is useful when you want to give special prices to Dropshipper groups.
Register for a new dropshiper
3. Dropshipper Profile
★
The Dropshipper Module for OpenCart also provides a droshipper profile. Where every Dropshipper can have a profile exclusively. Includes Store Name, Phone / Cell Phone Number and Address.
★
This will be used later when printing shipping labels. Where the sender's label is the Dropshipper's Profile.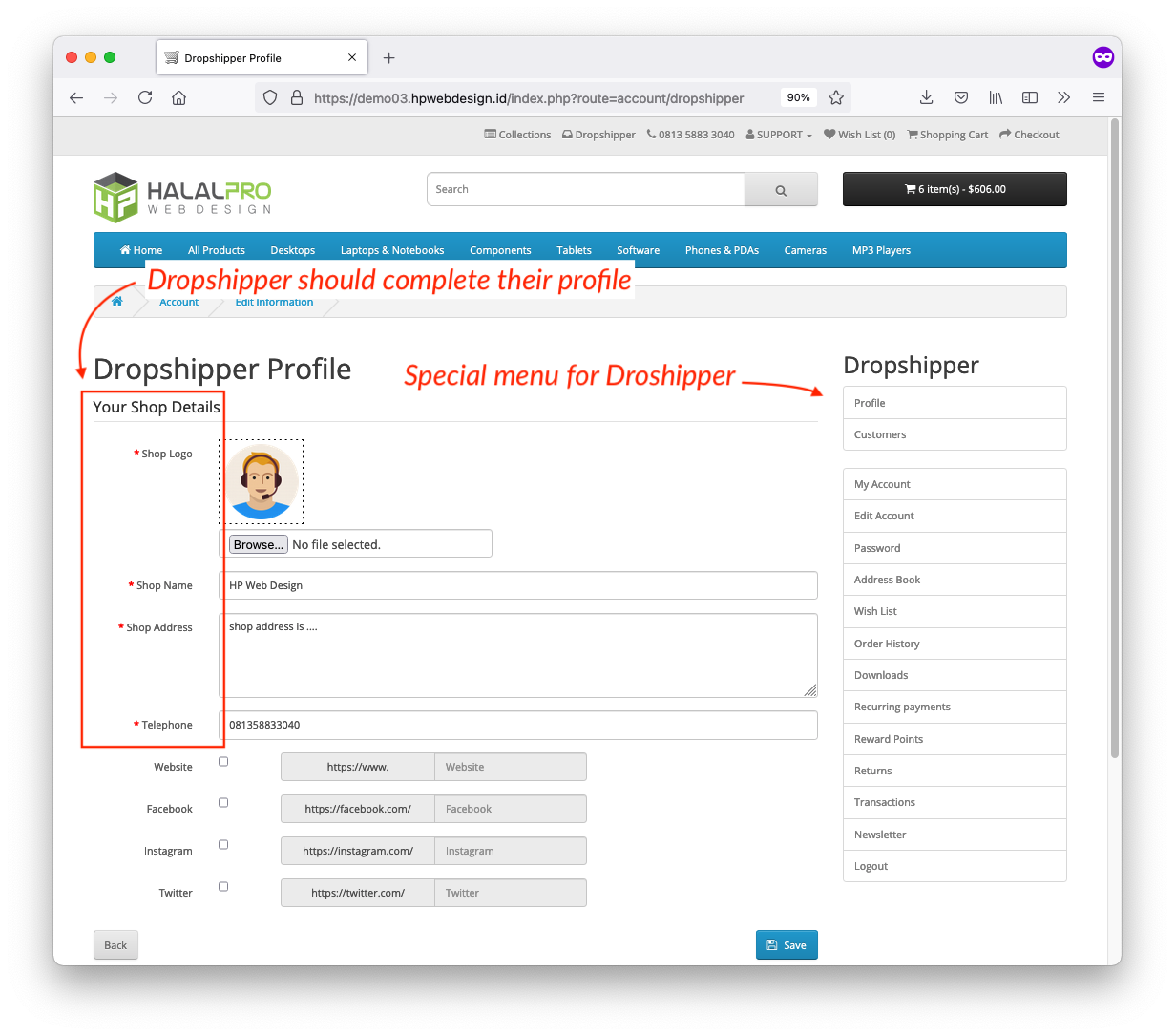 4. Adjust Price Margin on Each Product
Dropshippers can set a price margin for each product purchased, so they can maximize profits and adjust prices to stay competitive.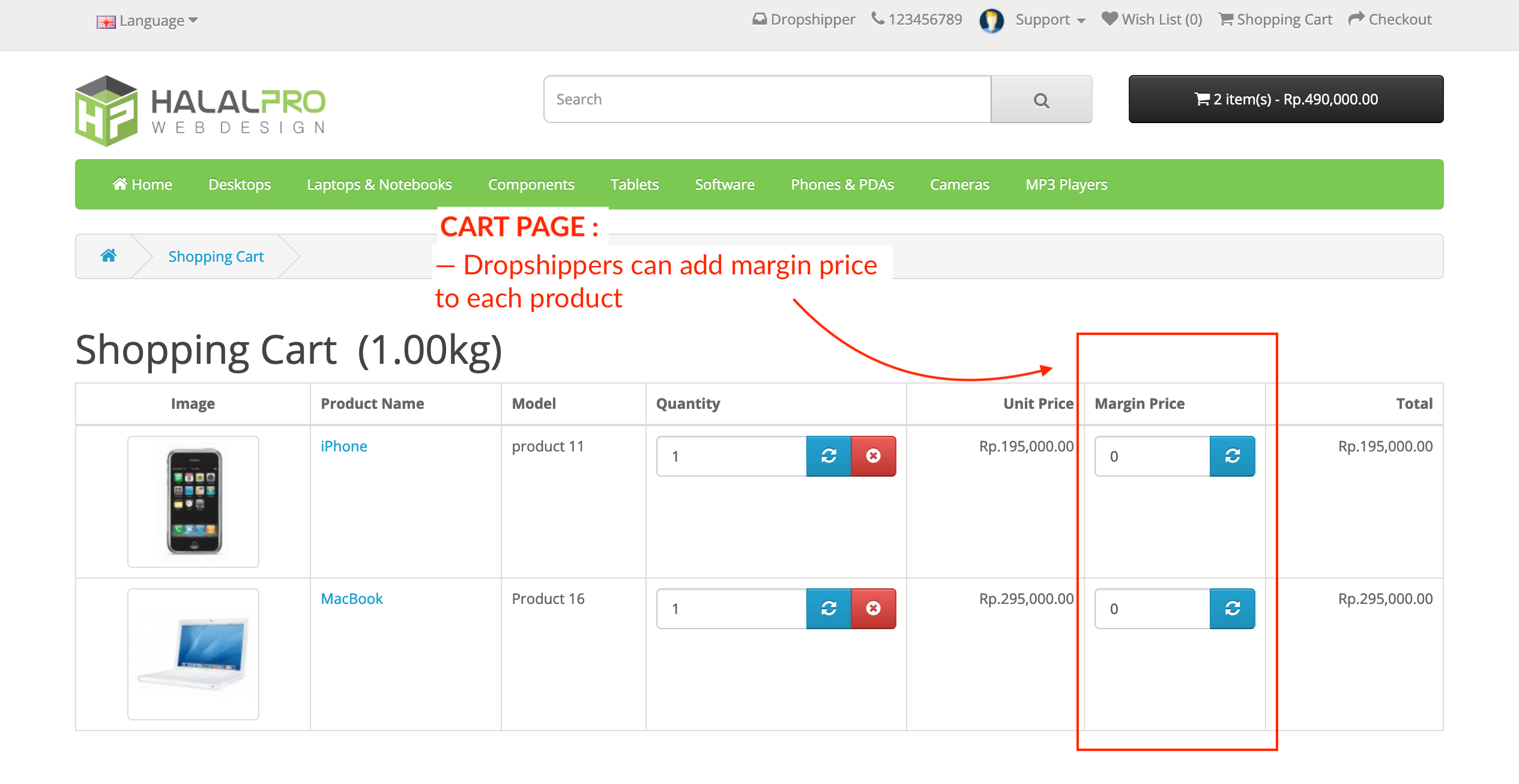 The margin input will be accumulated and will be displayed on the order page, so the admin can adjust it again.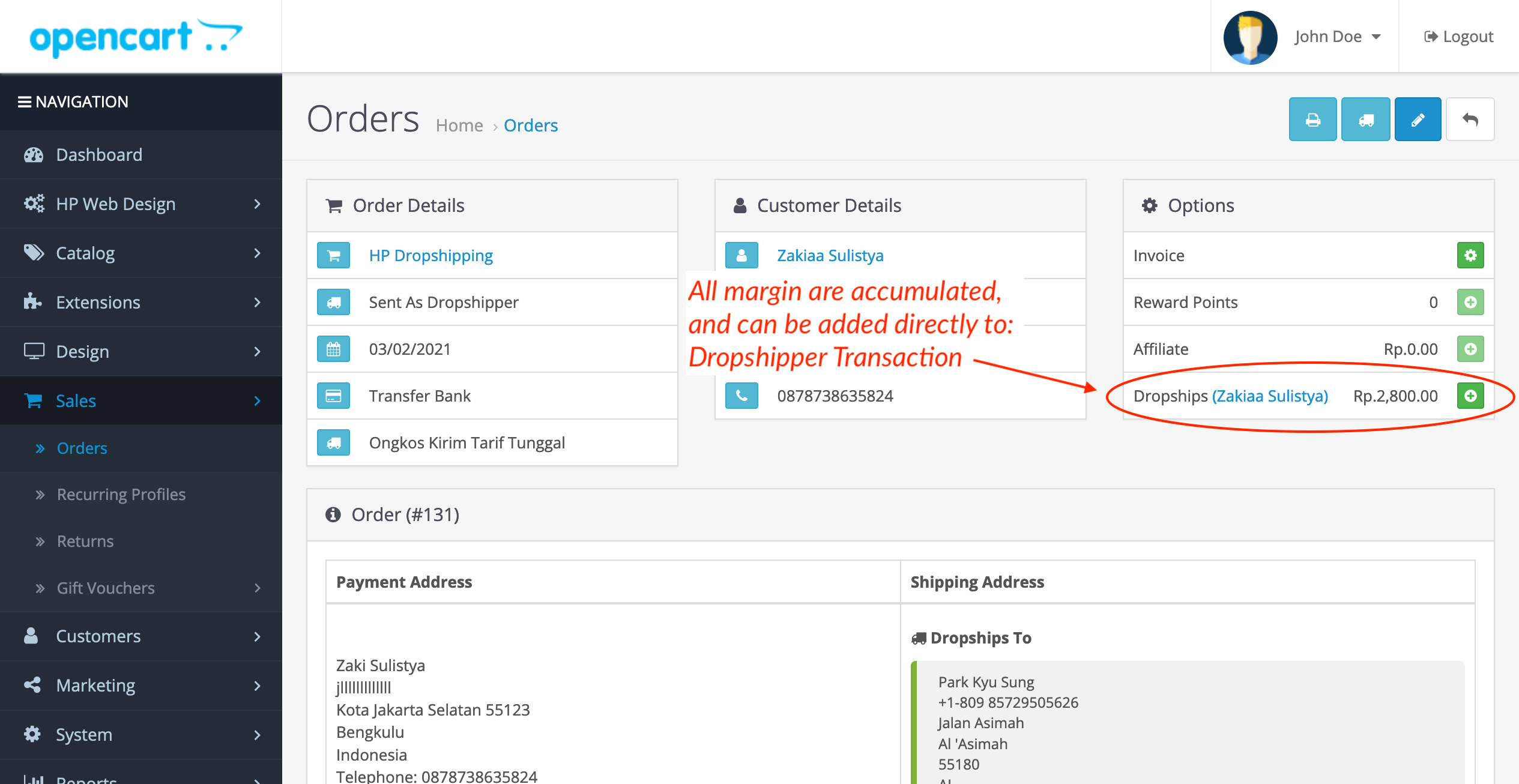 5. Customer Dropshipper Management
Correctly according to the title. In this OpenCart Droshipper module, every dropshipper can manage their own customers easily and quickly.


★

Dropshipper just add on the go as needed, for example when checkout products for customers on the Shopping Cart page. Or more fully, via a special page for customer dropshipper management.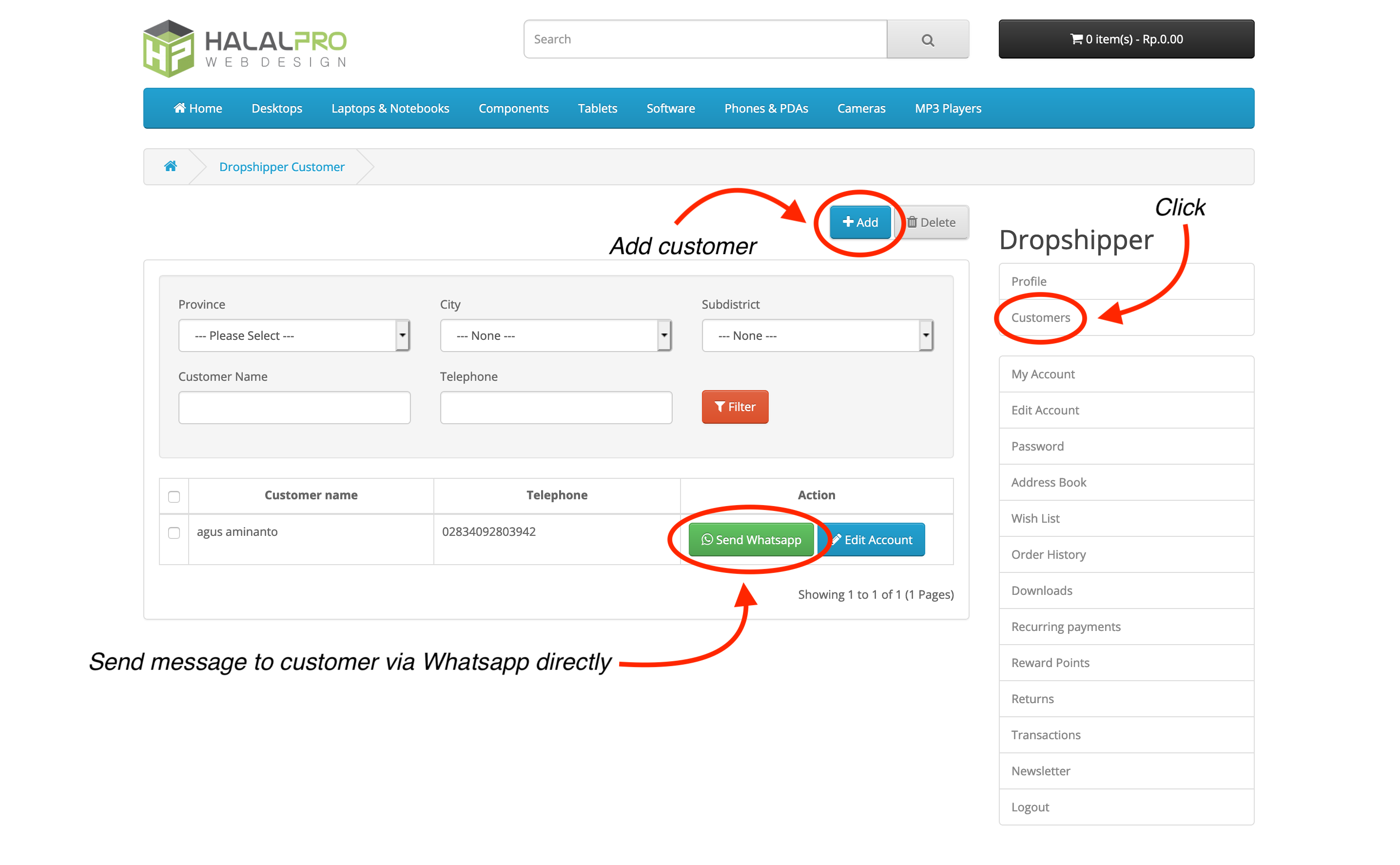 6. Admin Dropshipper Management
In this OpenCart dropshipper module, you can freely see how many dropshipper you have.

Download all the dropshipper data and even message them one by one via the Whatsapp button provided.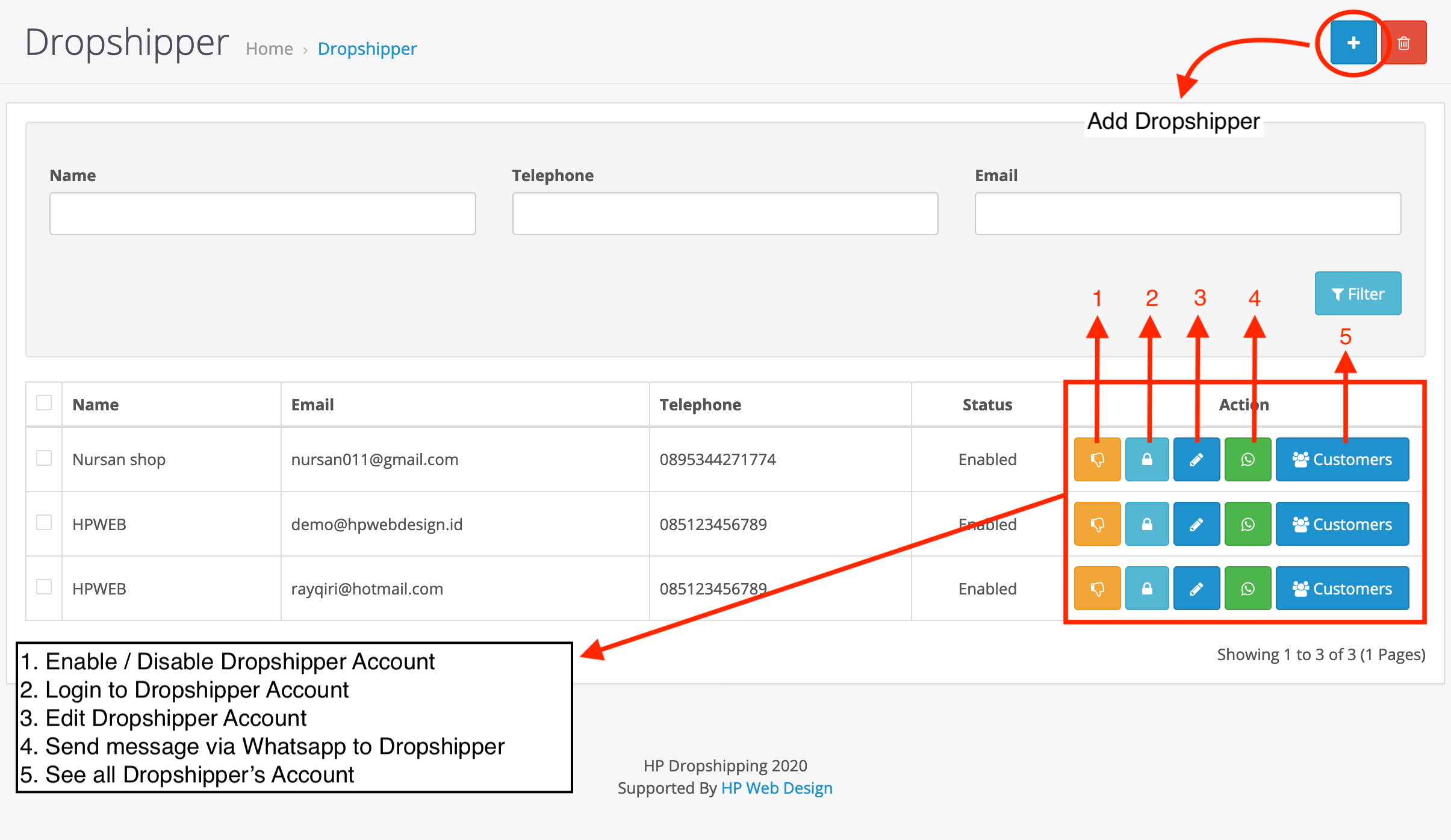 Database of all Dropshipper
7. Give Special Discounts to Dropshipper
You can give special discounts to registered dropshipers.
★
After registering a dropshipper in your OpenCart online store, it will be included in a special customer group of your choice on the settings page.
★
Then you just give a special discount for the dropshipper on each product item.
★
When the dropshipper logs in, he automatically sees the discounted price >> Their checkout rate is higher,.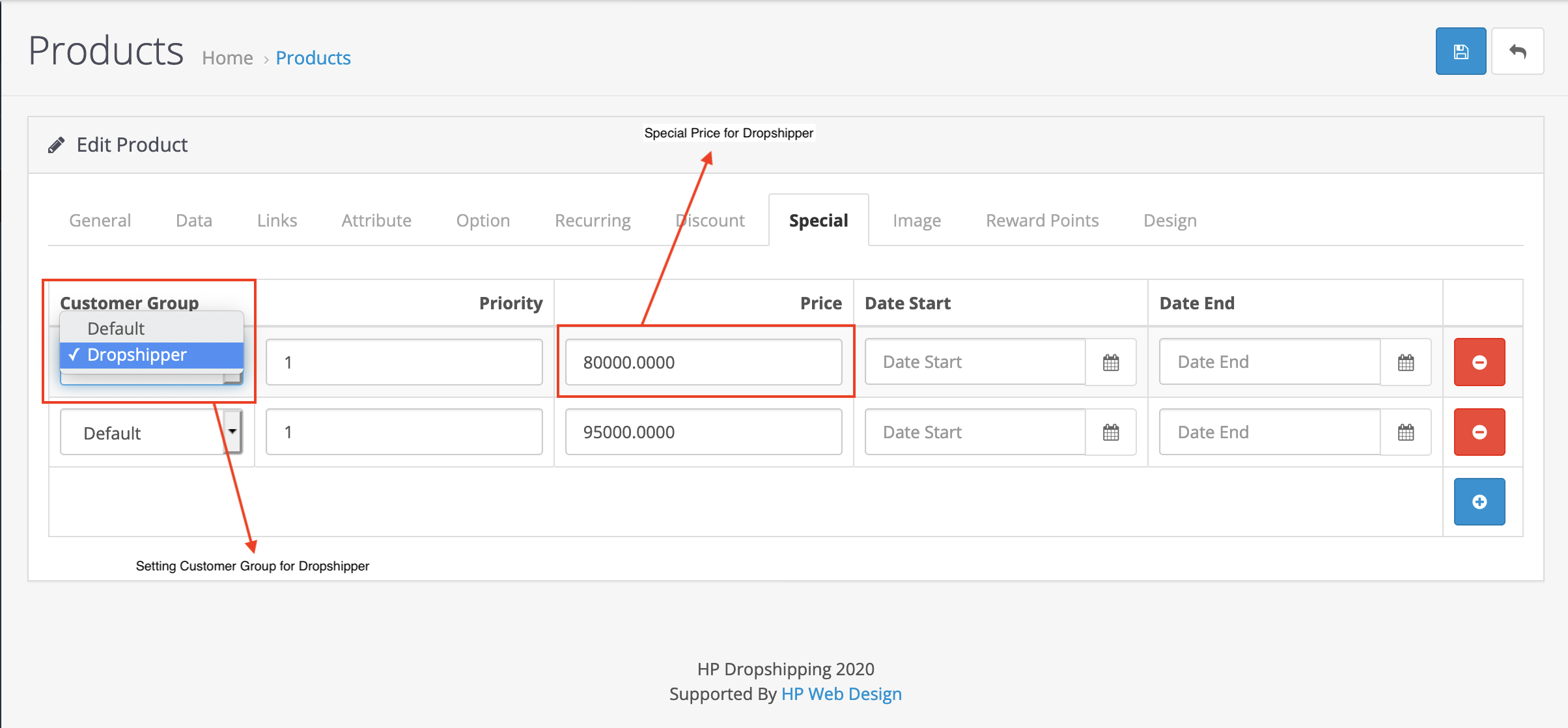 Gives Special Dropshipper Discount
Then the dropshipper can see the discounted price when logged in. As follows: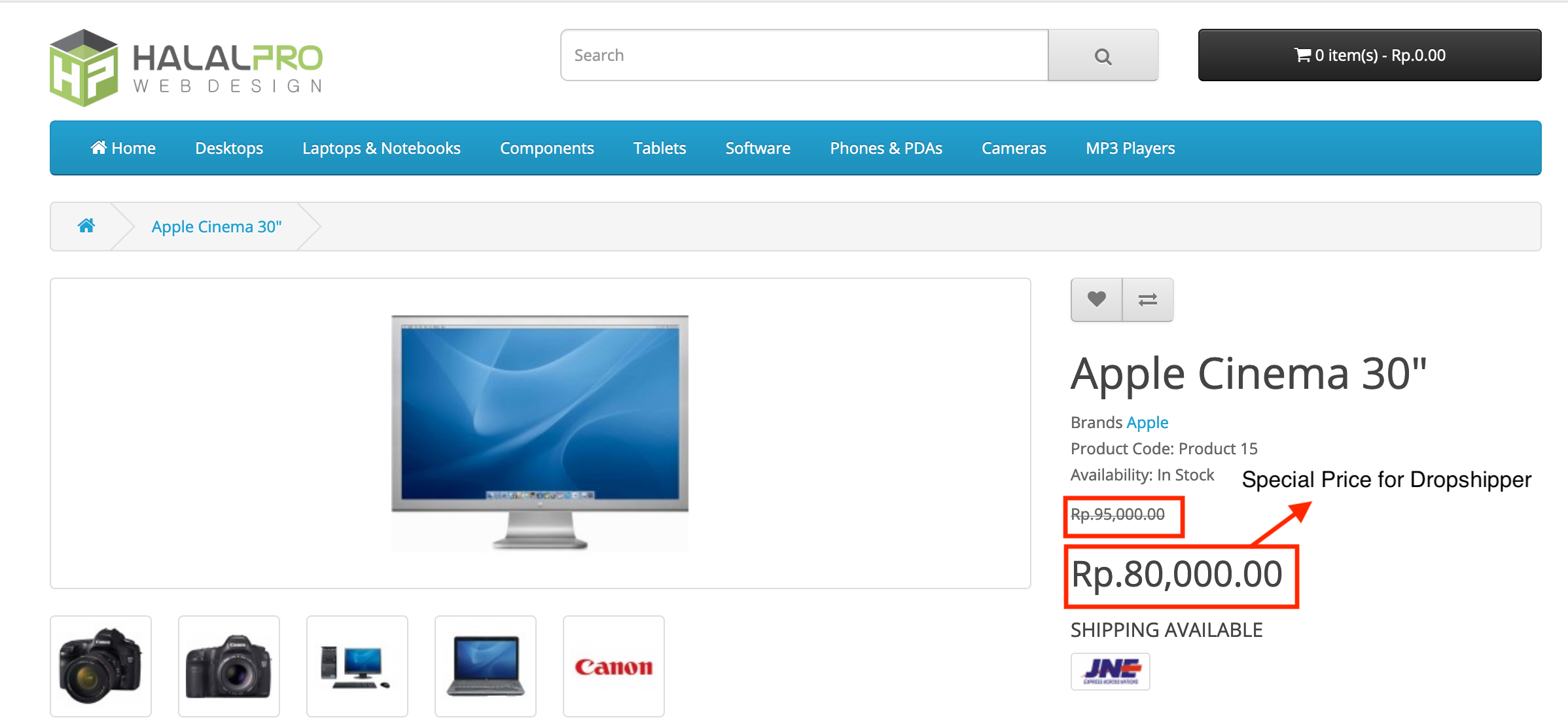 Special Dropshipper Prices on OpenCart Online Stores
8. Special Dropshipper Shipping Label
This feature will make this OpenCart drophiper module different. You can print shipping labels according to the dropshiper profile that has been stored previously. Complete with Logo, Store Name and Dropshiper Address.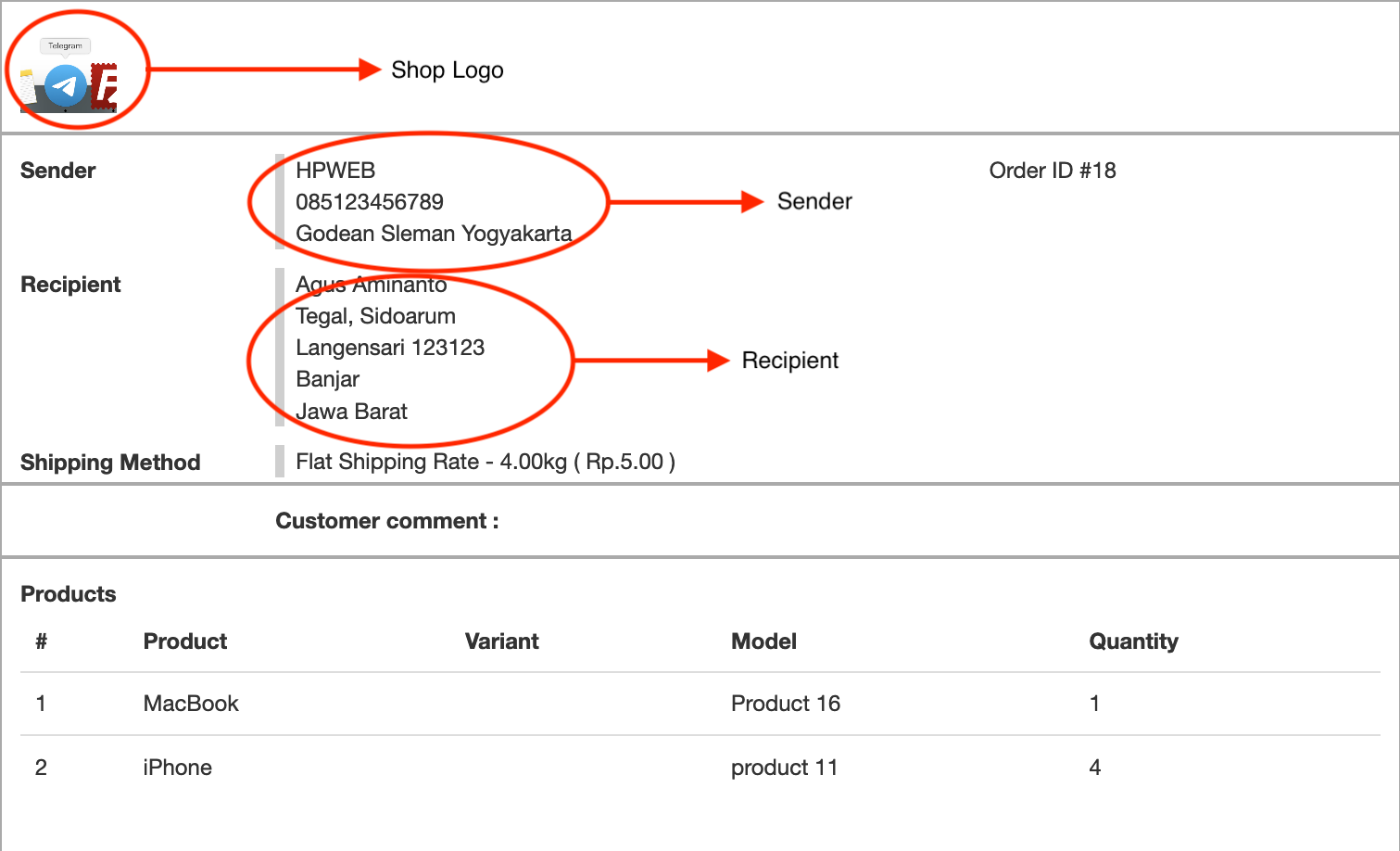 8. Special Dropshipper Shipping Label
9. How to checkout as Dropshipper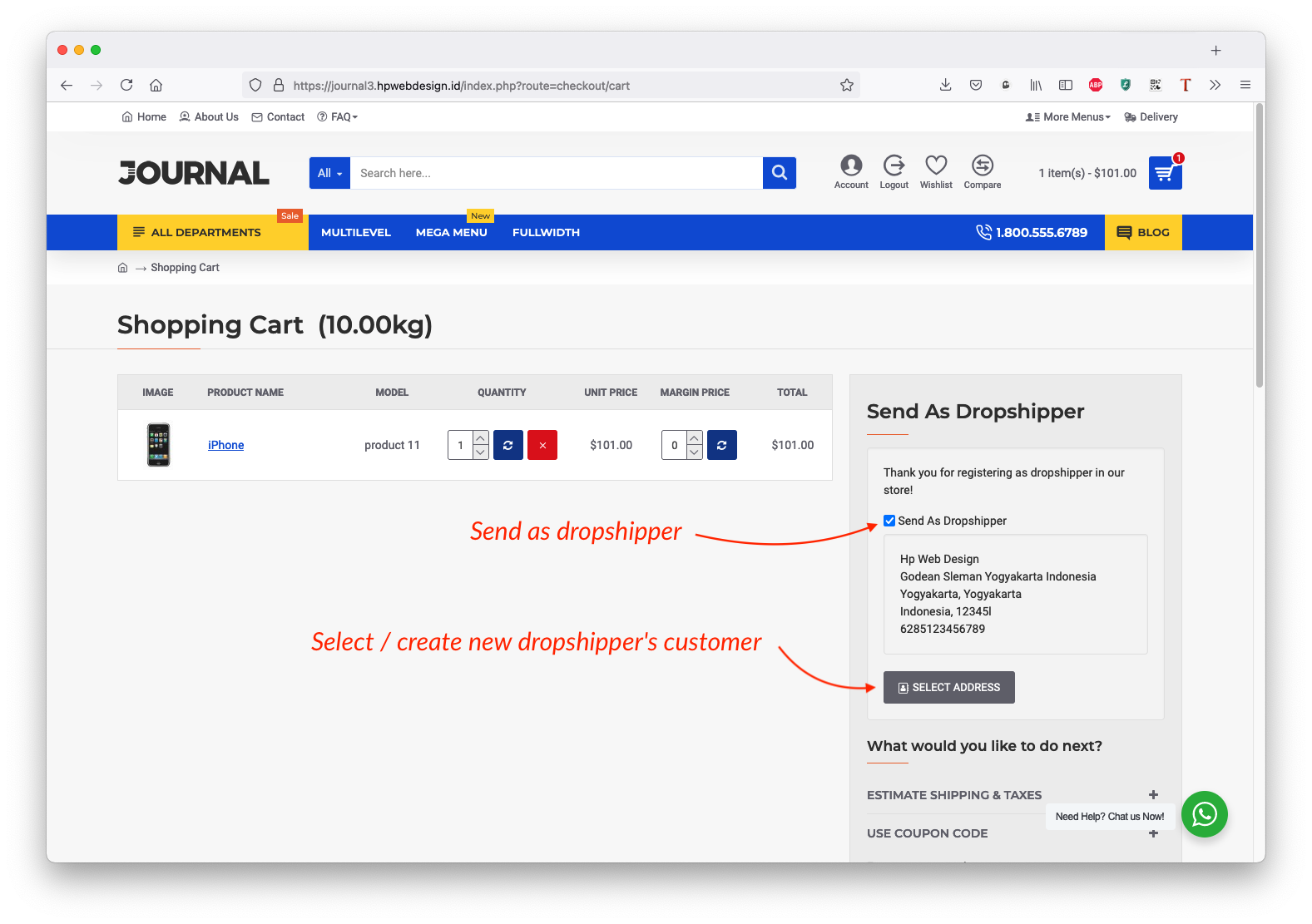 10. Journal Quick Checkout Page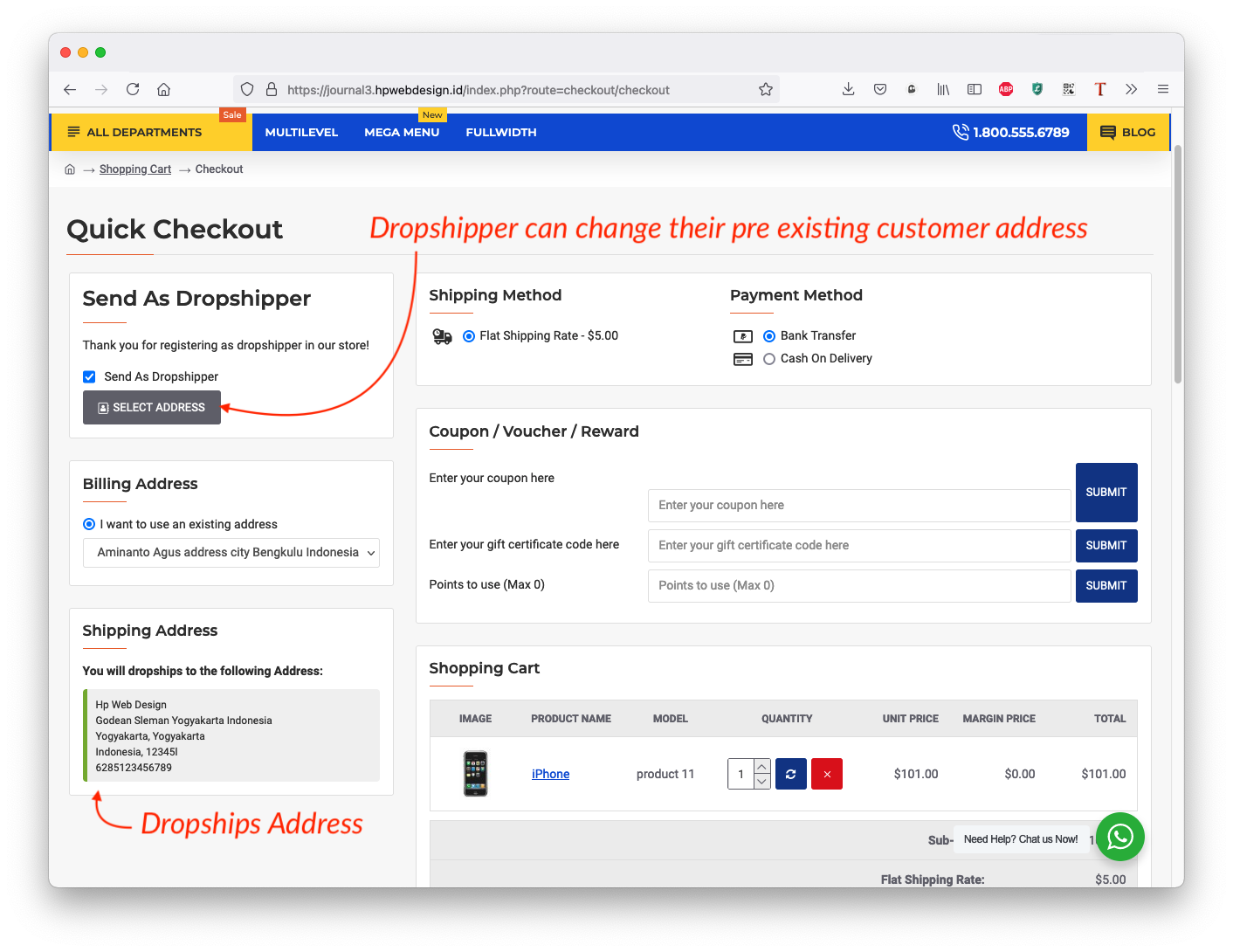 ◈ TRY THE DEMO

◈ SUPERB TECHNICAL SUPPORT
We've got you covered!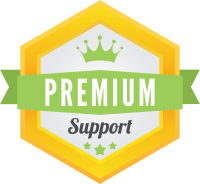 ★

Free 12 Months Technical Support


★

Free Installation!
◈ FREE OPENCART CONSULTING
Email:
support@hpwebdesign.io
Telegram:
t.me/hpwebdesign
OPENCART EXTENSION DEVELOPMENT | OPENCART ECOMMERCE
◈ DOWNLOAD ANOTHER OPENCART EXTENSION (FOR FREE)
DOWNLOAD FREE EXTENSION
◈ EXPLORE OUR PREMIUM EXTENSIONS
◈ GET THE BEST FOR YOUR ONLINE STORE