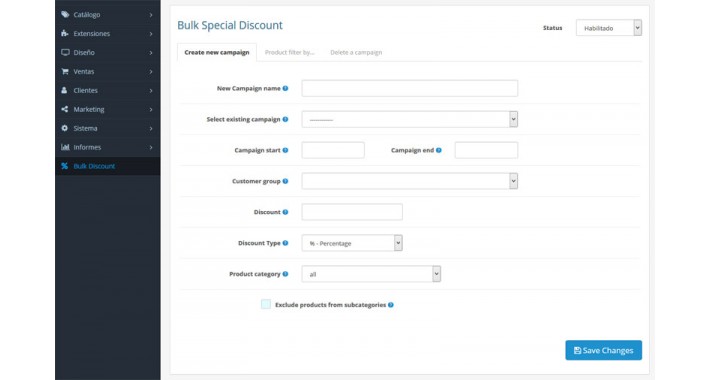 ENGLISH (en-gb)
Create or delete in seconds thousends of Special Discounts offers

Install:
Step 1: Upload the content of the admin folder (no files are overwritten)
Step 2: Install the xml file via OCMOD Extension installer (this is optional - it contains only a new menulink)

OCMOD: Install the bulkSpecialDiscount.ocmod.zip via Extension installer -> refresh the modification

Step 3: Go to Extensions -> Module and install and activate the bulkSpecialDiscount Module

Now you can create your bulkSpecialDiscount campaigns for entire Categories with or without Subcategories or with some filter-options like: minimum stock, minimum price, manufacturer or product filters.



DEUTSCH (de-DE)
Erstellen oder löschen Sie in Sekundenschnelle Tausende von Sonderrabattangeboten

Installieren:
Schritt 1: Laden Sie den Inhalt des Admin-Ordners hoch (es werden keine Dateien überschrieben)
Schritt 2: Installieren Sie die XML-Datei über das OCMOD Extension-Installationsprogramm (dies ist optional - es enthält nur einen neuen Menulink).

OCMOD: Installieren Sie die Datei bulkSpecialDiscount.ocmod.zip über das Erweiterungsinstallationsprogramm -> aktualisieren Sie die Änderung

Schritt 3: Gehen Sie zu Erweiterungen -> Modul und installiere und aktivieren Sie das BulkSpecialDiscount-Modul

Jetzt können Sie Ihre BulkSpecialDiscount-Kampagnen für ganze Kategorien mit oder ohne Unterkategorien oder mit einigen Filteroptionen wie Mindestbestand, Mindestpreis, Hersteller- oder Produktfilter erstellen.



ESPAÑOL (es-es)
Cree o elimine en segundos miles de ofertas de descuentos especiales

Instalar:
Paso 1: cargue el contenido de la carpeta de admin (no se sobrescriben archivos)
Paso 2: Instale el archivo xml a través del instalador de la extensión OCMOD (esto es opcional, contiene solo un nuevo enlace de menú)

OCMOD: instale bulkSpecialDiscount.ocmod.zip a través del instalador de extensiones -> actualice la modificación

Paso 3: Vaya a Extensiones -> Módulo y instale e active el módulo bulkSpecialDiscount

Ahora puede crear sus campañas bulkSpecialDiscount para categorías completas con o sin sub categorías o con algunas opciones de filtro como: stock mínimo, precio mínimo, fabricante o filtros de producto.