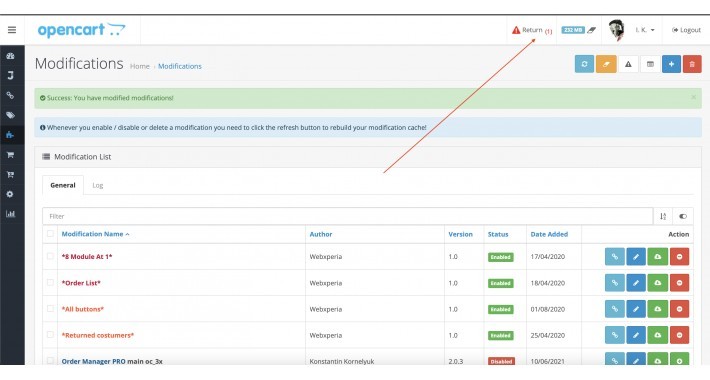 FEATURES
✔ This is a return order notification button.
✔ Button show up if only return order have. if not Button is hidden.
✔ Button stop showing up if status of returning order is pending or complete.

✔ Το Κουμπί εμφανίζετε μόνο όταν υπάρχουν παραγγελίες προς επιστροφή.
✔ Το κουμπί εμφανίζετε αναβοσβήνει και μας ενημερώνει μόνο όταν υπάρχει παραγγελία προς επιστροφή μόλις ολοκληρωθεί το αίτημα το κουμπί σβήνει.

Install
✔Upload archive returnorder.ocmod.zip in Extensions > Extension Installer
✔Refresh the modifications cache in Extensions > Modifications
✔Refresh theme cache in Dashboard > Developer Settings

* Please Backup before Install for safety reasons.
* It is free distribution and there is no time for any support thank you.
* Είναι δωρεάν διανομή και δεν υπάρχει χρόνος για support ευχαριστώ.