OpenCart Product Bundle PRO
✪
Product Bundle will Convenintently allow you to create bundling purchase for your customers with additional discount if they bought that bundle.
✪
Link other products to a product, so that it can be purchased as a product bundle package
✪
You Can provide discount prices for each pair of products and conditions that have been determined.
✪
Can increase sales, because customers will be attracted by the discounted prices given to each product bundle package
✪
New feature: Apply product bundle in bulk based SKU or product mame
◈ TRY THE DEMO

Key Features
✪
Convenintently adding product bundle for each product
✪
Add multiple product bundle (main + side products)
✪
Displays a list of product bundle packages along with discount promo text on the product page
✪
Can manage or add discounts if the customer buys the specified product pair.
✪
Support for text translation that can support many languages
✪
Product bundle indicator on product list admin
1. Product Bundle Main Settings
✪
Enable or Disable all HP Product Set features
✪
Customize image dimensions for product bundle packages displayed on product pages
✪
Enable or Disable product bundle discount information on the product page
✪
100% any theme compatible: can be place at any side on product page based CSS class id.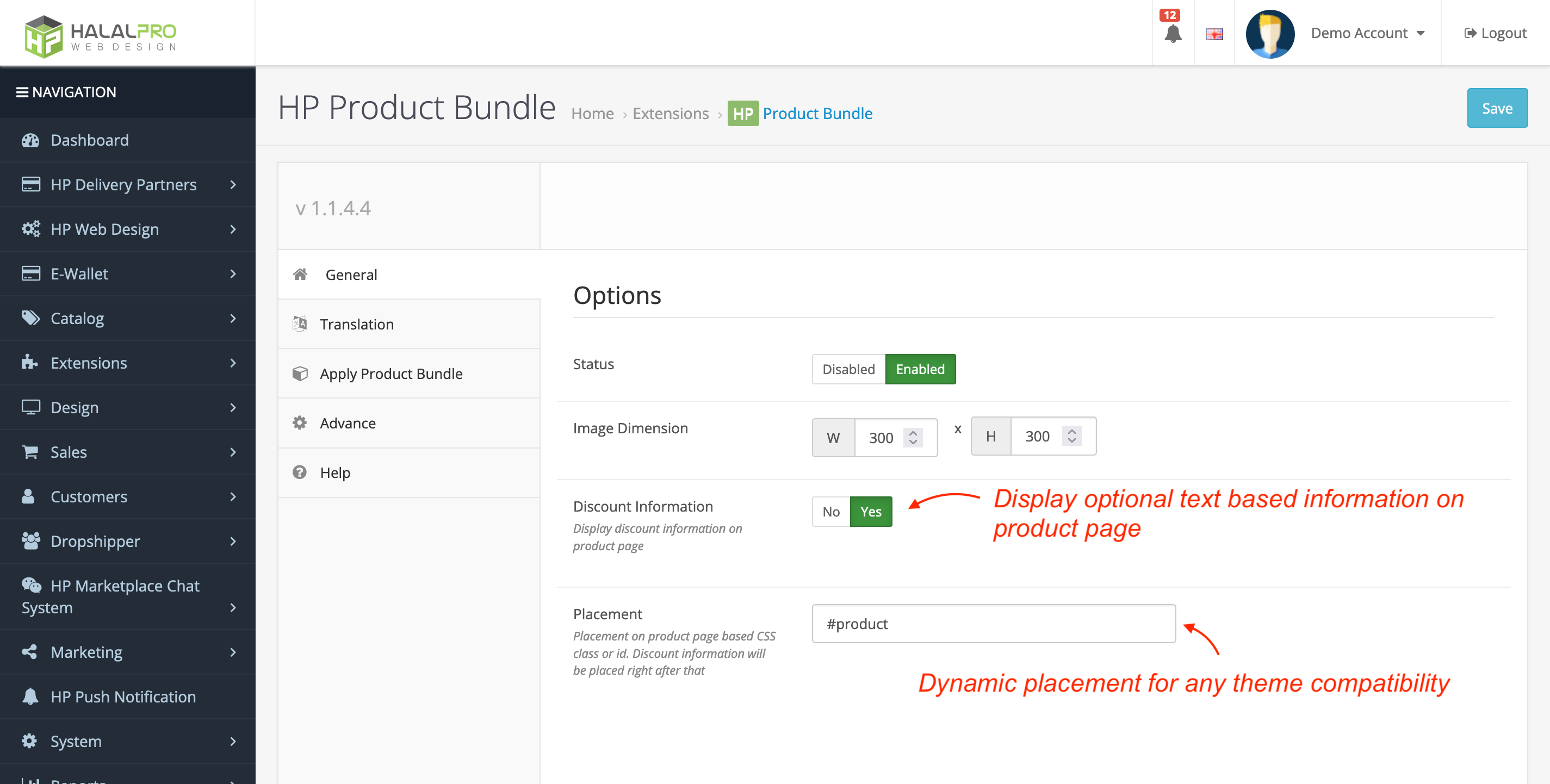 2. Adding Bundle Product Packages
✪
Special Tab will be added. Called: "Product Bundle"
✪
Add product bundles for each product.
✪
Current product will be main product. Add the secondary product as well as each quantity and discount that customer will get.
✪
Date of availability can also be set for limited time. Leave blank for lifetime product bundle offe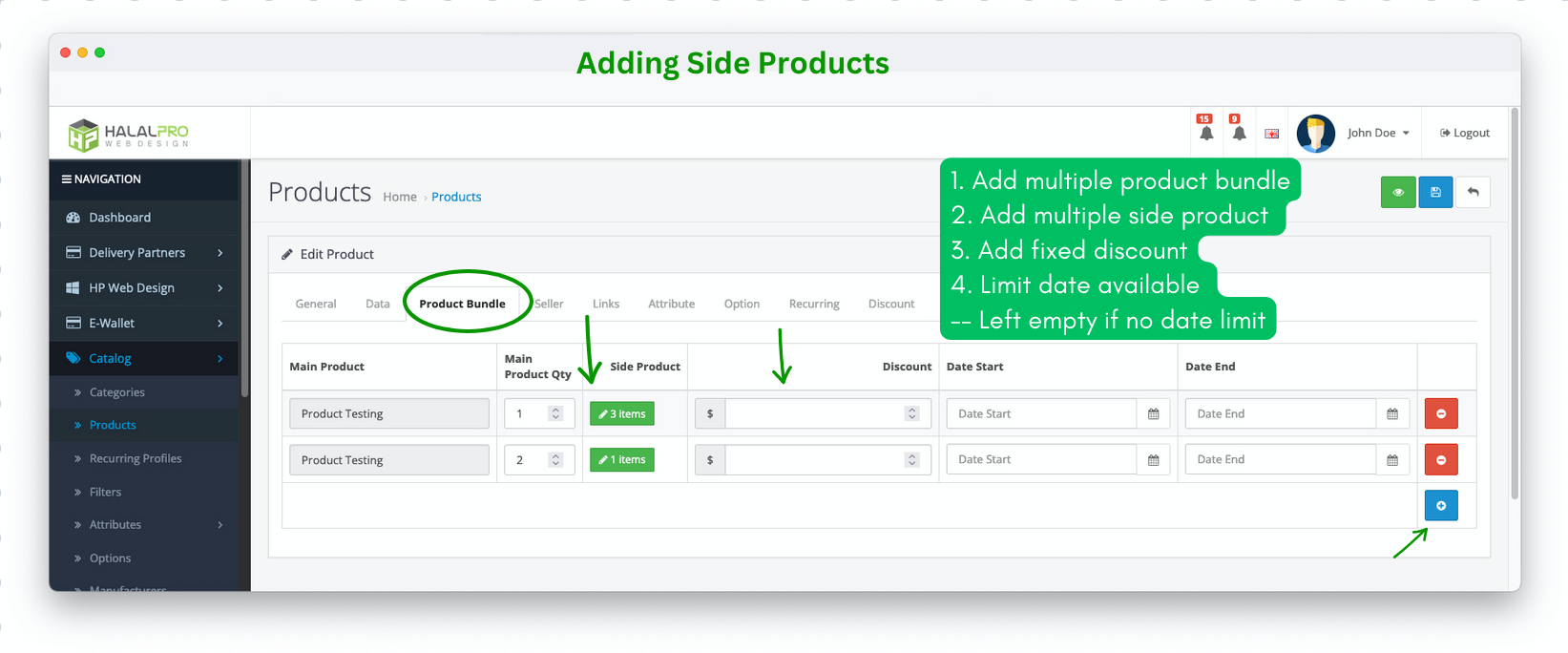 3. Product Bundle Information on OpenCart Product Management
✪
A button provided that indicate a product has bundle on it.
✪
Click to see product bundle information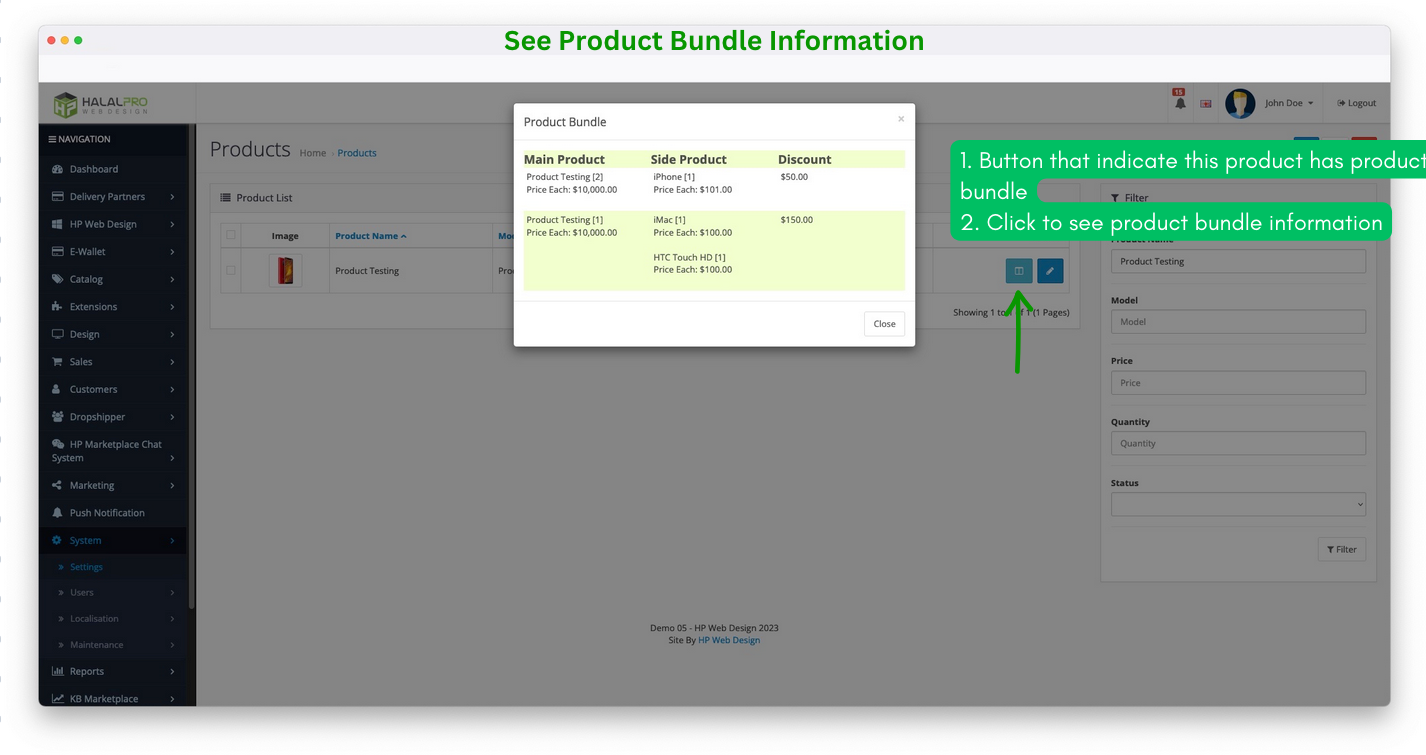 4. Product Bundle Translation
✪
Translate into your local language dynamically.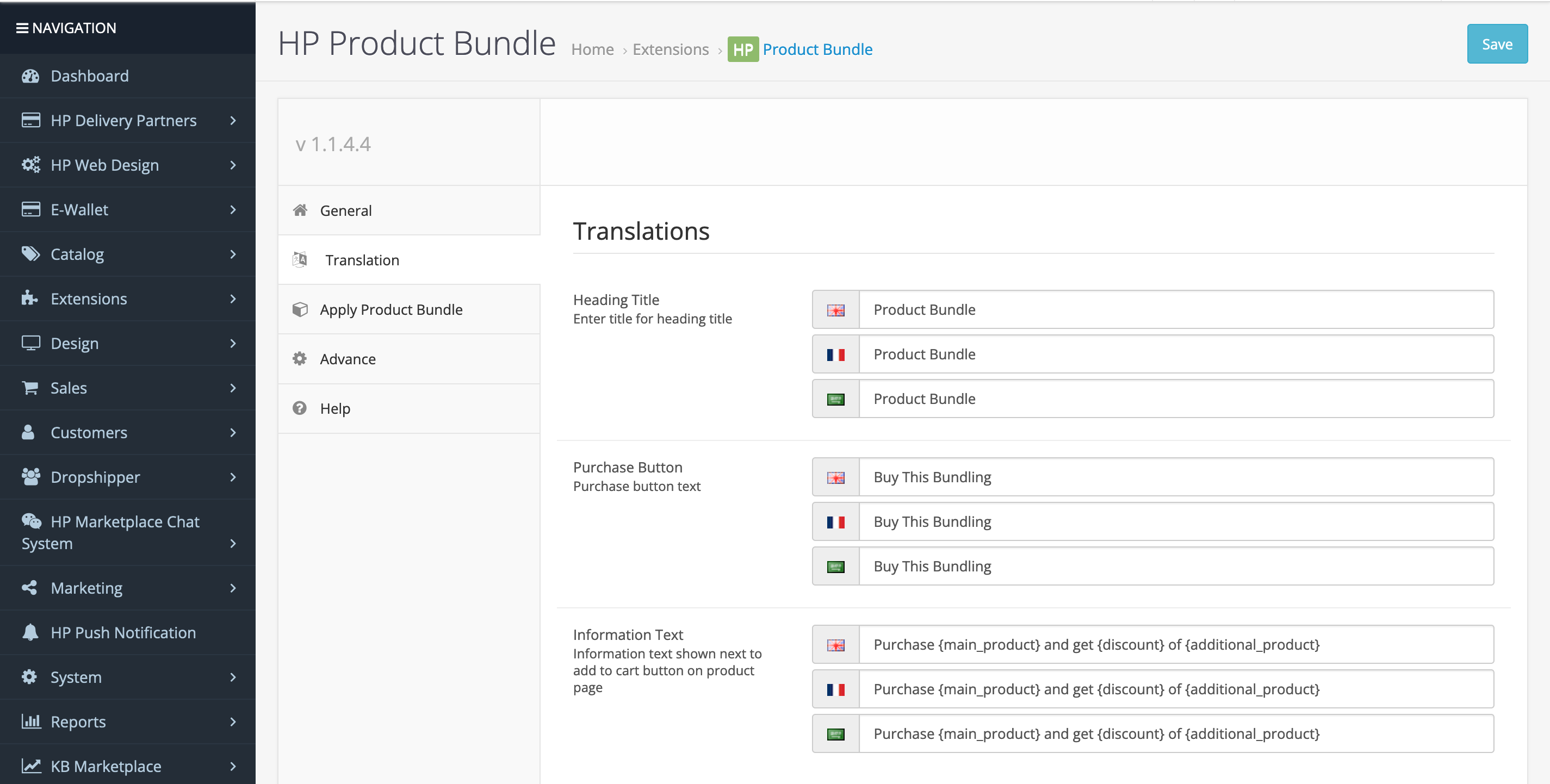 5. Sample Display on Product Page
✪
The following is an example of a module display on the frontend product page, there is discount information with pictures so that it is clearly visible to customers.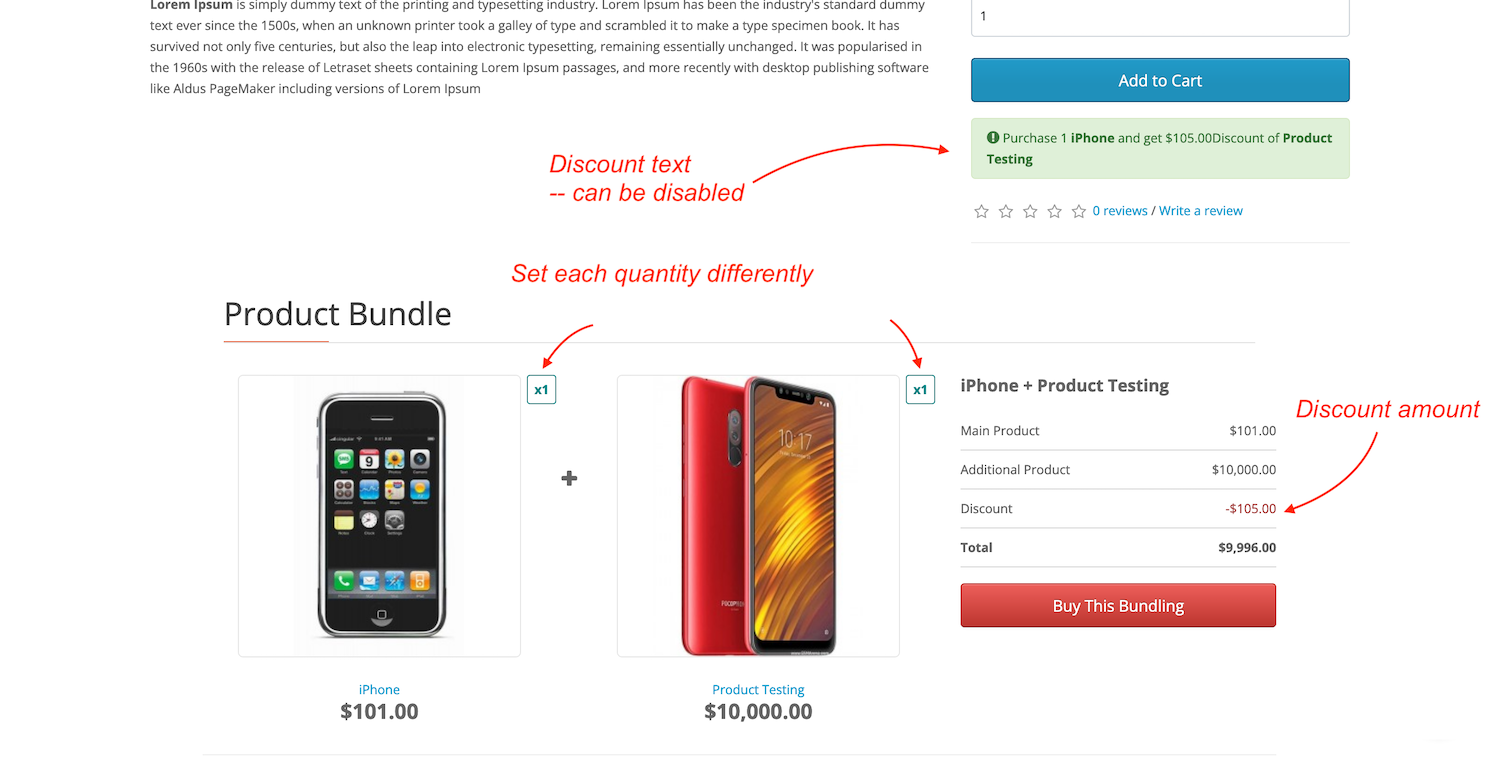 6. Add Product Bundle in Bulk
✪
Conveniently add product bundle for products or SKUs that match the criteria.
Much More
See demo for another feature
◈ TRY THE DEMO

◈ SUPERB TECHNICAL SUPPORT
We've got you covered!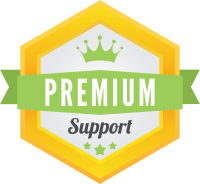 ✪

Free Installation


✪

Free 12 Months Technical Support
◈ FREE OPENCART CONSULTING
Email:
support@hpwebdesign.io
Telegram:
t.me/hpwebdesign
OPENCART EXTENSION DEVELOPMENT | OPENCART ECOMMERCE
◈ DOWNLOAD ANOTHER OPENCART EXTENSION (FOR FREE)
DOWNLOAD FREE EXTENSION
◈ EXPLORE OUR PREMIUM EXTENSIONS
◈ GET THE BEST FOR YOUR ONLINE STORE
[/img]