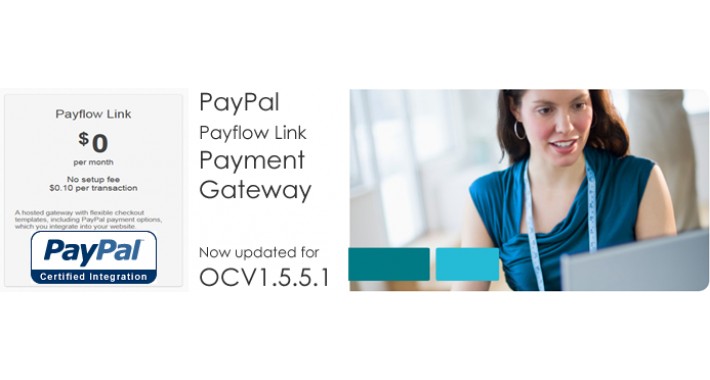 Forum thread for this payment extension here: http://forum.opencart.com/viewtopic.php?f=119&t=56934

PayPal's Payflow Link Payment Gateway Service is FREE and only charges you .10 cents per transaction. Your keep your existing merchant processor or sign up with a list of approved processors.

Sign up here: https://www.paypal.com/webapps/mpp/payflow-compare-pricing

For those that want a subscription service with OpenCart, try Payflow Link's recurring billing. You can simply create an ACH Billing profile from any processed transaction. You can use html code in an information page to create a button (title it Subscribe/Sign Up). Then, log into your PayPal Manager and create a recurring billing profile from that transaction, thats it!

Here is the custom button code for integration:

Payflow Link Integration Manual here: (must have PDF Viewer)
https://www.paypalobjects.com/webstatic/en_US/developer/docs/pdf/pp_payflowlink_guide.pdf

<form method="POST" action="https://payflowlink.paypal.com">
<input type="hidden" name="LOGIN" value="Your LOGIN here">
<input type="hidden" name="PARTNER" value="Your PARTNER here">
<input type="hidden" name="DESCRIPTION" value="Order description here (EX. SIGN UP)">
<input type="hidden" name="AMOUNT" value="Total transaction AMOUNT here">
<input type="hidden" name="TYPE" value="Transaction TYPE here">
<input type="submit" value="Click Here OR Purchase/Subscribe">
</form>


PayFlow Link will redirect you to PayPal's sercure SSL server so the customer can input credit card data securely and FULLY PCI COMPLIANT. Only sensitive data is handled by PayPal, not you. ALSO, CUSTOMERS WILL NOT NEED TO INPUT OR WILL BE ASKED TO INPUT A PAYPAL ID & PASSWORD. Payflow Link is separate from PayPal Standard and Pro which directs you to their UGLY PAGES!