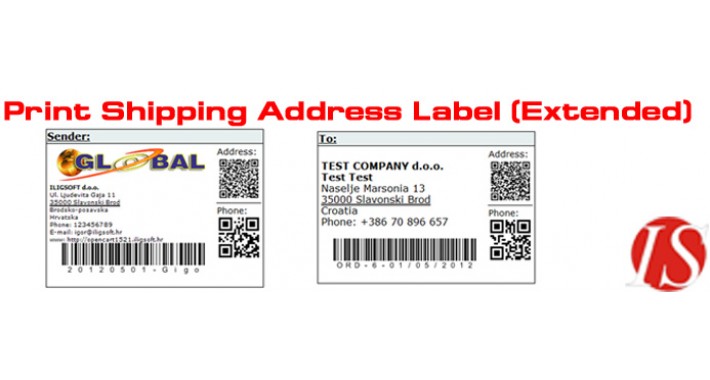 Admin demo: http://opencart1521.iligsoft.hr/admin
Username: demo
Password: demo

The Print Shipping Address Label (Extended) is an essential MUST-HAVE module for all stores that need to print out labels with the shipping address to apply onto boxes being shipped by courier or post. This is a simple addon to print address of the sender and shipping address.
This module adds a new "Print Address" button next to the "Print Invoice" button when you view orders and on in a list of order. You can easily customize the XML and CSS file to suit what information you would like to show and style.
This module saves a lot of time and is one of those must have modules for all stores sending out packages.
It display all information with few QR Code (sender address, sender phone, reception address and reception phone), so your driver, courier or postman can take information to your device or smartphone directly with scanning QR Code.
It display 2 additional bar code: first contain date when it is printed with user name that print it, and second contain text ORD (that text you may change and make it different for other language), order number and date when customer make an order.
You can set any background image different for sender and for reception and design the address printed as you like, and also you can put your store logo.
Work with all normal printers, but it is especially designed to use it with label printers like Samsung SRP-770 and other label printers with this labels [width: 112mm (4.4"), height: 155mm (6.1")].

This is a vQmod release, so you must have vQmod installed on your site.

100% NEW FILES ! NO DEFAULT FILES WILL BE OVERWRITTEN.


Support by: www.iligsoft.hr

Copyright:
This is a commercial release for Opencart 1.5.x shopping cart only. If you want to develop this module/extension further please ask for my permission by email, at the address above.