Hide Admin Dashboard Overview, Statistics & Latest Orders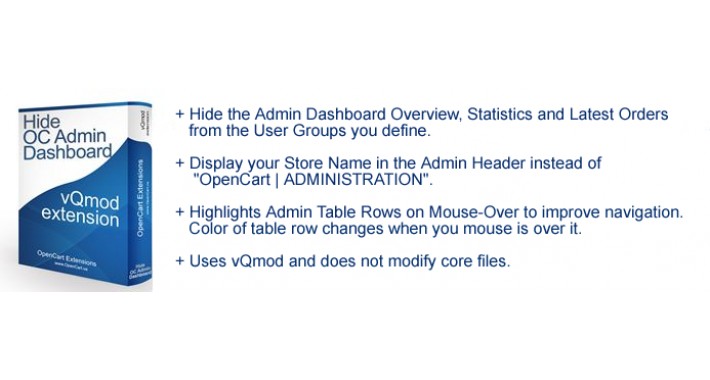 + Hide the Admin Dashboard Overview, Statistics and Latest Orders from User Groups you define.

+ Display your Store Name in the Admin Header instead of "OpenCart | ADMINISTRATION".

+ Highlights Admin Table Rows on Mouse-Over to improve navigation. Color of table row changes when your mouse is over it.

+ Uses vQmod and does not modify core files. VQMod is a FREE add-on for OpenCart which allows for file modifications without changing core system files. Code changes are kept in one simple XML file which can be quickly enabled, disabled, and moved between different OpenCart installs. For more info or to download vQmod please visit http://vqmod.com/.

+ Works for OpenCart Versions 1.5.x.x. Tested with OpenCart Versions:
* 1.5.6.4
* 1.5.6.1
* 1.5.5.1
* 1.5.4.1
* 1.5.3.1
* 1.5.2.x
* 1.5.1.3

+ FREE FUTURE UPGRADES FOR ALL BUYERS!

+ Demo at: http://demo.opencart.us/admin
* username and password: demo (unable to see the dashboard)
* username and password: demoadmin (able to see the dashboard)

----- INSTALLATION -----

1. Please backup your important data or whole site first.
2. Just upload "admin_dashboard.xml" file to your "vqmod/xml" folder via FTP. No files should be overwritten.
3. In the admin, edit the User Groups to select or unselect permissions on common/home.

Thanks for your purchase!
Check out our other useful OpenCart Extensions!
Buy
---
Developed by OpenCart Community
Documentation Included
---
---
---
---
153 Sales