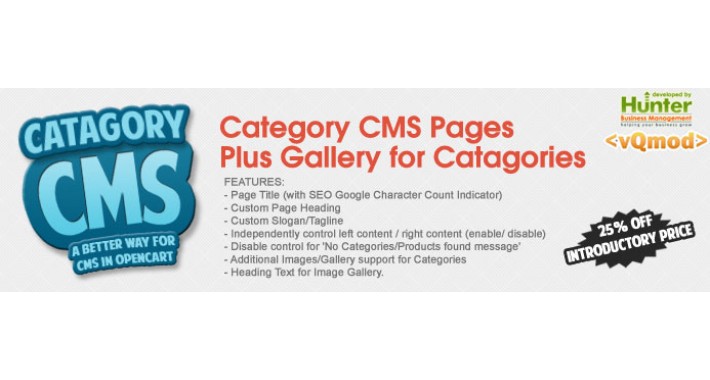 25% OFF INTRODUCTORY PRICE - A BETTER WAY FOR CMS IN OPENCART .

I have tried several different CMS extensions over the years, but I've always found it horribly annoying that it still is this entirely separated area. I often want to insert a custom content page either within a category menu, or by creating it's own new menu structure on the main top navigation. This is exactly what this extension looks to do, by extending the functionality of Categories to be able to treat them as simple content pages (to the same degree it also provides extended capabilities for product categories).

FEATURES:
- Page Title (with SEO Google Character Count Indicator)
- Custom Page Heading
- Custom Slogan/Tagline
- Independently control top / bottom / left content / right content (enable or disable)
- Disable control for Sub-Category output
- Disable control for Breadcrumbs
- Disable control for 'No Categories/Products found message'
- Additional Images/Gallery support for Categories
- Heading Text for Image Gallery.

All-in-all you end up with a lot more functionality for Categories themselves, and the ability to insert content pages for them.

As always I do my best to include recommended features, so if you think of something that will make this extension even better, feel free to suggest it.

I'll try to take some screen captures to cover the feature set soon.