Contact Us Page Store Hours, Google Maps & Additional Text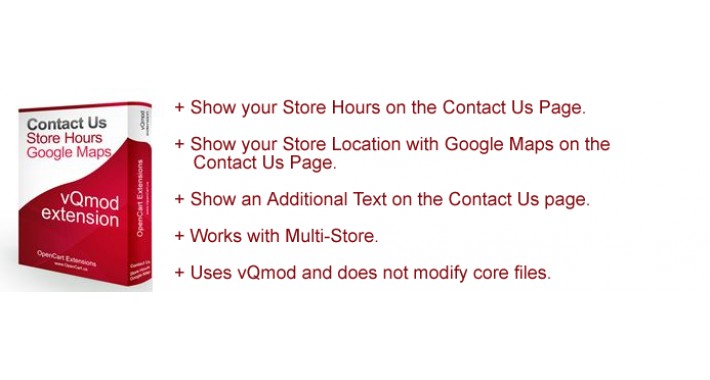 + Show your Store Hours on the Contact Us Page.

+ Show your Store Location with Google Maps on the Contact Us Page.

+ Show an Additional Text on the Contact Us page.

+ Works with Multi-Store.

+ Uses vQmod and does not modify core files. VQMod is a FREE add-on for OpenCart which allows for file modifications without changing core system files. Code changes are kept in one simple XML file which can be quickly enabled, disabled, and moved between different OpenCart installs. For more info or to download vQmod please visit http://vqmod.com/.

+ FREE FUTURE UPGRADES FOR ALL BUYERS!

+ Tested with OpenCart Versions:
* 1.5.6.4
* 1.5.5.1
* 1.5.4.1
* 1.5.3.1
* 1.5.2.1
* 1.5.2
* 1.5.1.3
* 1.5.0.5
* 1.5.0

+ Demo at: http://demo.opencart.us
* username and password: demo

----- INSTRUCTIONS -----

1. Log in to the Admin Panel of your site.
2. Go to System -> Settings -> Your Store -> Edit -> General
3. To display the Store Hours, the fields Store Days and Store Hours must be filled.
4. To display the Additional Text, the Additional Text Title and Additional Text Field must be filled.
5. The Google Maps HTML code can be found at http://maps.google.com. After getting the location direction, press the Link image at the top left and copy/paste the link into the Google Maps HTML code field.

----- INSTALLATION -----

1. Please backup your important data or whole site first.
2. Just upload "contact-store-hours-google-map.xml" file to your "vqmod/xml" folder via FTP. No files should be overwritten.

Thanks for your purchase!
Check out our other useful OpenCart Extensions!
Buy
---
Developed by OpenCart Community
Documentation Included
---
---
---
---
21 Sales