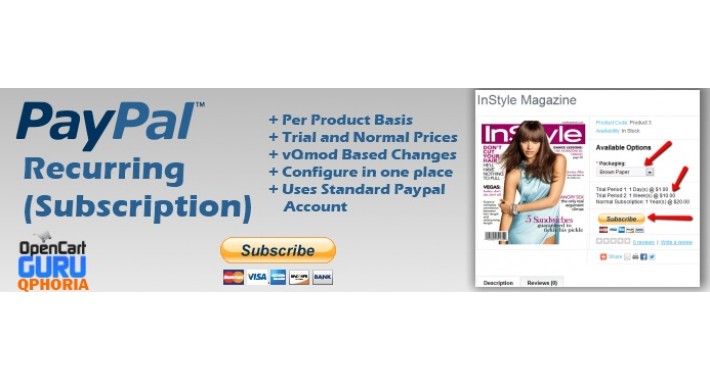 Supported OpenCart Versions:
================
v1.5.x


What does it do:
================
This contrib adds an alternative checkout process for use with Paypal Recurring/Subscription payments.
Instead of adding a product to the cart, it goes directly to Paypal for login and authorization.
IPN then returns back the users information details and creates an account (if not exists) and creates an order on the OpenCart side, using the data from the IPN callback.
If an account is created, it will email the customer with their paypal email as the login and an autogenerated password.
The user will then have an account to use in future non-subscription purchases without going through the checkout process.


Requirements:
=================
vQmod is required. You can get it from http://vQmod.com


IMPORTANT!:
===============
This extension uses vQmod to modify the product template. Be aware that custom themes may need additional adjustments.
I can usually make the necessary changes easily as I know where to look.
But please have FTP access ready to go before contacting me with custom theme issues so that I can adjust it quickly without having to chase emails.


Main features:
==============
* "Subscribe" button directly on product page
* Subscription price (trials and normal detailed on product page in place of price)
* Auto-creates customer account if needed. Emails username and autogenerated password
* Auto-creates the order on the opencart side.
* Supports all Paypal Subscription methods: Trial Period 1, Trial Period 2, and Normal Billing.
* Auto-hides the normal add to cart button if enabled for recurring payments.
* Uses vQmod for single line core edit


Notes about Product Options:
==================
I've added basic option support to this mod.
It allows you to have Select, Radio, and Text options
I have added the option to require ALL or NONE of the options for each individual subscription item.
Options are complimentary only (variety) and have no effect on pricing or subscription plans.
Option prices, points, and weights will be ignored.