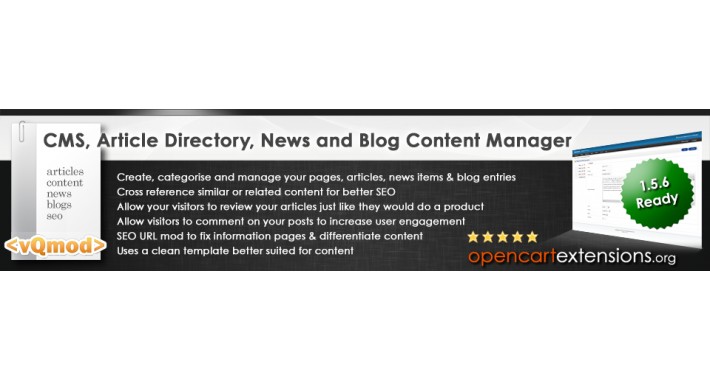 A demo is available here:

Url: http://oc156.opencartextensions.org/
User: demo
Pwd: demo

CMS, Article Directory, News and Blog Content Manager allows you to add, remove, edit and organise your blog, blog categories, articles and article directories the way you want, and removes the need to use OpenCart's information pages for all that juicy SEO-rich content!

Take the hassle out of organising content with a well structured directory listing, included directory module (the same as the category module) and top menu management.

Your OpenCart website will benefit from better control over content both visually, structurally, and from an SEO point of view. All content facilitates 2-way automated "related articles" linking giving you an excellent internal hyperlinking facility for your on-page keyword optimisation.

Allow visitors to comment and review your articles, news items or blog posts by enabling the new Disqus commenting feature and engage your readers by allowing them to interact with your site and each other.

All pages conform with OpenCart's built-in SEO URL capabilities (when enabled in OpenCart's System Settings), and customisable path prefixes have now been added (e.g. /products/my-product-seo-url, /articles/my-article-seo-url etc.) to help isolate products from articles and categories from directories, allowing greater flexibility and duplicate slugs when building large, content-rich websites. We've also taken the liberty of fixing the problems with OpenCart's lack of SEO URL support for standard information pages (Yes! That's right, including the "Contact us" page and those other annoying information pages)

We're always adding more useful features, and upgrades are free for the lifetime of the product so get yours now! We hope you enjoy this extension and find it useful.

Please don't forget to rate this plugin if you found it helpful.