Parent-Child Options allows to show or hide certain product options (option groups) based on the values selected by the customer for their parent options. This adds more flexibility and customization for representation of different product variations.
Key Features:
Show or hide child options depending on selected values of their parent options.

Use options of any type as child-options ("Select", "Radio", "Checkbox", "Text", "Date", etc.).

Use options with pre-defined values as parent-options ("Select", "Radio", "Checkbox").

Assign multiple parent options to a single child option.

Define multiple child options to a single parent option.

Use a child option as a parent for another option (and vice versa), allowing multiple levels of parent-child dependencies.

The option show/hide functionality works for both the customer product page and the admin order edit page.

Comes with a simple export/import function for easy transfer of parent-child option relationships.
Animated demonstration: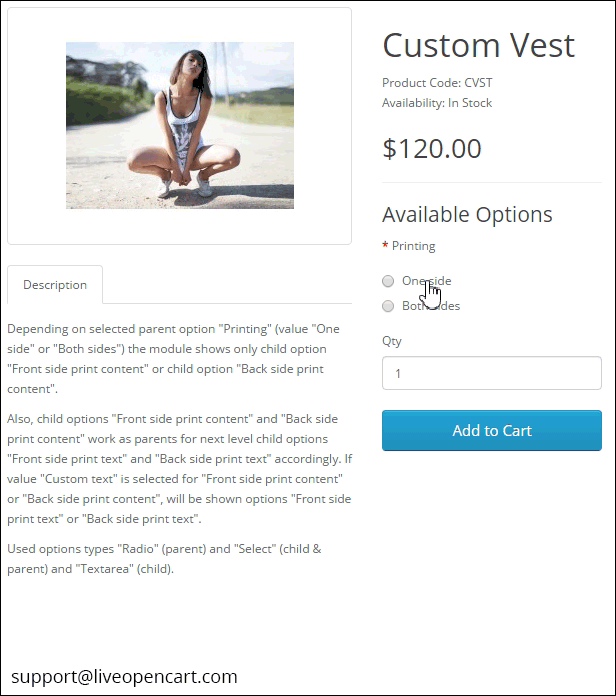 This is the module for OpenCart 3.x, for OpenCart 2.x please use Parent-child Options for OpenCart 2.x
Demo:
https://demo.liveopencart.com/3/parent_child_options_3/
Demo admin:
https://demo.liveopencart.com/3/parent_child_options_3/admin/
login/pass: demo/demo
We also recommend:
Contact for support, questions and suggestions:
support@liveopencart.com
What customers say about Parent-child Options 3