Chats, Emails, Calls & FB in one app!
Unlike other live chat apps on Opencart, Jivo is
omnichannel
.
Well, what does that mean? Let me tell you, it means: live chats on your website, chats with clients on Facebook, messages to your company's email address, and calls to a phone number in any country – all go to one convenient JivoChat app.
Everything is in one place
: your messages and chat history can be found in one inbox so there's no need to sign up for multiple communication tools
Too easy
: your team can react quickly to all inquiries -- you don't have to switch between apps to reply on different channels
Sales booster
: you can double your sales by increasing website conversion rates and building better customer service experiences.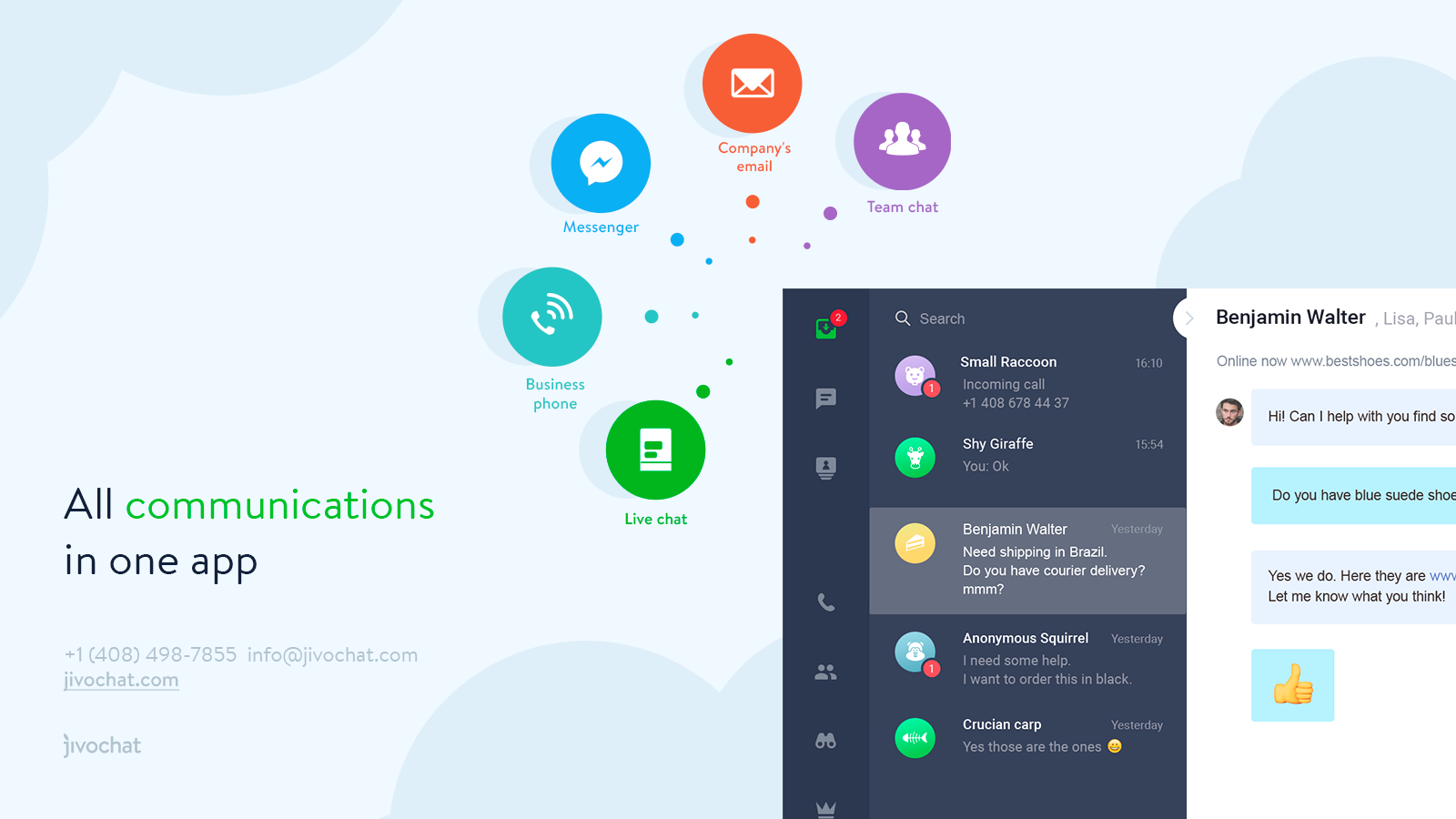 How does it work? 4 Platform Connection
:
1)
Live Chat
:
Talk with new and current visitors to your website with a proactive in-app chat.
2)
Facebook
:
Continue your conversation on your customers' favorite social media outlet: Facebook.
3)
Business Phone
:
Get a phone number in 50+ countries or activate any existing number to make outgoing calls with Jivo Business Phone. Use professional features such as call recordings, transfers, routing and more.
A unique Instant Callbacks feature encourages your potential customers to call you so that you can close more deals.
4)
Email
:
Redirect emails from your company's address (like info@yourcompany.com) to the Jivo Inbox – your team will reply faster and no message will ever be missed.
Social Proof
Every month: Jivo empowers
240k
websites to engage in over
12 million
chats.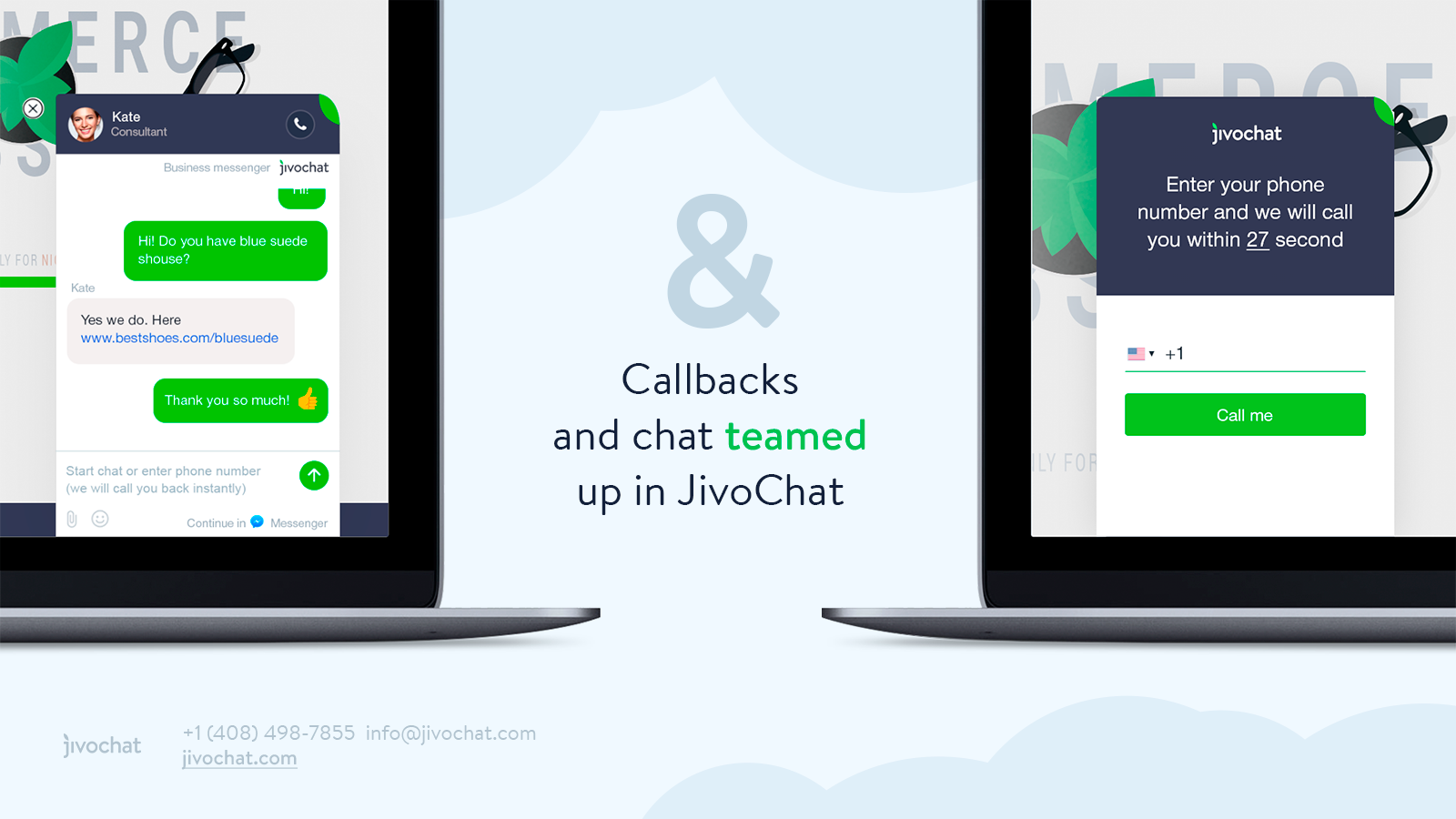 What makes JivoChat different?
Omnichannel
: Send and receive client communications through live website chat, phone, email, and Facebook.
Instant callbacks for visitors
: Blow your customer's minds by calling them back in less than 27 seconds.
Folks really love our mobile app
: JivoChat mobile is rated 4.6 on the AppStore, higher than most other live chat apps!
Multi-agent chats
: Transfer and invite colleagues to participate in open chats with customers.
What We Do Better:
-
Access Facebook
: Chat on Facebook easily without needing to log in or open a new tab.
-
Visitor Monitoring & Smart Triggers
: Track your visitors in real time and proactively initiate chats with them upon conditions you've set.
-
Automatic Translator
: Forget the language barriers, Jivo will translate your chat in both directions instantly and fluently.
-
Quick Phrases & Canned Responses
: Create pre-written messages and send them by using hotkeys, get suggestions from messages you've sent before.
-
Pointer
: Highlight specific items on your website for your visitors.
-
Typing Insight
: See the messages that visitors type in real-time before they hit "send."
-
CRM Integrations, API, Webhooks and Mobile SDK
: Connect each tool to our platform and build an amazing support system.
-
Quick Site Load Time
: Don't worry about your loading time: Jivo scripts are loaded asynchronously.
JivoChat comes with a 14-day trial. Try JivoChat for free. No Credit Card, No Commitments!