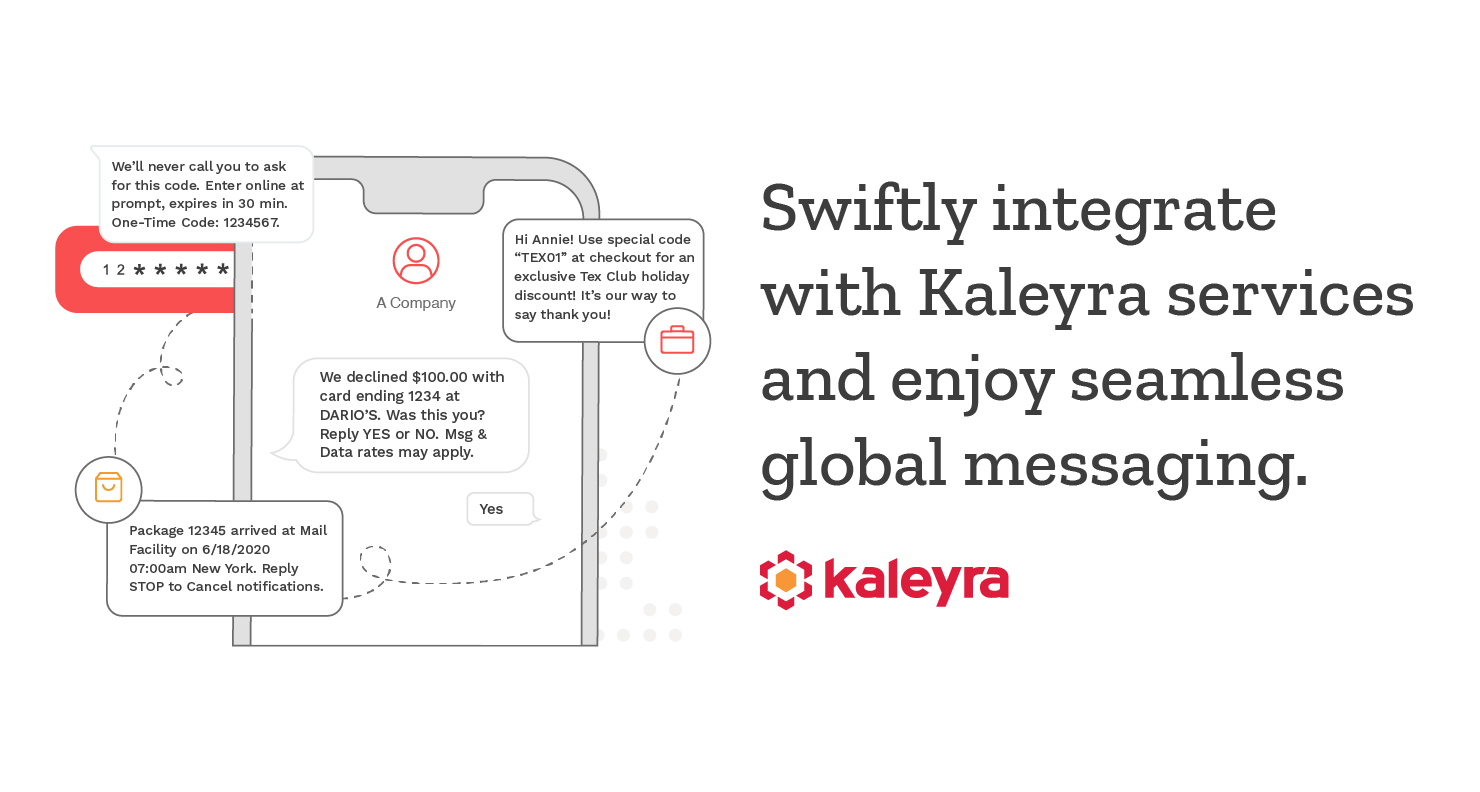 Enjoy Quick & Easy Business Messaging On OpenCart with Kaleyra
Congratulations on setting up your store on OpenCart! You must now be ready to launch your business and accept orders. In all this excitement, we hope you didn't forget about one of the most important aspects of running a successful business: communication.
The moment you decide to go to market, you initiate a setup that thrives on the communication between all the parties involved. From sending your customers updates on their orders, notifying them about deals and discounts, and promoting new products, to alerting administrators and affiliates about registrations, transactions and stocks, there is a wide range of messages that you need to constantly deliver for a seamless experience.
Don't let this list overwhelm you though.
Kaleyra, a globally trusted Communication Platform as a Service (CPaaS), can help with all your business messaging needs in a quick, easy, and reliable manner. You can integrate your Opencart account with Kaleyra's SMS Messaging 2.x or 3.x plugin and set everything up free-of-cost in just a few clicks.
The best part about Kaleyra's messaging extension for OpenCart is that it is super easy to use. From a single dashboard, you can connect with your customers, administrators, and affiliates; automate bulk campaigns in multiple languages; schedule unlimited messages; and do a lot more. You don't even need a lot of technical expertise to get things started. Its user interface is that friendly! Plus, Kaleyra's support team is known for its quick resolutions and end-to-end assistance whenever you need help.
When you experience such hassle-free, premium-quality services, you discover how the right messaging partner can help you do much more than simply communicate.
Take the case of Grofers, India's leading online grocery store, which uses Kaleyra's messaging platform for end-to-end customer service, transactional and engagement campaigns, and management of their growing remote workforce. During their biannual sale in August 2019, Kaleyra delivered over 200,000 order messages in a day while simultaneously supporting their promotional campaigns. Over the course of five years, Kaleyra has helped Grofers by not only delivering high-volume campaigns but also scaling their overall business efforts.
Read the detailed case study on how Kaleyra's smart and reliable SMS services served Grofers.
Kaleyra's customer portfolio comprises many global industry leaders, and its best-in-class services are also extremely cost-effective. The thriving CPaaS stands true to its ambition of revolutionizing business communication for everyone around the world, irrespective of an entity's size or sector.
As an upcoming e-commerce store, take full advantage of this opportunity to integrate your OpenCart account with the most affordable, reliable, and secure communication partner, Kaleyra.
Check out Kaleyra SMS Messaging extension 3.x
Check out Kaleyra SMS Messaging extension 2.x