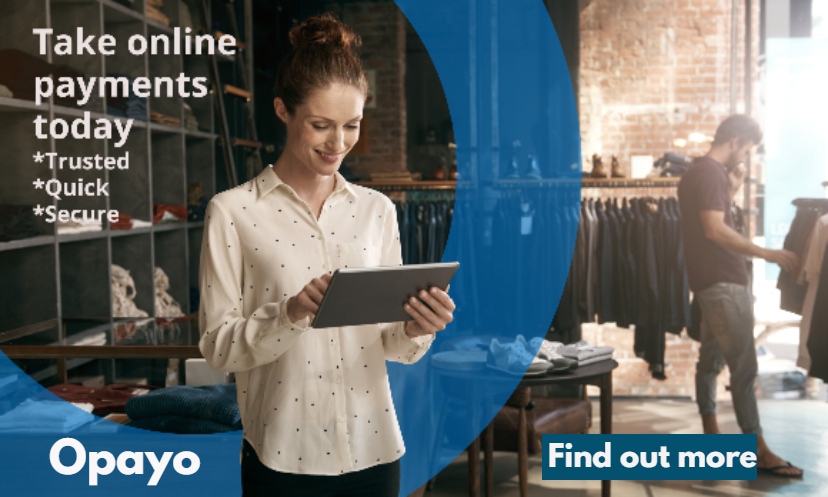 Are you a small business wondering how to take payments online? Online payment gateways for small businesses help you to reach your customers at any time, from anywhere.

In light of fewer shoppers flocking to the high street to purchase from brick and mortar stores, accessibility and flexibility has become more important than ever. According to Retail Insight Network, more than half of UK customers are shopping online which is anticipated to increase by 29.6% between 2019 and 2024. To ensure your small business can keep up with these demands, you must ensure you have an online presence and capabilities to accept payments. Fail to do so, and you can miss out on vital sales and limit your customer reach.
Whether you're a boutique retailer, small food franchise or an expanding organisation, setting up online payments for small businesses can help you start accepting debit and credit payments and digital wallets.
Online payment options for small businesses?
An online payment system is the foundation of any e-Commerce website. However, it's important to understand the ways in which you can accept payments, as well as the most popular payment methods for your customers in order to implement the best online payment gateway for your small business.
Online payment options for small businesses include:
Debit & Credit Cards: Businesses can accept credit or debit payments online from most major card providers.
Direct Debits: Direct debits allow customers to set up a recurring payment usually on a monthly basis where payment gets taken on the same date of every month. This is particularly useful for fulfilling subscription based products.
Digital/Mobile Wallets: Digital wallets are designed to store payment information in one location on an electronic device to complete card-not-present transactions online.
Bank Transfers: Bank transfers work by transferring payments directly from a customer's bank account into your business bank account.
Buy Now, Pay Later: Rising in popularity, buy now, pay later allows customers to pay for their purchases on credit and pay for them in instalments or after an interest-free period.
What is an online payment gateway?
An online payment gateway enables transactions between customers and businesses to occur digitally. The payment gateway is responsible for processing transactions securely by encrypting, forwarding and authorising payments from the customers to the acquirer.
There are key elements and their roles to be aware of, these include
The Merchant: This is you, the business offering a product or service for purchase.
The Merchant Account: A merchant account is required for online businesses to accept payments via debit or credit card online.
The Merchant Bank or Acquirer: Payments are processed and deposited into a merchant bank account before being transferred into your business account.
The Issuing Bank or Issuer: The issuer is the bank account that issues the cardholder's or customer's bank details.
Payment processor: A payment processor is responsible for the transactions between the card holder's debit or credit card and the acquirer.
Payment gateway: The payment gateway facilitates the transaction of the card holder's details from a merchant's website to a payment processor.
Setting up your online business doesn't have to be confusing. We've broken down these simple steps in a digestible video here.
Are online payment gateways secure for small businesses?
Online payment gateways for small businesses are designed to offer a quick, convenient and secure way to reach more customers and scale up.
Fraud can impact businesses in any vertical and on any channel, whether that's online or face-to-face in store. As fraudsters become increasingly sophisticated, the risk of fraud also becomes more prevalent. However, that's why e-Commerce fraud prevention tools are continuously advancing and adapting to protect businesses and customers alike.
As an online gateway provider, our top priority is to help significantly reduce the risk of fraud by protecting your business now and in the future. At Opayo, we have the highest level of PCI DSS compliance, Level 1. This means we meet industry security standards when accepting, processing and storing payment information. We are also Secure Socket Layer (SSL) encrypted which ensures security over internet communications.
Our online gateway includes fraud prevention tools such as:
Address Verification System (AVS): AVS uses the address detail provided by the customer to verify against the cardholder's address.
Card Verification Value (CVV): CVV uses the 3 digit security code on the reverse of a debit or credit card to verify the transaction.
3D Secure: 3D Secure provides secure authentication before committing a transaction. Online customers are redirected to their debit or credit card provider's 3D secure page to enter a password or code for approval by the card provider.
ACI Fraud Management: This advanced fraud screening tool uses real-time global transaction analysis to predict and prevent fraudulent activity.
How to set up your small business online payment gateway with Opayo
To set up an online payment system for your small business, apply online. Your application doesn't need to be completed in one sitting, complete in your own time at your own pace.
If you already have a merchant account set up, we can work with any acquirer so there's no need to switch.
If your website is set up and ready to go, our online payment gateway can be easily integrated in methods: form, server or direct or pi. Our integrated methods are explained here.
What's more, Opayo integrates with all the major platforms including OpenCart. So if you don't already have a website we've got you covered.
Once integration is set up, you are ready to start taking payments!
For small businesses, our 'Flex' option could be suitable for you. At £27 p/m, you'll receive 350 transactions, free fraud screening tools and 24/7 support.
For more information on pricing, please read our about online payments.
Start growing your small business today!
At Opayo, we can help you find the best online payment systems for your small business. Now is the ideal time to invest in a payment solution as more customers turn online to commit their transactions. Not only will an online payment help your small business scale up, you can also reach customers in a contactless, convenient way.
Benefits & features of our online gateway for your small business:
Connect a merchant account to your website to swiftly accept and process online payments
Strong levels of security and PCI compliance
All major debit and credit cards accepted
Monitor and report on transactions
Review potential customer transaction details before dispatch for added security
Enhanced fraud screening protection as standard
Accessibility with or without developer support
24/7 customer support
Check out these handy pages from Opayo
https://www.opayo.co.uk/blog/online-payments-explained
https://www.opayo.co.uk/blog/accepting-international-payments-online
https://www.opayo.co.uk/resource-centre/industry-insights/retail-payment-solutions
Elavon Digital Europe Limited, trading as Opayo.
Registered in England and Wales – Company Registration No. 07492608. Registered Office at Second Floor, Q16,
Quorum Business Park Benton Lane Newcastle upon Tyne NE12 8BX, United Kingdom.